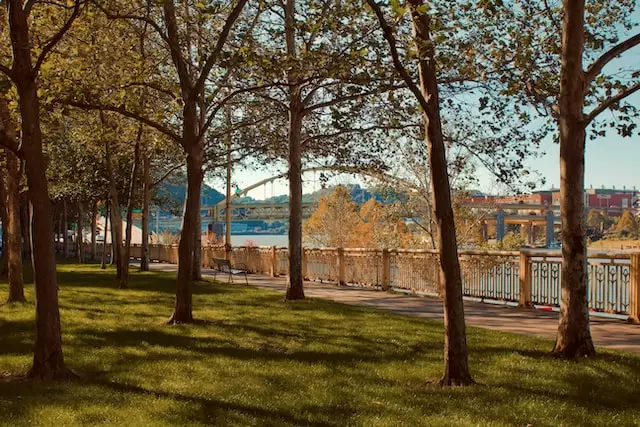 10 Of the Best Parks in Pittsburgh PA
Find somewhere perfect to hike, picnic, play sports, or bring your dog to run around
Published: 2022-10-20 20:01:12
Some of the best parks in Allegheny County are located north of the river in Pittsburgh PA and its surrounding townships.
From the massive north park area to the smaller community gathering spots, you'll find somewhere perfect to hike, picnic, play sports, or bring your dog to run around.
Mighty Dog has assembled this list of ten of our favorite parks in Pittsburgh to help you find the ideal outdoor spot for your needs.
North Park
Located across multiple townships including Hampton, McCandless, and Pine, this 3094-acre park includes areas for archery, basketball, fishing, off-leash dog areas, and golf. It contains over 200 miles of multi-use trails, maps of which can be explored on their mobile app.
Check their events calendar and register for events and programs on the park's website.
Hartwood Acres Park
Hartwood Acres comprises 629 Acres of beautiful Pennsylvania wilderness located in the Hampton and Indiana townships. It is notable for hosting weekly free concerts during the summers from June-August.
The park recently opened a sculpture garden as well, and also has areas for off-leash dogs, cross-country skiing, hiking, and birding.
Evergreen Community Park
The beautiful scenery at Evergreen community park includes a fishing pond, clean walking trails, and plenty of benches on which to stop and bask in the subtle joys of nature.
This is a small oasis of nature in the city, located near McKnight Road, north of downtown Pittsburgh.
Scharmyn Park
Home to several recreational fields and courts, Scharmyn Park is located in Ross Township.
Scharmyn has two very well-kept baseball fields, a playground, and courts for tennis and basketball. They also have a concession stand which is open for ball games and events in the park.
Fall Run Park
Fall Run Park is ideal for hikers looking for a simple but scenic hike in Glenshaw, north of Pittsburgh. At just under two miles, the hike is short but includes visits to some small, beautiful waterfalls and lots of open room for dogs or kids to enjoy.
Latodami Nature Center
In Wexford, Latodami is a perfect place to come for a gentle hike to decompress with nature.
As a Nature Center, Latodami has an interesting feature where they post QR codes along the trails. Once scanned, the codes take users to YouTube videos featuring educational content on the region and its fauna.
Ann Allison Hoover Park
A simple and well-kept community gathering spot north of downtown Pittsburgh, near the Westview borough, this park features a gorgeous fishpond, benches, a gazebo, beautiful open spaces for picnics, and is dog friendly. There are plenty of trash cans around as well, as the community takes the cleanliness of the park seriously.
Deer Lakes Park
Fans of disc golf will love Deer Lakes, located in Frazer and West Deer townships. The park is notable for its world-class 18-hole disc-golf course.
The park also hosts three stocked ponds for fishing, and more than fifteen miles of trails. Children will have fun on the well-maintained playgrounds, which are also accessible to special needs kids.
Avonworth Community Park
Avonworth is located north of the river, south of Interstate 279 in Pittsburgh. It is a large, open park with a fishable creek cutting through it.
This park hosts a classic community swimming pool with affordable summer passes for residents, a creek, and a rentable modern-style pavilion perfect for weddings or other events.
Allegheny Commons Park North Park
This is a relaxing park perfect for walking. Enjoy Allegheny Commons' crushed gravel trails filled with lots of benches or open swaths of grass to sit and enjoy the scenery.
There is a fountain and pond area for added comfort, and the area is home to a nearby farmer's market.
---
Other Things to do in North Pittsburgh: