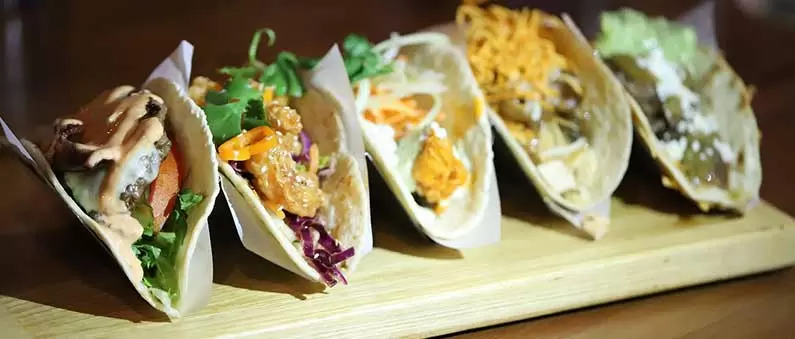 The Best Tacos in Austin: 15 Must-Try Taco Joints
From traditional Mexican to Tex-Mex
Published: 2022-07-22 11:03:50
Austin has become a Mecca for foodies, and there are many outstanding restaurant options to choose from when it comes time to make plans for a night out. Austin, Texas is particularly known for its vast number of Mexican restaurants in the area, and while the options are great, they can be a tad overwhelming.
Here at Mighty Dog Roofing, we provide roofing services to dozens of different neighborhoods, which is why we pride ourselves on getting to know the local neighborhoods and the people who live in them. Here are the top 15 restaurants where our Austin roofers like to stop by.
Velvet Taco
With two locations in Austin, Texas, Velvet Taco is known as a truly unique experience for those looking to branch out and away from the standard taco. They firmly believe that the taco needs to be liberated – meaning it doesn't have to be restricted to Tex-Mex cuisine. Instead, the team at Velvet Taco believes that tacos should be made with the same care and quality found in fine dining. This is an "anything goes meets the art of the possible" taco joint that offers all visitors a unique, multi-cultural experience.
Ñoños Tacos
Ñoños Tacos is an adorable, quaint little taco shop located on West Powell Lane in Austin. The friendly staff has a passion for creating delectable Tex-Mex dishes for those craving a taste of some of the best tacos in North Austin. From breakfast tacos to Grande Burritos, Ñoños Tacos offer a little something for any time of the day.
Tacodeli
While Tacodeli has been serving the North Austin area since 1999, they have a long history that goes back to Mexico City. They have a vast array of delicious menu items and pride themselves in being "people-powered" and supporting local farmers to supply their ingredients. Founder Roberto grew up in the Mexico City area and had fond memories of the wonderful local cuisine, and years later, those flavors mixed with the friendly Austin vibes to create a unique experience that Tacodeli has become known for.
El Chilango
El Chilango is a food truck that is quite popular amongst Austin locals and known to have some of the best tacos in North Austin. Reviews are outstanding, stating that the tacos are delectable and their variety of tortas is well worth the visit.
El Tacorrido
El Tacorrido's menu items vary greatly, from tacos to tortas, to breakfast menu items and even vegetarian options – there is a little something for everyone. They pride themselves on using the best ingredients possible and go out of their way to provide each of their customers with a truly excellent experience.
Yucatán Tacos & More
Located on West Braker Lane, Yucatán Tacos & More offers patrons a wide array of options. Yes, they offer several variations of some of the best tacos in North Austin, but they'd also offer at least three breakfast options, several nacho options, as well as freshly made smoothies for those looking for something to help quench their thirst.
Taqueria Los Regios
Taqueria Los Regios is a popular food truck in the North Austin, Texas, area. Customers rave about the delicious tacos made with various outstanding ingredients, including sirloin, pork, and more. Consumers enjoy that the food truck offers not only a wide selection of lunch specials, but also offers several breakfast items, including their breakfast egg taco.
Tacos El Charly
Reviews from customers describe Tacos El Charly as one of the best taco trucks around and as "extremely addicting." While they are most known for their street tacos, customers also enjoy that their menu items are made fresh each day with a variety of freshly prepared ingredients. While your food is made to order, Tacos El Charly offers several ingredients, such as lime, onions, and sauces, for free to help you create a unique experience.
Tacos Matamoros
While Tacos Matamoros may seem like a small joint, it still gets raving reviews from consumers as having the best tacos in Austin. In fact, several reviewers have stated that this isn't your standard Tex-Mex taco joint – oh no! One of their most popular dishes is their carne asada tacos. However, they have several great options to choose from, including breakfast tacos made with eggs. If you're looking for genuine Mexican food, then Tacos Matamoros is the spot.
Taco More
With a slogan like "Tacos R Life," you're setting the expectation bar pretty high, and based on local feedback, Taco More lives up to expectations. Taco More is an excellent place for those looking for a place to unwind and relax. The menu offers up a wide selection to choose from, including their Cubana Tortas, Chile Relleno, and their Mojarra Frita – those being only a handful of their most popular menu items. Patrons can also unwind during their daily happy hour between 4 and 7 pm, Monday through Friday. Even better, they also offer this service if you need a caterer for an upcoming event.
Vazquez Restaurant
Vazquez Restaurant is an authentic Mexican restaurant serving Austin's patrons for over 20 years. As a family-owned and operated facility, they pride themselves on creating a relaxing, casual environment for patrons and offering the highest quality of food and service. They aim to welcome each customer with open arms and share their family's heritage with them through their traditional style of Mexican food, including enchiladas, burritos, and barbacoa.
Alli Mexican Cuisine
If you're looking for a place to get some tacos made with quality ingredients and served by friendly, attentive staff, then Alli Mexican Cuisine is the place for you. Consumers enjoy the massive menu, offering authentic dishes such as tacos, tortas, and gorditas. What further sets Alli Mexican Cuisine apart from the competition is its variety of authentic Mexican soups and homestyle specials, including their Mexican hamburgers, pollo chipotle, and doraditas.
Taqueria 7 Estrellas
Many people are easily fooled by those unassuming food trucks that can be found on the streets. However, Taqueria 7 Estrellas shouldn't be overlooked. In fact, regulars describe this local taco join as one of the best in the city. Every item on the menu is made fresh and served up with a smile. Some of the local favorites off the menu include their gorditas, enchiladas, and, of course, their tacos.
Los Arcos Taqueria
When searching for the best tacos in North Austin, many locals will tell you that Los Arcos Taqueria is the place to go. This is another local taco truck that offers visitors an array of yummy options to choose from, including breakfast, lunch, and dinner items. From Cuban cakes to empanadas, mini taquitos to Mexican burritos, visitors will surely find something they love.
Brazas Taco House
The staff at Brazas Taco House claim they have "the passion for tacos," and based on what local patrons have to say, they are right! The food is delicious, and the service is fast and friendly. With over a decade of experience, this family-owned business goes out of its way to provide customers with the best food and the freshest ingredients. From their "Traffic Jam Nachos" to their beef, pork, and steak tacos (and everything in between), there are plenty of delicious options to choose from!
---
Things to do in Austin, TX: