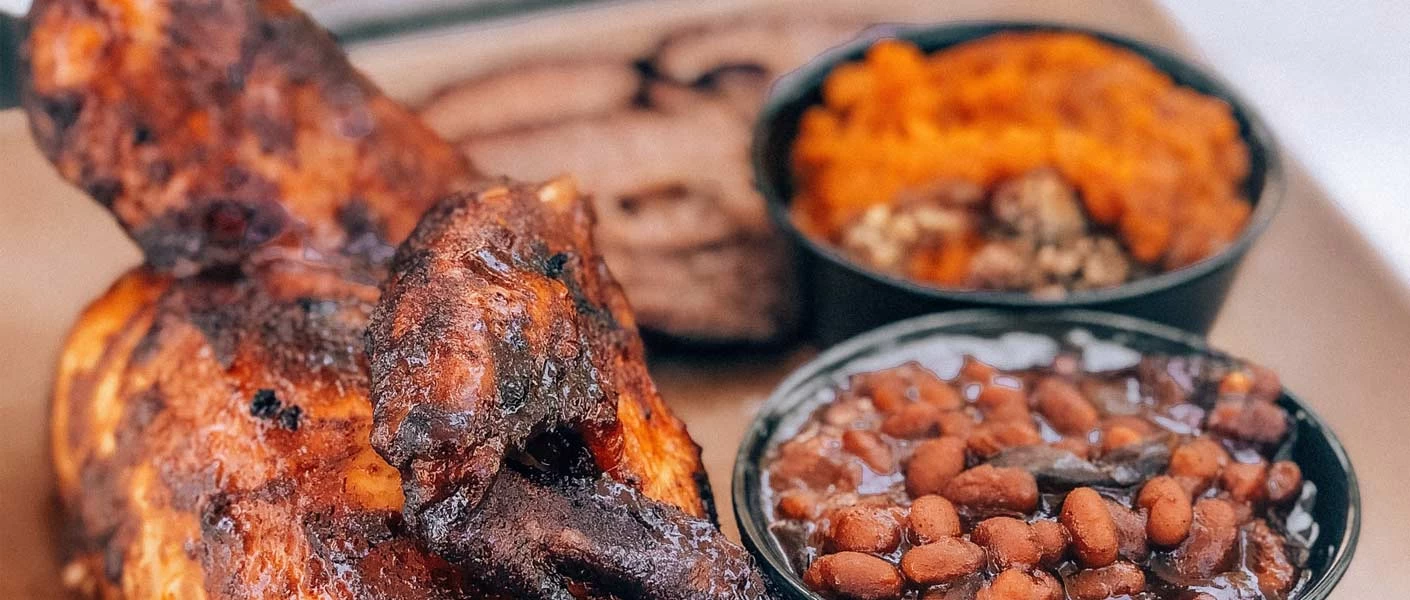 The 15 Best Places to Eat in Birmingham
There are many talented chefs brewing up their culinary best in kitchens throughout Birmingham
Published: 2022-07-12 14:44:05
While working full-time as Birmingham roofers we at Mighty Dog work up a mighty appetite! That's why we are more than grateful for the variety of great restaurants that grace our city.
From French cuisine to classic southern fare, Birmingham is serving up some seriously good food right now. Nicknamed The Magic City, there are so many talented chefs brewing up their culinary best in kitchens throughout Birmingham that it's impossible to taste it all. That's why we've rounded up the 15 best places to eat, so you can spend less time researching and more time enjoying everything the city has to offer.
The Southern Kitchen and Bar
For a modern take on classic southern dishes, head to The Southern Kitchen and Bar. Their casually chic atmosphere is the ideal place to enjoy a taste of southern hospitality. The southern-inspired menu includes everyone's favorites from fried pickles to shrimp and grits, served up in low-key sophistication that strikes the perfect balance between home comfort and a great night out.
The bar has a wide range of local draft beers as well as the usual range of wines, cocktails, and a few extra special southern creations.
The Southern Kitchen and Bar serves lunch and dinner seven days a week, and brunch on weekends!
Texas de Brazil
If you're in the mood for steak, Texas de Brazil is the place to eat. This churrascaria or steakhouse fuses all the delicious flavors of Brazil with the hospitality of Texas. Arrive hungry, because servers will be parading sumptuous meats throughout the dining area all night, which they'll carve for you tableside. The ribs, lamb, sausage, steak, filet, and chicken won't stop coming to you until you put your sign down to indicate that you're full!
A generous selection of sides is also available, ranging from salad to charcuterie, and every guest is well supplied with house-baked cheese bread, garlic mashed potatoes, and fried bananas.
Lunch is served between 11 a.m. and 2 p.m. on Fridays, and dinner runs from 5 p.m. (Wed.-Fri.) or 4 p.m. (Sat. and Sun.) until 9:30 p.m. most nights.
Dreamland BBQ
It might not look like it from the outside, but follow the smell of hickory wood smoke through the door and Dreamland BBQ is guaranteed to impress. They've been serving up exceptional barbecue since 1958. Their specialty is half-and full- slabs of meaty, slow-cooked ribs designed to be dipped into barbecue sauce. Guests rave about the friendly service and irresistible flavors. And be sure to leave some room for dessert, because the banana pudding is a must-try.
You can try the ribs between 11 a.m. and 9 p.m. Sunday through Thursday, and from 11 a.m. until 10 p.m. on Friday and Saturday. If you can't make it in person, don't despair! Dreamland BBQ ships its meat packages, sauces, and seasonings nationwide!
El Barrio
When you're in the mood for Mexican fare, head over to El Barrio. Their multi-regional Mexican-inspired menu makes use of seasonal produce, seafood fresh from the gulf, and humanely raised meats. The comfortable atmosphere is perfect for friends and family to gather over plantain nachos and quesadillas. They also serve a great brunch: stop in on the weekend for a Michelada or sparkling grapefruit sangria, and don't leave without trying the chilaquiles.
El Barrio is ready to welcome you between 11:30 a.m. and 8 p.m. Tuesdays and Thursdays and stays open until 9 p.m. Fridays and Saturdays.
Hattie B's Hot Chicken
This family-run chain was originally founded in Nashville but is now an essential part of the Birmingham restaurant scene. As the name suggests, their specialty is fried chicken served with cheeky hot sauces ranging from Southern (no heat) to Shut the Cluck Up!!!
Though their chicken is the star of the show, the collards, baked beans, and mac and cheese bring the flavor too. They also offer a range of desserts to tempt you when you're finished.
Hattie B's is open from 11 a.m. until 10 p.m. Monday through Thursday and stays open until 11 p.m. on Friday and Saturdays. Get there early on Sundays, because they close at 4 p.m.
Gianmarco's Restaurant
For the most authentic Italian food in town, Gianmarco's Restaurant can't be beat. A local favorite, Gianmarco's is proudly family-owned and operated by father and son team Giani and Marco Respinto, who bring generations of passion to the table. Together they serve up a delicious selection of upscale antipasti, pasta, entrees, and sides ranging from seafood risotto to veal osso buco designed to delight all of your senses.
Gianmarco's Restaurant is open for lunch Wed.-Fri. 11 a.m.-2 p.m., and dinner Mon.-Sat. 5 -10 p.m. They fill up quickly, so reservations are strongly recommended.
SAW's Soul Kitchen
The authenticity, flavors, and quality of food at SAW's Soul Kitchen promise to permeate deep down to your soul. This cozy kitchen has been welcoming guests since 2012 when founder Mike Wilson opened it as a spinoff from his original SAW's eatery. Choose between sandwiches with pulled pork or smoked chicken and a side, or opt for one of the larger plates with your choice of pulled pork, smoked chicken, smoked sausage, or ribs.
SAW's Soul Kitchen is open from 11 a.m. until 8 p.m. Monday through Saturday, and yes, you can buy bottles of the sauce to take home!
Yo' Mama's
This popular lunch and brunch spot offers you a taste of home. It originally began as Jazzy Fish & Chicken at the famous Seabreeze Jazz Festival in Florida in 2007, serving an average of 600 plates every day to a fast-moving yet seemingly endless line of customers. Now you can enjoy that same popular taste in a brick-and-mortar restaurant in downtown Birmingham. Yo' Mama's fried chicken and fluffy waffles are a certified crowd-pleaser.
Yo' Mama's welcomes guests Mon.-Fri. from 10:30 a.m. to 2:30 p.m., as well as every second and last Saturday from 9 a.m. to 1 p.m.
Makarios Kabobs and Grill
Makarios Kabobs and Grill offers the unique flavors and techniques of iconic Mediterranean dishes. Gyros, Falafels, Shawarma, and more are all on the menu for delightfully low prices, and the seasoning is truly the star of the show. Locals say it's the best lentil soup you can get, but you can't go wrong with anything on the menu. If you're not sure where to get started, they'll make you a sampler that you can try a little bit of everything they have to offer.
Makarios is open from 10 a.m. to 10 p.m. every day and stays open an extra hour on Friday and Saturday nights.
Bottega
This upscale diner brings together Southern cuisine and the flair of the Italian countryside for a world-class array of flavors. Served in the warm and sophisticated atmosphere of the historic Beaux-Arts building, favorites include the Butcher's Pie, Margherita pizza, and Pardis' spaghetti made with fresh ingredients. Bottega is a fantastic choice for families, friends, and couples to sit down over a quality glass of wine and enjoy some of the best food Birmingham has to offer.
Bottega is currently serving lunch and dinner in the cafe, Tuesday through Saturday from 11 a.m. to 9:30 p.m.
Chez Fonfon
This casual, bustling bistro is the place to go for an authentic French dining experience. Open since 2000, Chez Fonfon is a French-inspired casual restaurant that promises to transport you to Paris, Lyon, or Nice. You enter through the 100-year-old etched glass door from Lyon and enter a cozy, inviting dining area where you can sample comforting French fare ranging from steak fries to sauteed trout with brown butter and escargots. The selection of French wines is also par none.
Chez Fonfon is open Tuesday to Friday from 11 a.m. to 9:30 p.m., and Saturdays from 4-9:30 p.m.
Urban Cookhouse
Generous portions and speedy service: what more could you ask for? For quick, American-style bites during the week, Urban Cookhouse is the place to go. Serving up salads, sandwiches, and wraps, this casual eatery is perfect for a quick lunch or healthy dinner and serves plenty of vegetarian and vegan-friendly options. They also offer family-size take-home options to feed four, or if you fall in love with one of their salads or sides they sell them in large and small take-home tubs as well.
You can visit Urban Cookhouse between 10 a.m. and 4 p.m., Monday through Friday.
Bistro Two Eighteen
Bistro Two Eighteen serves up French cuisine with a modern American twist in their restaurant on 20th Street North. Chef/owner Tom Saab is a Birmingham native who has modeled his bistro on the elegant minimalist interiors of traditional French bistros, but still preserves and captures the beauty of the historical building. The result is a comfortable, romantic atmosphere where you can enjoy all your bistro favorites from quiche to duck confit.
Bistro Two Eighteen is open for dinner from 5-9 p.m. Tuesdays through Thursdays, and from 5-10 p.m. on Fridays and Saturdays. They are closed on Sundays and Mondays.
Amore Ristorante Italiano
Fall in love over pasta and wine at Amore Ristorante Italiano, a traditional family restaurant owned and operated by first-generation Americans since 2005. They promise not only the highest quality and freshest food but also love and passion for every dish. And according to locals, they deliver – guests rave about the food and wine list, with the vitello alla osso buco and seafood risotto standing out as favorites.
Amore Ristorante Italiano is open from 4:30-9 p.m. Tuesday through Thursday, and from 4:30-9:30 p.m. Fridays and Saturdays. They are closed on Sunday and Monday.
Perry's Steakhouse & Grille
For the perfect prime, check out Perry's Steakhouse and Grille. Perry's grew from a small butcher's shop, and these meat experts certainly make good on all that experience: today, their award-winning restaurants proudly serve USDA prime beef, with intimate tableside carvings and handcrafted cocktails at Bar 79. Their specialties are rare and well-done. The Birmingham location boasts four unique dining rooms, an island bar, and an outdoor patio.
Perry's Steakhouse and Grille is open for dine-in and to-go orders from 4-10 p.m. Monday through Thursday and on Saturday, from 10:30 a.m. to 10 p.m. on Friday, and from 4-9 p.m. on Sunday.
Mighty Dog Roofing Eats Local
Birmingham is bursting with exciting and innovative cuisine that attracts locals and tourists alike. Our city has something to suit every palette, and during the twenty years, we've been here the Mighty Dog Roofing family might just have tasted it all!
For every foodie in Birmingham, we offer a one-stop-shop for all your roofing needs. We pride ourselves on integrity, on-time service, cleanliness, and top-dog communication.
Get in touch today, and we'll take care of all your roofing needs.
Other Things Of Interest In and Around Birmingham