About Flanders New Jersey Team
Donald Gaudreau
Donald Gaudreau, a New Jersey-born and raised, loves being able to call this vibrant community his home. What he appreciates the most about the area is the proximity of everything he needs: the beach, the mountains, and the city - all within one hour from his home.
Donald grew up in Nutley, NJ, where his childhood was enriched by many valuable experiences, including being a Boy Scout. It is safe to say that qualities such as a sense of responsibility and camaraderie are deeply rooted in him.
His journey of service and dedication started in the Marine Corps, where he honed his discipline and commitment to excellence as a 0311. After military service, he spent some time in the medical field, becoming a skilled X-ray Technologist and later specializing in MRI and CT technology. Some of his certifications in the medical domain include R.T. (R) (M.R.) and M.R.S.O.
Donald's competitive spirit and love for challenges stretch far beyond his professional career. As an avid off-road motorcycle racing fan, he even participated in Hare Scrambles. On days off, he finds joy in fishing or watching sports.
In 2010, Donald faced a significant life obstacle when he was involved in a motorcycle accident that shattered his left leg. Multiple surgeries and a challenging recovery period saw Donald relearn walking and rebuild his muscles - a testament to his unwavering determination. This experience only made his spirit stronger and his desire to help people even deeper.
Today, Donald is embarking on a new venture with the Mighty Dog Roofing franchise. Offering services, including roofing, siding, windows, and gutters, he aims to bring value to his community and beyond.
His mission? To ensure every interaction leaves people feeling cared for and valued. His secret to success? Uncompromising integrity and an unwavering belief in the power of community. Donald's dedication to helping others and his commitment to integrity are the cornerstones of his success.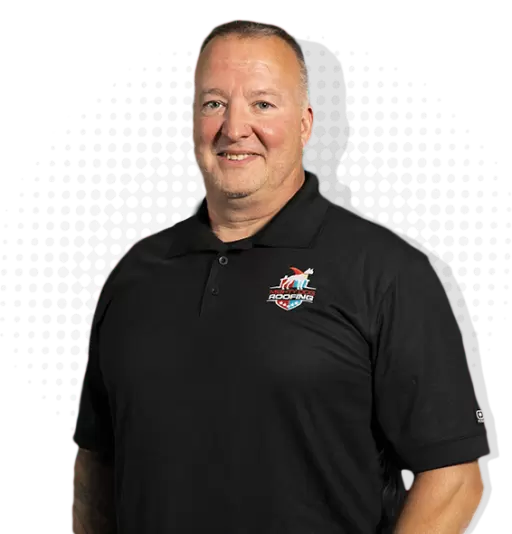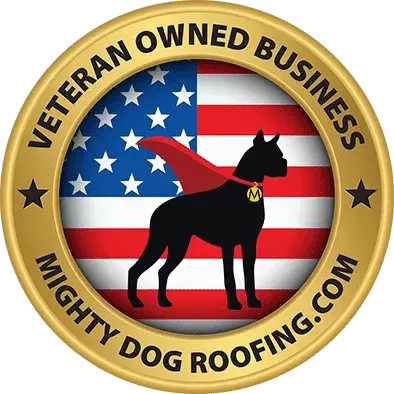 "Push yourself, because no one else is going to do it for you.".
Meet the Team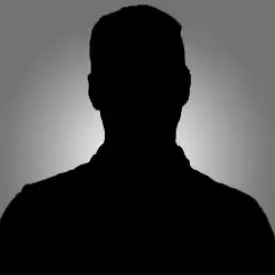 Meet the mighty dogs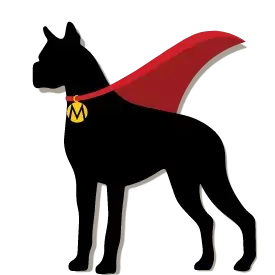 MIGHTY DOG PLEDGES TO PROVIDE YOU WITH:
TOP DOG COMMUNICATION - We will be in touch with you throughout the project so you know what is going on every step of the way. We also have a 24-hour customer service support team to help answer any questions you may have.
ON-TIME SERVICE - When we say we are going to be there, we will. We value you your time and resources and appreciate you choosing us to care for your home.
CLEANLINESS - MDR has the best state of the art equipment to keep your home clean and safe during the construction process. We will bring in the Mighty House Cape to protect your landscaping and air conditioners from any damage which may occur. It is our pledge to you to leave your property with no debris or damage from anything we do.
INTEGRITY - We do what we say we are going to do. We stand behind your home's project for years to come with our Mighty Warranty Plus Watchdog Maintenance Program
MIGHTY TESTIMONIALS
They have excellent customer service. Their team did exactly what they say they will and show up on time. Will definitely use again.
I can't say thank you enough for all the help that was given to me. Very professional, courteous, and helpful. They did an amazing job and did a great job with clean up. I would highly recommend them.
I had my roof and gutters replaced. The crew was friendly and kept me updated throughout the install. They also did a great job with the install as well as the clean up.
Great company, Our roof came out amazing, straight cuts, everything laid nicely and the cleanup afterwards not a single nail anywhere.
Great job, professional crew, great experience. Highly recommend. Came on time, cleaned up, and roof looks great!
Mighty Dog Roofing is passionate about our community in Flanders New Jersey. We wake up everyday and feel so immensely blessed (lucky) to live, work and play in our community that it is important for us to give back and be actively involved. "We love being in Flanders New Jersey, and helping any way we can", said Donald Gaudreau. "From providing roofs to veterans and supporting our local Humane Society to participating in Habitat for Humanity efforts, Mighty Dog of Flanders New Jersey wants to make a difference".



Our Team on Your Roof
Whether you have a repair or a full replacement, our roofing crews have been hand selected for their integrity, cleanliness and craftsmanship. We are OSHA certified and hold regular safety training meetings for our crew foreman. Each of our formen and roofing crews take pride in excellence of craftsmanship in each project they completed. Mighty Dog takes pride in education on products and installation each of our crews bring to you home. Our crews take the Mighty Dog Pledge of being on-time, cleanliness, top dog communication and integrity. Being insured and licensed, you can feel safe and protected in your home that it is being taken care of by the right people!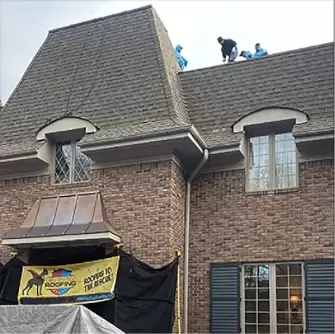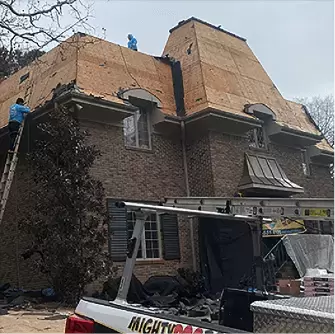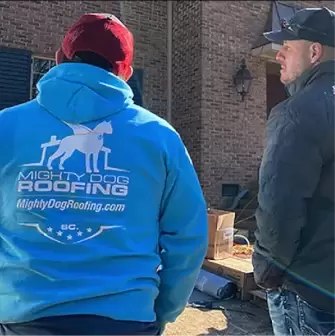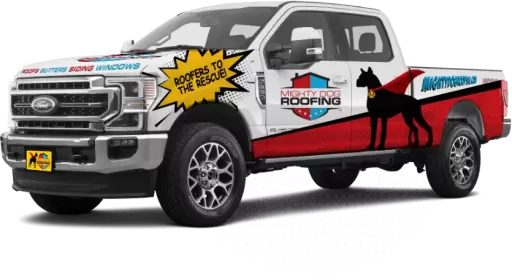 We are in your
neighborhood