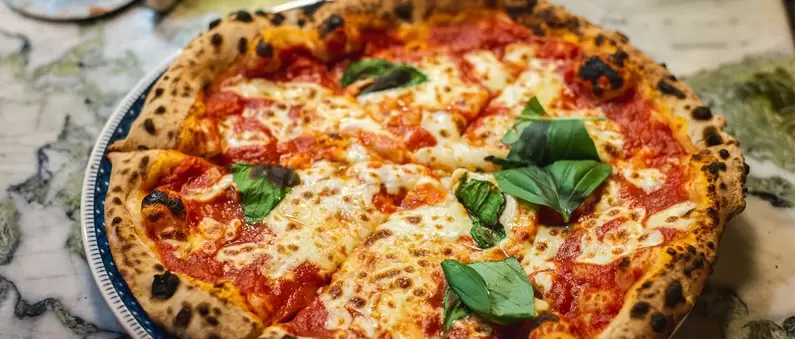 Best Places to Eat Pizza in Detroit, Michigan
Pizza is arguably metro Detroit's most significant culinary contribution
Published: 2022-08-26 13:58:41
After a long day of roofing, nothing satisfies the appetite of the Mighty Dog crew like a fresh pie!
Pizza is arguably metro Detroit's most significant culinary contribution. The area is home to several large national chains and is also the birthplace of the Detroit-style square pie, a pizza style that is popular nationwide but is still best served at a few little eateries scattered across the city.
For pizza fans, there is now more variety in Detroit thanks to recently new pizza parlors that include numerous Italian oven-baked pies. The Detroit pizzerias can satisfy any pizza craving, whether the situation calls for a foldable slice, a slab of cheesy Detroit square, or a finer Neapolitan round. Find some of the newest and best pizza in the Detroit metro area below.
Tony's Pizzeria and Family Restaurant
The Tri-County region's best pizza restaurant, in the opinion of true pizza connoisseurs, is this one. The best true East coast New York style thin crust pizza can be found at Tony's Pizzeria and Family Restaurant. This family-run establishment has been operating for 60 years. You've missed a lot if you haven't tried their pepperoni pizza. A big plus for the welcoming employees, lovely surroundings, and dependable service.
Jet's Pizza
Pizza at Jet's is renowned for being deliciously cheesy, loaded with premium toppings and fresh vegetables. Additionally, their famous buttery Detroit-style square pizza is legendary and has a fragrant Flavorized crust. They serve homemade marinara and the freshest sauce.
You will without a doubt receive a quick and delicious pizza that will far exceed your expectations. In addition to having the best pizza in the world, Jet's also serves boneless chicken, calzone-style Deli Boats, freshly baked Turbo Stix, piled-high salads, and the crispiest wings.
Antonio's Italian Cuisine
Give yourself a treat and enjoy a fantastic supper in a real Italian setting. The best ingredients are used to make delicious, authentic Italian food at Antonio's Italian Cuisine. This Italian restaurant's fantastic ambiance, welcoming staff, and reasonable rates are guaranteed to win you over.
Original Buscemi's
Since the 1950s, the informal Detroit-based restaurant Original Buscemi's has been serving up square pizzas and Italian subs. Given that it is a small chain, the food is consistently good and the pricing are fair.
You can get pizza, Italian food, and other dishes that are bursting with vibrant colors and flavorful herbs there. Don't miss out on some of the best food in the area if you're in the neighborhood; we promise the kids will like it too.
Holiday Pizza
For 37 years, Holiday Pizza has been a family-run business. Food that tastes just like mom used to prepare is being served with pride. Every day, they make all of their own fresh soups, sauces, breads, pizza dough, and dressings.
To create a crust that resembles bread, the pizza is baked with handmade dough. The freshest ingredients are then added, followed by their handmade sauce. Nothing is cut before (not even the cheese and pepperoni). Finally, for the best pizza possible, every pizza is cooked in a vintage Brick-Hearth Deck oven. You'll surely come back once you've tried it.
Buddy's Pizza
At Buddy's Rendezvous Pizzeria on Six Mile and Conant Street on Detroit's east side in 1946, the tradition of Detroit-Style Pizza was established. Today, Buddy's is not only credited with inventing the famous pizza style, but also with popularizing it and spurring innovation among other pizza shops around the nation.
Although Buddy's has been making their distinctive pizza for over 75 years, the national trend is only now beginning to catch on. Currently, Buddy's has a large number of locations, mostly in the Metro Detroit region.
Every time a pizza comes out of the oven, Buddy's reputation as a Detroit dining destination is cemented. Throughout it all, the Buddy's menu has stayed faithful to its Detroit roots.
Tivoli's Wood Brick-Oven Pizzeria
Owner of Tivoli's Pizzeria in Utica, Michigan, Lorenzo Evola is an expert in elevating standard pizza to the level of a gourmet masterpiece. Old-world recipes that have been refined over many years can be found here, together with the best available fresh ingredients. Pizza that erupts with flavor that is unmatched anyplace else is created by adding the smokiness of the wood-burning stove.
The 12-inch thin crust pizza that they are famous for is prepared to perfection on the wood burning stove. The pizza gains a rich, smoky flavor from the oak and hickory logs, which also brings out the flavors of the meats, cheeses, and veggies. Try it once and you'll definitely love it!
---
Other Things To Do Around Detroit, MI