About Benton Harbor Michigan Team
Tom and Katie Burrell
Mighty Dog Roofing is a family-owned and operated business led by Tom Burrell (President) and Katie Burrell (General Manager). Tom has an MBA from Indiana University and a BS in Operations Management from Ball State University. He has 30 years of experience in global and domestic sourcing and supply chain leadership and is a certified Purchasing & Supply Chain Manager (CPSM). He's also a 2-time Ironman finisher. Katie has a Bachelor's of Arts & Sciences in Public History from Western Michigan University, Summa Cum Laude & Phi Kappa Phi. The Mighty Dog Roofing team is passionate about people development and leadership, nurturing togetherness, and making their communities better. They value honest people who have integrity to do what is right. Tom and Katie have been part of the Southwest Michigan community for over 20 years and love the spirit of belonging and making a contribution, the variety of things to do and see, and the friendly nature of the people.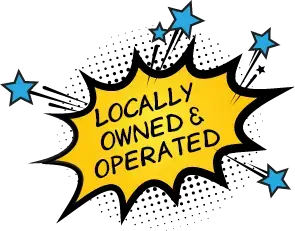 "Persistence is the twin sister of excellence. One is a matter of quality; the other, a matter of time."
– Marabel Morgan
Meet the Team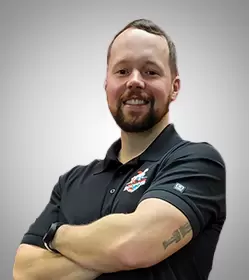 Brandon Wright
Sales Consultant
Born and raised here in Southwest Michigan. Over 13 years of experience in helping serve and care for our community members' needs. Graduated from Lake Michigan College with a science degree, worked for Lakeland Regional Medical Center for six years as a Radiologic Technologist before transferring over to the sales industry. Some hobbies include golfing, snowboarding, and spending time with my beautiful family.
Meet the mighty dogs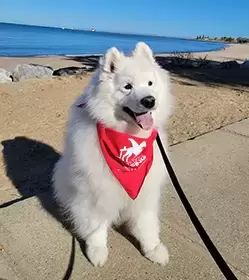 Yukon
Chief Barking Officer
Meet Yukon, the Chief Barking Officer (CBO) of his household. With years of experience in the field of barking, Yukon has developed a reputation for being an expert in alerting his family of potential threats, including mailmen, squirrels, and stray cats. As the CBO, Yukon takes his role seriously and ensures that his family is always safe and protected, one bark at a time.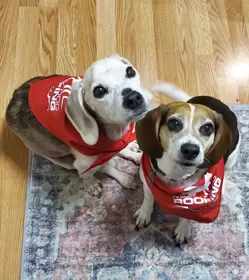 Charlie and Lucy
Security Team
Beloved beagles Charlie and Lucy love to sing Mighty Dog's praises. They bark, bay, and howl about how great our customer experience is. When they're not helping sniff out new happy customers, they enjoy a ride in the jeep (tongues wagging, ears flopping) and of course they love a good nap. We've had Lucy since she was a pup and is now 6 years old. Sadly, our Charlie passed away at 11 years old. He was the best boy, and a beloved Mighty Dog that will be forever missed.
MIGHTY DOG PLEDGES TO PROVIDE YOU WITH:
TOP DOG COMMUNICATION - We will be in touch with you throughout the project so you know what is going on every step of the way. We also have a 24-hour customer service support team to help answer any questions you may have.
ON-TIME SERVICE - When we say we are going to be there, we will. We value you your time and resources and appreciate you choosing us to care for your home.
CLEANLINESS - MDR has the best state of the art equipment to keep your home clean and safe during the construction process. We will bring in the Mighty House Cape to protect your landscaping and air conditioners from any damage which may occur. It is our pledge to you to leave your property with no debris or damage from anything we do.
INTEGRITY - We do what we say we are going to do. We stand behind your home's project for years to come with our Mighty Warranty Plus Watchdog Maintenance Program
MIGHTY TESTIMONIALS
They have excellent customer service. Their team did exactly what they say they will and show up on time. Will definitely use again.
I had my roof and gutters replaced. The crew was friendly and kept me updated throughout the install. They also did a great job with the install as well as the clean up.
Very professional from the office to the installers. Good value for great quality. I would recommend them and have already have done so. Give them a call.
Great company, Our roof came out amazing, straight cuts, everything laid nicely and the cleanup afterwards not a single nail anywhere.
Great job, professional crew, great experience. Highly recommend. Came on time, cleaned up, and roof looks great!
Mighty Dog Roofing is passionate about our community in Benton Harbor Michigan. We wake up everyday and feel so immensely blessed (lucky) to live, work and play in our community that it is important for us to give back and be actively involved. "We love being in Benton Harbor Michigan, and helping any way we can", said Tom and Katie Burrell. "From providing roofs to veterans and supporting our local Humane Society to participating in Habitat for Humanity efforts, Mighty Dog of Benton Harbor Michigan wants to make a difference".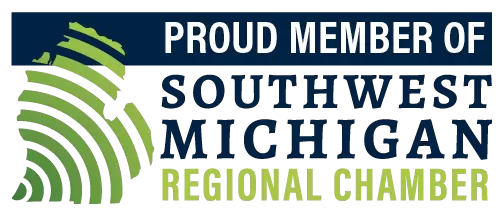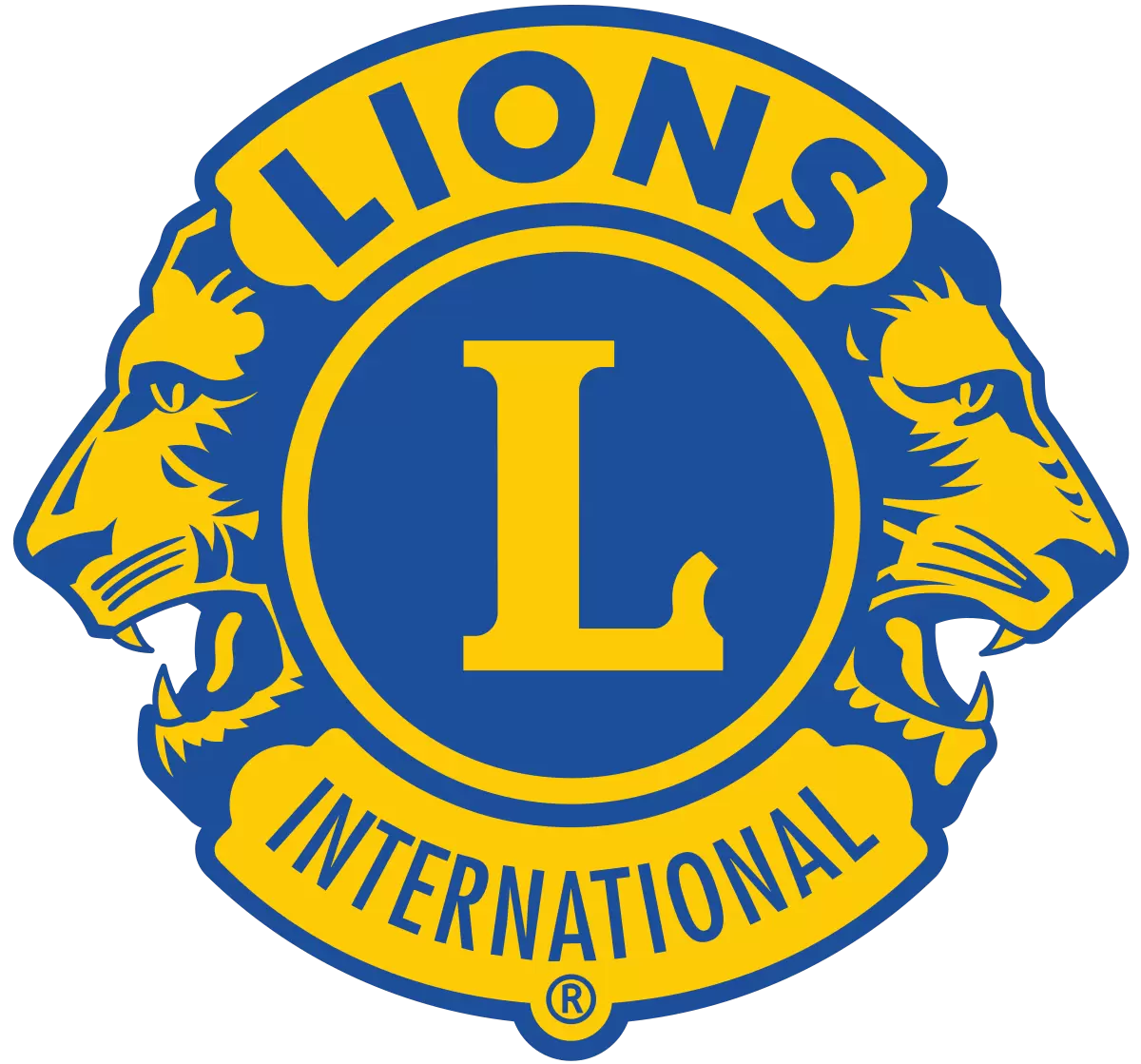 Our Team on Your Roof
Whether you have a repair or a full replacement, our roofing crews have been hand selected for their integrity, cleanliness and craftsmanship. We are OSHA certified and hold regular safety training meetings for our crew foreman. Each of our formen and roofing crews take pride in excellence of craftsmanship in each project they completed. Mighty Dog takes pride in education on products and installation each of our crews bring to you home. Our crews take the Mighty Dog Pledge of being on-time, cleanliness, top dog communication and integrity. Being insured and licensed, you can feel safe and protected in your home that it is being taken care of by the right people!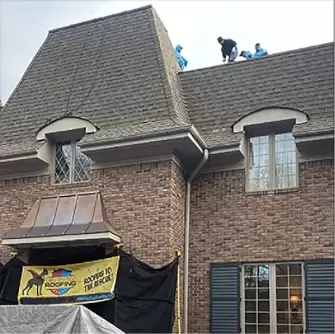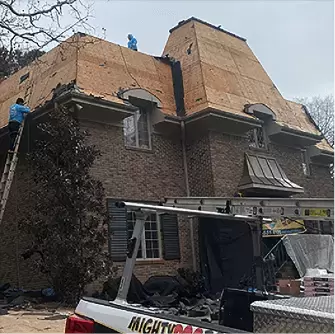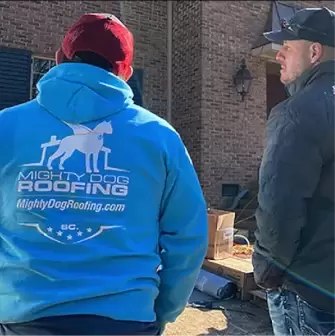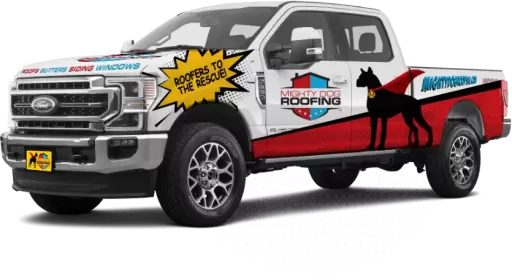 We are in your
neighborhood