About Smyrna Tennessee Team
Nick Lankford
Nick Lankford is your local owner and operator of your Smyrna Mighty Dog location. A little bit about Nick: he was born and raised in Ashford, Connecticut and graduated from the US Air Force Academy in 2009. He's racked up over 1,000 combat hours as an Air Force pilot and his time in the military has inspired him to commitment, service, pride and integrity. He takes those values to heart and instills them as the core foundations of your local Mighty Dog, Nick is dedicated to service for a greater cause. He's in love with the Smyrna community and is dedicated to providing industry-leading services. When he's not manning the helms of Mighty Dog, he can be found reading or exercising or catching the latest Predators hockey game. Be sure to reach out to Nick and his team whenever you have any questions about your home exterior or want to know more about Mighty Dog Roofing.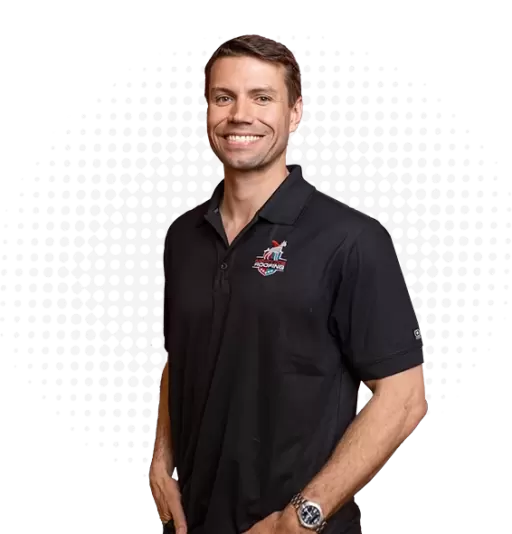 Far and away the best prize that life offers is the chance to work hard at work worth doing.
– Theodore Roosevelt
Meet the Team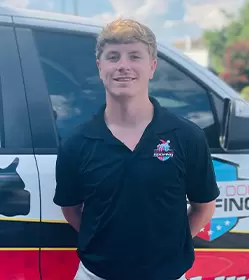 Carter Aven
Home Renovation Advisor
Carter Aven is the solution-oriented home renovation advisor for the Metro Nashville area. His energy is always focused towards understanding a customer's situation and finding answers that are manageable in scope and cost. Originally from Batesville, MS, Carter learned to love the outdoors from his parents. He grew up with either a fishing pole in his hand or drawing a hunting bow. When he wasn't in a deer stand, he was spending time on the field of competition playing football, basketball, and baseball. A graduate of the University of North Alabama, Carter understands the economic impact of any exterior rehab decision on a family's pocketbook. As Carter grows in his role, he looks forward to building relationships with customers for years to come. He stands ready to assist with any of your exterior housing needs from the roof to siding to windows, he has you covered. Carter also has two Mighty Dogs of his own, Memphis and Stowe.
MIGHTY DOG PLEDGES TO PROVIDE YOU WITH:
TOP DOG COMMUNICATION - We will be in touch with you throughout the project so you know what is going on every step of the way. We also have a 24-hour customer service support team to help answer any questions you may have.
ON-TIME SERVICE - When we say we are going to be there, we will. We value you your time and resources and appreciate you choosing us to care for your home.
CLEANLINESS - MDR has the best state of the art equipment to keep your home clean and safe during the construction process. We will bring in the Mighty House Cape to protect your landscaping and air conditioners from any damage which may occur. It is our pledge to you to leave your property with no debris or damage from anything we do.
INTEGRITY - We do what we say we are going to do. We stand behind your home's project for years to come with our Mighty Warranty Plus Watchdog Maintenance Program
MIGHTY TESTIMONIALS
They have excellent customer service. Their team did exactly what they say they will and show up on time. Will definitely use again.
I can't say thank you enough for all the help that was given to me. Very professional, courteous, and helpful. They did an amazing job and did a great job with clean up. I would highly recommend them.
I had my roof and gutters replaced. The crew was friendly and kept me updated throughout the install. They also did a great job with the install as well as the clean up.
Great company, Our roof came out amazing, straight cuts, everything laid nicely and the cleanup afterwards not a single nail anywhere.
Great job, professional crew, great experience. Highly recommend. Came on time, cleaned up, and roof looks great!
Mighty Dog Roofing is passionate about our community in Smyrna Tennessee. We wake up everyday and feel so immensely blessed (lucky) to live, work and play in our community that it is important for us to give back and be actively involved. "We love being in Smyrna Tennessee, and helping any way we can", said Nick Lankford. "From providing roofs to veterans and supporting our local Humane Society to participating in Habitat for Humanity efforts, Mighty Dog of Smyrna Tennessee wants to make a difference".
Our Team on Your Roof
Whether you have a repair or a full replacement, our roofing crews have been hand selected for their integrity, cleanliness and craftsmanship. We are OSHA certified and hold regular safety training meetings for our crew foreman. Each of our formen and roofing crews take pride in excellence of craftsmanship in each project they completed. Mighty Dog takes pride in education on products and installation each of our crews bring to you home. Our crews take the Mighty Dog Pledge of being on-time, cleanliness, top dog communication and integrity. Being insured and licensed, you can feel safe and protected in your home that it is being taken care of by the right people!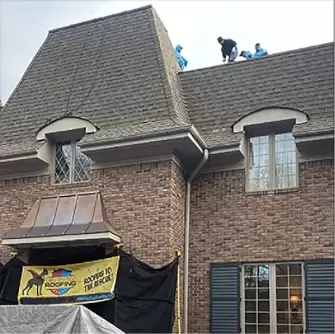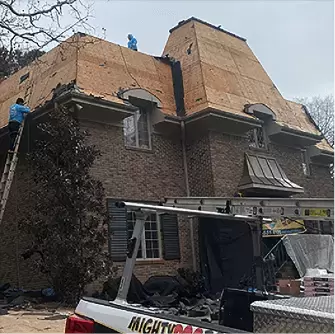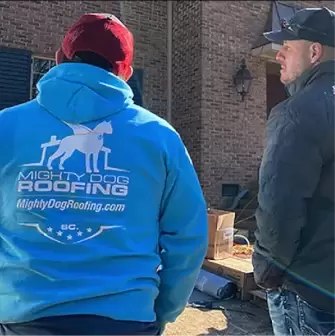 We are in your
neighborhood