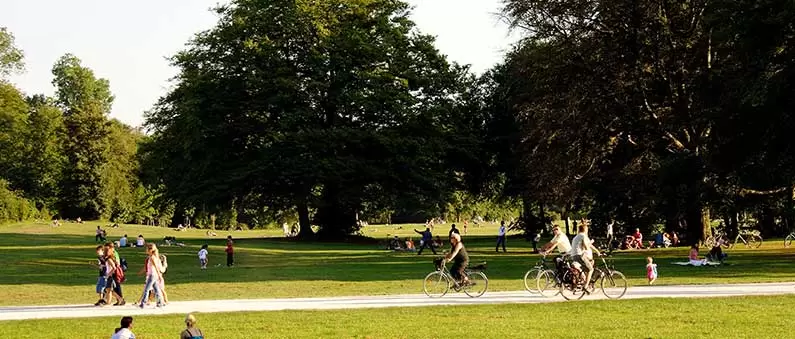 10 Awesome Parks in North DFW
From Huge Nature Preserves to Family-friendly Waterfront Parks
Published: 2022-07-22 15:45:59
If you're looking for a wonderful place to take a hike, have a picnic, or just enjoy some time outdoors in Dallas, you're in luck North Dallas Fort Worth is home to some of the best parks in the state. From huge nature preserves to family-friendly waterfront parks, there's something for everyone here.
We'll share ten of our favorite locations to help you get started planning your next adventure. But first, a few tips to keep in mind before you visit.
Many of the parks in North Dallas-Fort Worth require visitors to purchase a pass. These can be obtained online or at the park entrance. Be sure to check the hours of operation for the park you're interested in visiting. Some parks are only open during daylight hours, while others are open 24/7. Additionally, some of the parks listed below may charge a fee for parking.
And now, without further ado, here are favorite parks where our roofers like to spend time with their families:
Russell Creek Park
This family-friendly park is perfect for a day of picnicking, hiking, or just enjoying the great outdoors. Russell Creek Park features miles of trails, a playground, open fields, and a fishing pond. There's also a pavilion you can reserve and restrooms for longer visits. Russell Creek Park is set to re-open in the fall of 2022 after renovations, but in the meanwhile, the other nine parks on this list are sure to provide plenty of outdoor activities.
Prairie Creek Park
Prairie Creek Park is a beautiful nature preserve with miles of trails winding through dense woods and open meadows. The 37-acre park is home to a variety of wildlife, including deer, and the occasional coyote, but the main attraction is the waterfall and walking bridge alongside the creek. Keep your eyes peeled and you might even spot some local bird varieties! Prairie Creek Park is maintained by Richardson's Parks and Recreation Department, but it's always a good idea to carry out anything you carry in.
Breckinridge Park
Breckinridge Park is a huge, 400-acre park with something for everyone. The park features a gazebo, soccer fields, baseball fields, a fishing pond, restrooms, and wide-open fields often dotted with wildflowers. This is a great park for some athletic activities, including pickup games, practice, or just a leisurely stroll. There is a small playground and plenty of walking trails to occupy guests of all ages.
Andrew Brown Park
This park is perfect for a day of fishing, splashing in the stream, or just relaxing by the water. Andrew Brown Park East features 118 acres for picnicking, jogging, and enjoying the playground and other amenities. You can also rent paddleboats, kayaks, and canoes to explore the lake at your own pace. During the holidays you'll find lights, fireworks, and other activities for the whole family to enjoy.
East Frisco Commons Park
Frisco Commons Park is a beautiful, expansive park with a playground, pavilions, a pond, and miles of trails. This is a great place for community and family gatherings, complete with picnic tables, BBQ pits, restrooms, concrete trails, and unpaved paths to explore. Don't miss the Frisco Starfest starting every second Saturday in July for a night of stargazing with the community,
Preston Meadow Park
A little outside the city, you'll find Preston Meadow Park in Plano, a wonderful place to take the kids for a day of playing on the playground, flying kites, picnicking, or sports practice. The two playgrounds are separated by age, helping parents keep their little ones safe. The multi-purpose park also has a drinking fountain, reservable athletic fields, a pavilion, and a hiking and biking trail.
Gabe Nesbitt Community Park
Gabe Nesbitt Community Park is a large park offering a variety of community amenities. Centered around baseball and softball fields, the park features a track, pavilions, a skatepark, an indoor tennis center, and restrooms. The park also has a library, a garden, and concessions open to the public during the sports season. Likely one of the largest parks on this list, we recommend the Gabe Nesbitt Community Park to those who don't mind lots of company as they enjoy nature.
Windhaven Meadows Park
This park is perfect if you are looking for a place to bring your pet for some socialization and exercise. Complete with a four-acre dog park, miles of walking and biking trails, an enormous reservable pavilion, and a playground for kids, this is a dog-owner's dream park.
Bonnie Wenk Park
Bonnie Wenk Park is a beautiful 216-acre park located in the heart of McKinney, Texas. The park features a lovely all-abilities playground so kids can enjoy an accessible play area. The amphitheater is perfect for kids interested in theatre or a great gathering area for get-togethers. Visitors can enjoy a fishing pond, plenty of hiking and biking trails, and a dog park including a splash pad for hot days.
Celestial Park
Celestial Park is a small, but unique park that's perfect for learning about space. Aptly named, the park features a sundial, steps with celestial quotes and images, poetry, and benches. At the top, you'll find a human sundial, perfectly situated for a science object lesson perfect for kids interested in astronomy. It is the ideal spot to enjoy a contemplative afternoon, a night of stargazing or watching the sunrise/sunset.
---
Other Activities Around The North Dallas-Fort Worth Area: