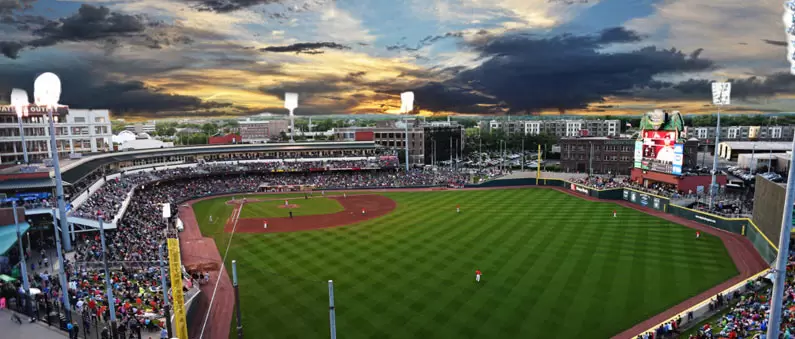 The 15 Best Things to Do in Dayton
No matter your passions or the size of your group, there is sure to be something in Dayton everyone will love
Published: 2022-07-24 04:00:00
As a local Dayton roofing contractor, Mighty Dog knows the area is home to many great attractions and landmarks. No matter your passions or the size of your group, there is sure to be something in Dayton everyone will love.
Fans of history and science will find happiness in one of Dayton's great museums and historic districts. Lovers of art and theater will have a ball at the Art Institute or in one of Dayton's historic theaters.
Some unique attractions suitable for families and visitors of all ages round out Mighty Dog's list of the 15 best things to do in Dayton. We hope this list helps you find some great activities in one of America's greatest cities.
National Museum of the US Air Force
The official museum of the United States Air Force is located on the Wright-Patterson Air Force base near Dayton. According to their website, this is also the oldest and largest military aviation museum in the world.
The National Museum is home to many examples of vintage and modern military airplanes. They also look to preserve the Air Force's unique traditions and history through education, exhibits, and special programs.
The museum does not charge for parking or admission, making this the perfect place for a family looking for entertainment on a budget.
The Dayton Art Institute
The finest art museum in Dayton is found downtown near Interstate 75. The Dayton Art Institute is home to more than 27,000 objects. The museum has several dedicated areas of focus including Africa, Ancient Americas, Europe, Photography, and Textiles, among others.
The institute hosts many events, special exhibitions, and educational programs throughout the year. For the most up-to-date information on upcoming events, check their website here.
Admission is $15 and tickets do not need to be bought in advance. Children under the age of six are admitted free here, making this a great place for families with young children interested in the visual arts.
Boonshoft Museum of Discovery
The Boonshoft Museum of Discovery is a natural history museum dedicated to educating the Dayton populace on nature and science.
As an educational facility, the Boonshoft Museum is constantly updating their STEM Programs for the benefit of adults and students in the Dayton area. For information for educators, as well as a calendar of events, programs, and exhibits, check their website here.
The Boonshoft Museum is also an event venue for birthday parties, weddings, and other small gatherings.
Admission is $14.50 for adults, with children under 3 getting in free. If you're a big fan of the museum, you can also become a member for free access whenever you want.
America's Packard Museum
The Dayton Packard Museum is dedicated to the preservation and exhibition of the classic Packard automobiles, a line of luxury cars popular in the first half of the 20th century.
This museum is found inside of a restored former Packard dealership, adding a touch of authenticity that is hard to match elsewhere in any museum.
This is a historic brand of automobile, a company which was responsible for many of the classic luxury car designs associated with the era. Fans of history and cars are sure to find something to love here.
Scene 75 Entertainment Center
Scene 75 is a family-friendly arcade and attraction center with two bars and a restaurant. It offers 150 arcade games as well as activities like indoor go-karts, blacklight mini-golf, laser tag, bumper cars, and a thrilling 4D motion theater.
This is an ideal location for a birthday party or any large gathering where plenty of fun and games is a priority. To plan events, contact Scene 75 via their website here.
Admission is free at Scene 75. Instead, you'll pay for each individual attraction. Family deals are also available in advance on their website.
Carillon Historical Park
As a 65-acre open-air history museum, Carillon Historical Park plays host to many artifacts and exhibits preserving the history of the Dayton area. The history of the objects here goes back all the way to 1796.
The most striking feature of this immaculately maintained outdoor studio is the Deeds Carillon, a 151-foot-tall carillon that the park takes its name from. This beautiful stone structure makes for picturesque backgrounds ideal for any wedding or event photography.
This is the perfect place to spend a day enjoying the fresh air. Admission is relatively low at $12 per adult.
Sunwatch Indian Village
Sunwatch is a walkable outdoor excavation site and cultural center. This is a rare treat for lovers of history, or anyone interested in the people that populated the Dayton area in the 13th century.
Two amateur archaeologists discovered and reported Sunwatch in the 1960s. Scholars continued to excavate for artifacts and information until the late 1980s. The site was incredibly fruitful for information on this ancient native society, their tools, customs, rituals, and artwork.
Aside from the walkable excavation site, there is also an interpretive center dedicated to unraveling the mysteries inherent in such an old and remote discovery.
Dayton Dragons Baseball
The Dayton Dragons are a minor-league professional baseball team playing in the MiLB. They are the High-A affiliate of the Cincinnati Reds MLB team.
America's pastime is often a little more impressive when the stakes are higher, and High-A ball players are all hoping for a shot at the big leagues one day. A few former Dayton Dragons have gone on to be well-known members of the Cincinnati Reds, such as Joey Votto, Billy Hamilton, and Tucker Barnhart.
Don't miss the next generation of MLB talent as they work their way through the minor leagues.
Tickets to games start as low as $10 for lawn general admission, and $20 for stadium seats.
Second Street Market
Locals looking for a great place to find locally grown fresh produce, baked goods, and artisan crafts can find them all in one at the Second Street Market. Located in the Webster Station historic district, the market is inside of a refurbished freight house. They are open to the public year-round, Friday through Sunday.
Like an open-air market common in Europe, 2nd street has an undeniable folksy charm that makes shopping here feel like an event to be enjoyed.
The market offers group tours which guests can schedule in advance through their website.
Benjamin & Marian Schuster Performing Arts Center
The Benjamin & Marian Shuster Performing Arts Center features theater, concerts, lectures, educational seminars, and other forms of performing arts.
This center is home to three main facilities, the Mead Theater (main theater), the Mathile Theater which is a smaller theater suitable for intimate performances, and the Kettering Wintergarden. The Wintergarden is a six-story glass atrium which ties the entire facility together.
The facility is available for rent. For information on booking, and to keep up to date on the latest events, check their website.
Wright Brothers Memorial
Known as the inventors of the airplane, Orville and Wilbur Wright grew up in Dayton beginning in 1884, and each of them died in the city.
Their historic feat of flight occurred in North Carolina, but as their adopted hometown, Dayton hosts their own Wright Brothers Memorial located off of Memorial Road.
The memorial itself is a statue with a dedicated plaque and is situated inside of a park and surrounded by some scenic open spaces and a great view of Memorial Road below. There are informational cards throughout the park giving information on the area and history of the Wright brothers.
Victoria Theater
This historic theater opened in 1866 and is one of the oldest continually operated theaters in the country. The theater is notable for its spectacular Italianate-style façade and is known locally as the "magnetic edifice."
Similar to other performing arts theaters, the Victoria is highly variable in terms of use. On any given night, the 1154-seat theater may be home to comedy, music, theater, or any other kind of performing art one can imagine.
For a full schedule of current and upcoming events, check their website here.
Dixie Twin Drive-In Movie Theater
A form of movie-watching which doesn't take place much anymore can still be enjoyed here at Dixie Twin Drive-in.
Dedicated to preserving this particular slice of Americana, the Dixie-Twin theater has two screens each with high-quality digital projectors playing 2 movies per screen per night. The films start at dark, and the theater features a full concession stand and an intermission in between each film.
The contrast to a traditional movie theater experience is one worth checking out. This may just become your family's new favorite way to watch movies. Check their website for upcoming showings.
Woodland Cemetery and Arboretum
Woodland is an arboretum and cemetery originally founded in 1841. This is a true historic landmark, being one of America's oldest rural cemeteries.
The Woodland Cemetery and Arboretum is a great place to walk and enjoy the beauty of nature. Enjoy 200 acres of peaceful rolling hills where 110,000 souls are at rest. There are more than 3,000 trees on the property and 165 species of woody plant native to the area.
Above all, Woodland is a cemetery and the final resting place of some of Dayton's famous residents. Examples include the Wright Brothers and Charles Kettering.
Aullwood Audubon
Birds are some of the most diverse and fascinating species on the planet, a branch on the tree of life that stretches back to the dinosaurs. The Aullwood Audubon is a facility dedicated to the conservation of these birds and their habitats.
The Audubon itself is a 200-acre nature sanctuary complete with 8 miles of trails to enjoy running, walking, or biking.
The park is open 9 AM to 5 PM Tuesday through Saturday, and 1 PM to 5 PM on Sunday. Admission is $12 for an adult ticket and free for children under 3.
Mighty Dog's blog is constantly being updated with new entertainment recommendations for your area. Check back often for more lists like this one.
Other Things Of Interest Around Dayton, Ohio