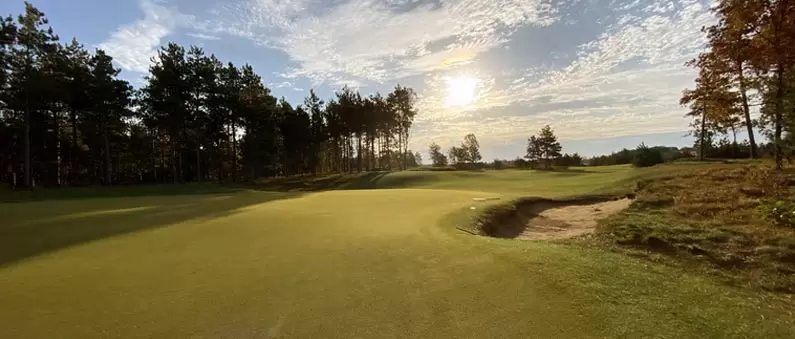 The Best Dayton Area Golf Courses
We've assembled this list of ten of the very best courses in Dayton to help you find a club
Published: 2022-07-24 04:00:00
Golfing in Dayton has never been better and when we're done the working week as Dayton roofers we like to hit the links.
Whether you're a fan of classic Scottish links-style courses with plenty of hills and sand, or modern open spaces ideal for beginners and experienced players alike, there is a course you'll love somewhere in Dayton.
We've assembled this list of ten of the very best courses in Dayton to help you find a club or course that suits your needs.
PipeStone Golf Club
Miamisburg is home to PipeStone Golf Club.
Designed by legendary designer Arthur Hill, PipeStone's golf course is visually stunning and challenging.
There are dozens of hills and over 100 feet of elevation changes that will challenge your game and golf knowledge before you make it to the greens, which their website claims are "the best greens in the Miami Valley."
PipeStone is also home to the 1818 grill, which overlooks the 18th hole and is available to host banquets, weddings, and other events.
Dayton Country Club
South of University Park near downtown Dayton is Dayton Country Club.
This club has been intact since 1897 and seeks to provide a traditional country club experience for its members and their families.
Their golf course was designed by Donald Ross and redesigned in 1964 by Geoffrey Cornish. It offers meticulous play, gorgeous scenery, as well as frequent elevation changes.
This is a true country club and offers amenities that include dining, social events, racquet sports, and fitness.
Homestead Golf Course
Homestead is a beginner-friendly course located in Tipp City. They offer an affordable daily pricing schedule as well as several membership options. Their facility does not include any amenities.
The course is best described as simple and relatively flat. It is surrounded on all sides by lots of open space which gives it a very inviting and vast feel. The website includes a virtual walk-through of the course with descriptions from the club.
Cassel Hills Golf Course
Cassel Hills is a unique course that is advertised as two separate nines with distinct characteristics. The front nine is flat while the back nine has many more hills.
Each nine also has very large greens which emphasize the lag putting game, adding a unique dimension to the game at Cassel Hills.
Cassel Hills hosts golf events and tournaments, including weekend leagues and tournaments. They have a dedicated pro shop and offer golfing instruction as well. Information about all of these can be found on their website.
Meadowbrook at Clayton Golf Course
Meadowbrook is a public golf course and event facility located in Clayton.
The facility at Meadowbrook is designed for a round of golf with friends or as a gathering place for large parties. They have multiple indoor and outdoor venues and also offer on-site catering.
For day trips, the facility also offers a snack bar that serves hot dogs, salads, and sandwiches which you can enjoy in the bar or on their scenic patio.
All of this can be booked with just a few clicks from their website.
Mound Golf Course
Mound is a well-known nine-hole course located in Miamisburg. Vibrant fairways lead to relatively small greens, and all of this rests atop a gorgeous plateau with a view of Miamisburg below.
The Mound offers facility rental for events, hosting up to 70 guests with indoor and outdoor seating.
Finally, Mound offers affordable daily rates with or without rental. To check their prices, book events at Mound, or contact the facility, see their website here.
City of Dayton Community Golf Club
A rolling, hilly course located south of the city of Dayton. This course includes 36 holes with many distinct and interesting challenges, making it a distinct and engaging challenge for golfers of all skill levels.
The Community Golf Club is a great club for golfers looking to improve their game, as their on-site pro ship also offers golf lessons, and the club itself hosts many leagues and golfing programs throughout the season.
Tee times can be booked online on their website.
Shaker Run Golf Club
Another classic course designed by the legendary Arthur Hills, the Shaker Run Golf Club is 27 holes of bent grass fairways, water hazards, bunkers, and wood traps. This challenging course will test the skills of golfers new and experienced.
Membership to the club includes access to amenities like their practice facilities and locker rooms as well as advanced booking and discounts on food, beverages, and pro shop merchandise.
For information on hosting special events on their scenic grounds, contact them via this form.
Miami Valley Golf Club
The Miami Valley Golf Club was established in 1919 and designed by Donald Ross. They offer a par 71 18-hole championship golf experience with what they advertise as "the best greens in Dayton, Ohio."
Their grounds also include a practice facility and events area which can host holiday events, weddings, banquets, or any parties.
The Miami Valley Golf Club seeks to perfect the golfing experience by eliminating long round times, tee times, and typical country club expenses like food and beverage minimums.
Moraine Country Club
Moraine Country Club was established in 1930 and boasts a long history of top-flight golf tradition, including hosting the PGA Championship in 1945. The course was recently restored and is in the style of the classic Scottish links courses.
Moraine's course was redesigned in 2016, gracing the club with a balance of history and modernity that few other clubs can truly boast.
For information on their clubhouse, dress code, and an abundant resource on golf history, go to their website.
Other Things Of Interest Around Dayton, Ohio