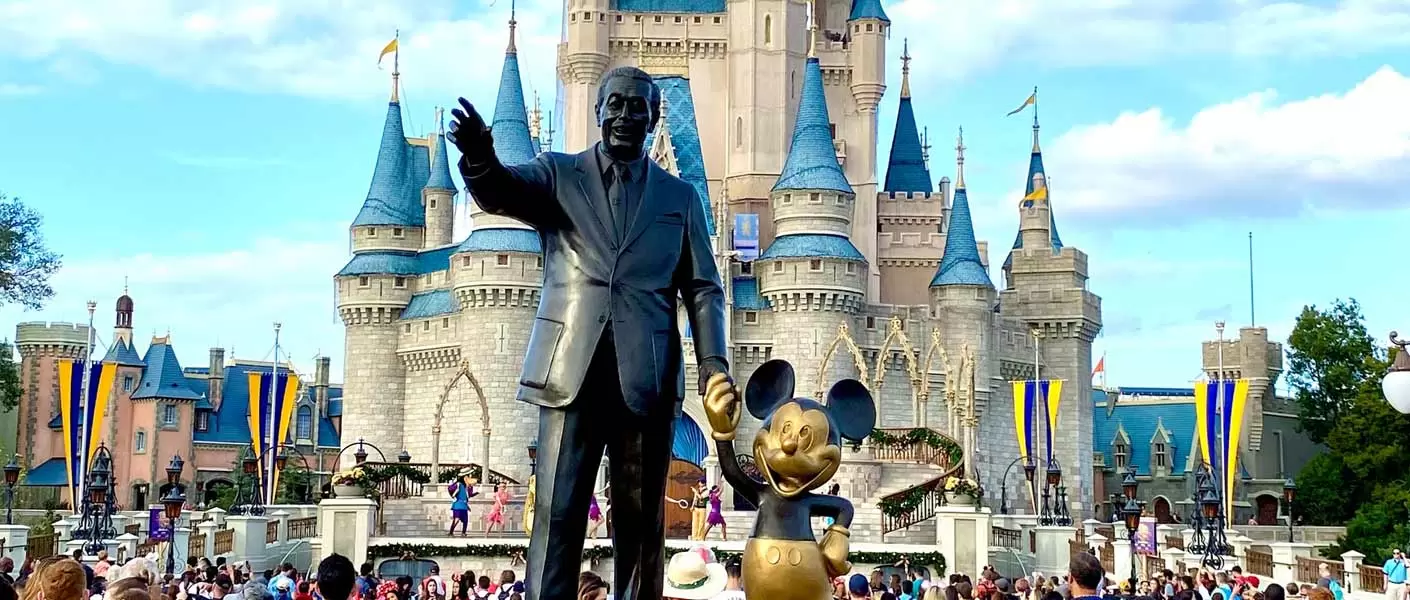 10 Things to Do Around Central Florida
This guide can make it easy for you to pick out a great vacation spot for you and your family
Published: 2022-07-18 20:29:11
As long-time Central Florida roofing contractors, we sure appreciate the wide variety of activities in the local area. When choosing where to spend an entire day in Central Florida, you're likely to feel spoiled for choice!
Central Florida is home to some of the world's most iconic theme parks: Universal Studios, Disney World, and LEGOLAND just to name a few.
We hope this guide can make it easy for you to pick out a great vacation spot well in advance so you and your family can focus on enjoying the attractions you came to see, instead of feeling paralyzed by all of the great options.
Disney's Magic Kingdom Park
Walt Disney World Resort in Orlando plays host to a number of first-class attractions, making it worthy of multiple places on this list.
The iconic real-life Cinderella castle, which is Disney's famous opening credit motif in movies, is located inside the resort.
The Magic Kingdom Park is a theme park all on its own with several notable attractions including the famous Jungle Cruise and Haunted Mansion. This is in addition to several dining options and the surety that there will always be some parade, event, or show going on to keep the kids interested.
The Magic Kingdom website has a list of upcoming events and ticket information.
Kennedy Space Center
For lovers of science, space, and the great unknown, we recommend the Kennedy Space Center Visitor's Complex.
This NASA-sponsored theme park includes some great educational attractions and some fascinating looks at the sea of stars floating over the night sky.
The Apollo exhibit documents the history of the program which eventually landed human beings on the moon, while NASA Now + Next is a glimpse into the future of NASA's space endeavors, such as landing human beings on Mars.
ICON Park
ICON Park is a multi-purpose entertainment area that houses more than 50 restaurants. The Park seeks to be an all-in-one entertainment plaza and also includes bars and concert venues.
ICON Park is also home to The Wheel, a 400-foot-tall observation Ferris wheel that gives an unparalleled view of downtown Orlando. Of course, there are also several other attractions at the park such as Madame Tussauds wax museum and the newly built Carousel on The Promenade.
The Wizarding World of Harry Potter - Diagon Alley
At Universal Studios Orlando, fans of the classic franchise will enjoy visiting Diagon Alley at The Wizarding World of Harry Potter.
The park includes magical-themed attractions like the Hogwarts Express and the underground thrill ride Harry Potter and the Escape from Gringotts. If you're going during the busy season, you can skip the lines of each of these rides with the express pass.
Since it's inside the larger Universal Studios, you can choose from tons of dining and entertainment options in the immediate area. Check the Universal Studios website for complete information.
Disney's Animal Kingdom Theme Park
Also inside the Walt Disney World Resort is the Animal Kingdom Theme Park. According to Disney's own website, the park aims to be a celebration of all things living.
This celebration takes shape with the many shows and events incorporating real wildlife themes as well as references to Disney classics such as The Lion King. If you are interested in art, you will enjoy The Animation Experience and if you have young children, they will have a blast at the petting zoo.
SEA LIFE Orlando Aquarium
SEA LIFE is the premier aquarium in the Orlando area. It boasts a famous and unique 360-degree ocean tunnel, allowing visitors to walk 'under' the ocean life as it swims above and around them.
The aquarium is host to over 250 species of fish, turtles, sharks, and more.
Day passes to the aquarium begin at $35, while annual passes are only $75 at the start of the season, making it a great value if you visit more than twice.
LEGOLAND Florida
This two-in-one theme park combines a main area with LEGO-themed rides, attractions, shows, and events with a water park to cool off in the warm Florida summers.
Although it was specifically built for kids, LEGOLAND promises fun for the whole family. There is even an area for children under two years of age called DUPLO Park which includes childproof safety features and gentle, child-friendly thrills.
LEGOLAND Hotel is a great option for families who want the full LEGO experience.
Universal CityWalk
Inside the Universal Orlando Resort is the CityWalk. Here, a collection of entertainment and restaurant options are located with the purpose of making your food experience at Universal memorable.
After a long day of walking around a huge theme park like Universal Studios, the last thing you want is to have to walk all across the park looking for food options, then having to wait on your order once you get there. Conveniently, participating CityWalk restaurants allow customers to order online through the CityWalk Orlando app.
Bok Tower Gardens
These gorgeous, scenic gardens are home to a number of personal, spiritual, and cultural enrichment opportunities.
Originally opened in 1929, the garden is host to periodic drumbeat training and yoga sessions. These are not held very often, so if you're interested in attending one of them, make sure you book well in advance via the Bok Tower Gardens' website.
Circle B Bar Reserve
A unique attraction located on the northwest shore of Lake Hancock, this former cattle ranch today has been transformed into several distinct ecosystems existing on a more than 1,200-acre reserve.
This is a terrific attraction for those who love the outdoors, hiking, and nature photography and painting. Nine short trails (around .5-1 mile each), ranging from easy to moderate intensity, connect the edges of the reserve.
Hollis Garden
At Lake Mirror stands the gorgeous and delicate Hollis Garden, a botanical display garden hosting more than 10,000 flowers and other plants.
The air is sweet here, and the colorful scenery makes it the perfect place to relax in and enjoy the beauty of nature.
Hollis Garden is conveniently located within walking distance of downtown Lakeland, meaning it's the perfect place to spend the day before retiring to the many restaurants and entertainment options in the area.
ZooTampa at Lowry Park
Another one for wildlife lovers is ZooTampa. Tickets to this vast and interactive zoo start at $35 for children and $45 for adults. This deal is particularly valuable now as one ticket grants you unlimited admission for the rest of the year 2022.
Depending on the day of the week, the zoo hosts up-close encounters with various animals like a giant tortoise, giraffe, and Southern White Rhino. Visits with these majestic creatures can be booked online in advance of your visit.
If you need residential or commercial roofing services in Central Florida, call the professionals at Mighty Dog Roofing to get a free estimate today.
---
Other Things Of Interest In and Around Central Florida