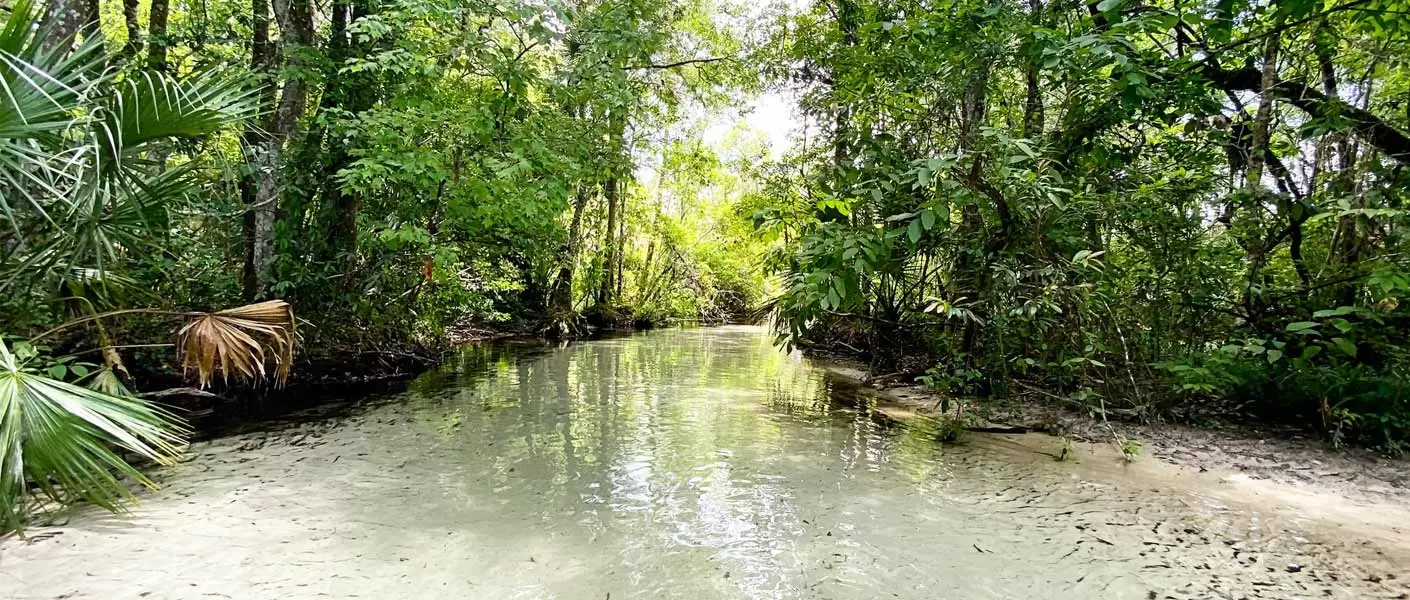 Top 12 Parks Around Central Florida
These 12 parks offer miles of trails to explore the incredible natural diversity that Florida has to offer
Published: 2022-07-22 08:54:40
From tranquil springs to historic landmarks, central Florida has some of the best parks in the country. As native Central Florida roofers, we know how truly majestic this area can be. These 12 parks offer miles of trails to explore the incredible natural diversity that Florida has to offer. No matter how many times you visit, there's always something new to discover!
Blue Springs State Park
Pay a visit to the manatees at Blue Springs State Park, a true gem along the St. Johns River. As of 2022, there are 724 of these gentle giants roaming the local waters, a massive increase from the 14 that were originally found back in 1970 just before conservation efforts began.
Today you can hike, canoe, kayak, or swim in the 72-degree spring water to see the manatees alongside wading birds, eagles, ospreys, kingfishers, and plenty of fish. Rentals are available at the park, or you can take a guided river boat cruise.
Wekiwa Springs State Park
Cool off at Wekiwa Springs State Park, a lush tropical escape from the scorching Orlando heat. The refreshing emerald springs are one of the longest-running tourist attractions in the county, enjoyed by visitors since the mid-19th century.
In addition to swimming, you can also experience the area on foot, bike, horseback, canoe, or kayak. Miles of trail invite you to explore, whether you're looking for a short, gentle walk or an all-day adventure. If you're lucky, there's a chance you'll encounter a white-tailed deer or gopher tortoise while out on the trail.
Shingle Creek Regional Park Steffee Landing
Steffee Landing is one of the most popular places to paddle along Shingle Creek, and for good reason. Rent a kayak or canoe and cruise north through the stunning cypress swamp to see turtles, water birds, alligators, and more. Follow the creek south for secluded narrow channels lined with palmetto palms, or head north of Steffee Landing for a popular fishing spot and Babb Landing. Biking and hiking trails meander throughout the park, offering endless opportunities to explore this tranquil natural paradise.
Lake Louisa State Park
For a taste of natural diversity just half an hour from Orlando, Lake Louisa State Park is a destination not to be missed. Within the park, you can see 11 distinct plant communities fed by three major lakes (Louisa, Hammond, and Dixie).
Cycling is one of the most popular ways to experience this slice of wilderness, with seven miles of comfortable paved roads connecting to over 20 miles of unpaved trails to explore. Along the trail you might even see bobcats, deer, fox squirrels, osprey, bald eagles, and deer.
De León Springs State Park
Cultural and natural history combine to make this fascinating park a must see. De León State Park was originally home to the native Mayaca people, who called the area Acuera or "Healing Waters." The springs powered mills used to mill sugarcane and corn during the Civil War, and later drew the attention of famous naturalist John James Audubon who visited in 1831.
Today the custodians welcome visitors to swim and explore the 6,000 years of human history depicted on interpretive panels throughout the park.
Silver Springs State Park
Crystal-clear waters await you at one of America's largest springs, Silver Springs State Park. Humans have enjoyed the banks of Silver River for over 10,000 years, and it's the setting for at least 20 movies, including Rebel Without a Cause and Creature from the Black Lagoon.
There are so many ways to traverse the five-mile river, from kayaks and paddleboards to tour in a glass bottom boat. When you've had your fill of the river, explore the history and science of the area in the Silver River Museum.
Highlands Hammock State Park
Nine trails wind through Highlands Hammock State Park, where endangered species are protected within a delicate ecosystem. This park is home to more rare and endemic species than any other state park in Florida. An elevated boardwalk through the cypress swamp offers the chance to glimpse the Florida panther, deer, alligators, and black bear.
A 3-mile bike loop, nine hiking trails, and a tram tour are also available to help visitors enjoy the rich and diverse parkland from every angle.
Rainbow Springs State Park
Camping, fishing, hiking, tubing — Rainbow Springs State Park has it all! Once a privately-owned tourist attraction, this lush, serene spring has been attracting visitors for centuries. Remarkable clarity and comfortable 72-degree water make it an ideal snorkeling location. Constructed waterfalls and ornamental gardens showcase the natural beauty of the area, and food concessions serve up snacks and sandwiches on weekends.
If you plan to visit Rainbow Springs, plan ahead — the park often reaches capacity on weekends and holidays, so get there early to beat the crowds.
Lake Eola Park
If you're looking for a quick escape from the city, visit Lake Eola Park. A 0.9-mile sidewalk circles this lake in the center of Downtown Orlando, perfect for walking, running, or cycling.
Lake Eola hosts an array of movies, plays, and concerts throughout the year, but is a refreshing escape from the bustle of the city at any time. Join the swans on the lake by renting a swan-shaped paddle boat or lie back in the grass and admire a spectacular view of the Orlando city skyline.
Lake Kissimmee State Park
Glamp where the cowboys roamed at Lake Kissimmee State Park. You can experience life as a pioneer cow hunter in this picturesque 1876-era cow camp, which brings Florida's heritage to life with live cowboy demonstrations. Visitors can boat, canoe, and fish on the lake, or explore over 13 miles of nature trails to catch a glimpse of white-tailed deer, bobcats, turkeys, or sandhill cranes. At night, the dark skies make for incredible star gazing.
Colt Creek State Park
Creeks wind through longleaf pine trees and thick cypress groves in this stunning 5,000-acre state park. Cold Creek boasts 15 miles of trails to enjoy on foot or horseback. There's also endless paddling to enjoy, with three lakes comprising 36 acres of tranquil waters.
Anglers can catch largemouth bass and bluegill, with the chance to spot alligators, turtles, herons, storks, and cranes. Several pavilions can be reserved for special events, with nearby access to restrooms and trailheads.
Alafia River State Park
If you prefer to explore on two wheels, Alafia River State Park is a must see. This reclaimed phosphate mine boasts 20 miles of hilly trails with some of the most extreme elevation changes in the state, making it a haven for mountain bikers.
After you've braved the track, relax along the shores of the pristine lake, or try your hand at fishing in the South Prong of the Alafia River. Complete with a playground, campground, and full-service bike shop, Alafia River State Park offers something for everyone!
Conclusion
Mighty Dog Roofing has been serving the community in central Florida for over 20 years, so we know how special the parks and wild spaces here are! While you're exploring the great outdoors, let us take care of the indoors with comprehensive roofing, guttering, and window services to keep your home sweet home cozy, safe, and secure from the elements.
Contact us today for your free inspection!
---
Other Things Of Interest In and Around Central Florida