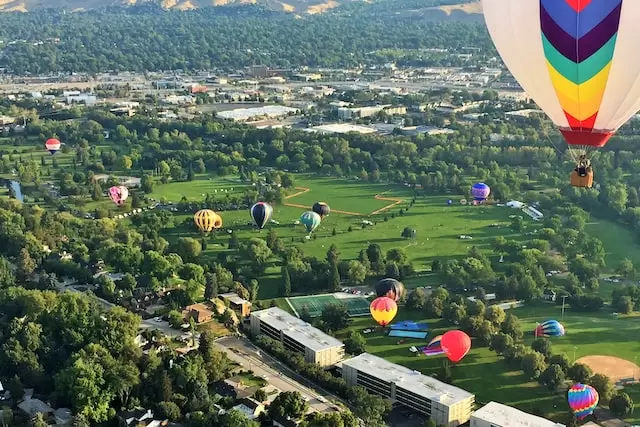 Awesome Things to Do While in Boise Idaho
Some of the many awesome things to find in Boise Idaho
Published: 2022-08-26 18:05:49
If you find yourself in Southwest Idaho, there are plenty of things to keep you busy. If you're looking for a lively nightlife scene, you'll find it here. If you're looking for a place to relax and recharge, there are plenty of nature trails and parks to choose from. And if you're looking for family-friendly fun, Boise Idaho won't disappoint. Some of these places are more fun for the little ones, while others are more catered toward adults. Either way, having a relaxing and fun day in Boise is easy, especially if you visit some of the following places.
Aquarium Of Boise
The Aquarium of Boise is the best aquarium in the area. Inside, you'll learn about the many different species of fish that call Idaho home, as well as a variety of exotic species including rays, sharks, pufferfish, and reptiles. They have a wide variety of exhibits, and their knowledgeable staff is always happy to answer any questions you might have.
Discovery Center of Idaho
Discovery Center of Idaho is a hands-on museum dedicated to inspiring lifelong curiosity and learning in science, technology, engineering, and math. Located in Boise, Idaho, the Discovery Center offers over 150 interactive exhibits, educational programs, camps, and events for all ages. The Discovery Center is also home to the Science Store, an education resource center, and Idaho's only Challenger Learning Center, where students can experience simulated space missions.
Freak Alley Gallery
Freak Alley Gallery is the largest outdoor mural gallery in the Pacific Northwest, and it's right here in Boise! The ever-changing collection of murals is sure to inspire, and it's a great way to get a taste of the local art scene. If you're looking for the perfect place to take your new profile picture, this may be Boise's best offering.
Zoo Boise
Zoo Boise is a great place to visit while in Boise, Idaho. The zoo is home to over 190 species of animals, and you can also participate in some of the daily educational programs. Visitors can also participate in the Zoo Boise Conservation program, which helps protect endangered animals in the wild. In addition, the zoo offers a variety of special events throughout the year, such as behind-the-scenes tours and animal encounters.
Table Rock
Table Rock is a wonderful place to get some fresh air and take in the stunning views of southwest Idaho. The hike to the top is moderate, and it's a perfect spot for a picnic lunch. Be sure to bring your camera, as the views from the top are truly spectacular.
The three-mile hike will take about two hours total, and it's a fantastic way to get some exercise while enjoying the beauty of Idaho.
Boise Art Museum
The Boise Art Museum is home to some of the finest art in the west, and they have a wide variety of exhibits featuring both local and international artists. They also offer educational programs and workshops, making it a smart choice for those interested in learning more about the world of art.
Ann Morrison Park
Ann Morrison Park is the best local choice for taking a stroll, having a picnic, or just enjoying the great outdoors. The park is home to a number of events throughout the year, including concerts, festivals, and farmers' markets. It's also a beautiful place to meet people, as it's one of the most popular parks in Boise.
Old Idaho Penitentiary Site
Visiting the Old Idaho Penitentiary Site is an interesting way to learn about the state's history, and it's also a popular spot for photography. The site features a number of historic buildings, as well as a museum that tells the stories of the prisoners who were once held there.
Idaho Military History Museum
The Idaho Military History Museum is the location authority on the state's military history, and it features a wide variety of artifacts and exhibits on topics ranging from the Civil War to WWII. Idaho was particularly influential in the Spanish American War and the Nez Perce War.
Boise Depot
The Boise Depot is a wonderful place to gather for events. In its historic Spanish style, the building is highly photographable, and it features a wide variety of exhibits on topics ranging from the city's founding to its present day. The depot is also home to several events throughout the year, including concerts, farmers' markets, and art shows.
MK Nature Center - Idaho Fish and Game
MK Nature Center - Idaho Fish and Game is a great place to take the family for a day trip. There are several different types of fish here and many other animals. The staff is very knowledgeable and can answer any questions that you may have. The center also offers a variety of different programs for children. These programs include making birdhouses, learning about different types of animals, and even fishing lessons.
Kathryn Albertson Park
Kathryn Albertson Park is one of the best places to relax and recharge in Boise. It's a beautiful park with plenty of walking trails, a pond, and plenty of wildlife to see. The park spreads across 41 acres, so there's plenty of space to explore. And if you need a break from all the nature, the park has a playground and a picnic area. It's a good place to visit regardless of whether you want to bring the little ones or if you want to enjoy it by yourself.
Idaho State Museum
Idaho State Museum in Boise, ID, is the perfect place to learn about the state's rich history and culture. The museum offers a variety of permanent and temporary exhibits, as well as educational programs and events. In addition, visitors can explore the museum's many galleries, which feature topics such as the state's Native American heritage, pioneer past, and natural history. The Idaho State Museum is a great to spend a day learning about Idaho's unique history and culture.
Veterans Memorial Park
Veterans Memorial Park is a beautiful park located in the heart of Boise, Idaho. The park offers a variety of activities for visitors to enjoy, including a playground, picnic areas, walking trails, and a pond. Veterans Memorial Park is also home to a memorial honoring the men and women who have served our country in the armed forces. The park is open year-round and is a great place to visit any time of year.
---
Other Things To Do Around Southwest Idaho