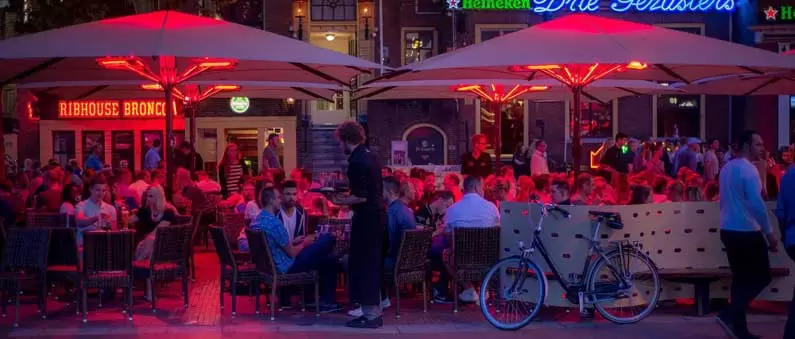 Popular Bars and Pubs in Wichita
Here are some of our favorite spots in town. Cheers!
Published: 2022-08-15 08:18:58
There's nothing quite like a cold pint of beer or a glass of wine after a long day. Wichita has no shortage of bars and pubs, so finding one to fit your mood shouldn't be difficult. Whether you're looking for a place to watch the game or somewhere with live music, we've got you covered. Here are some of favorite spots according to Mighty Dog roofers from Wichita!
The Hill Bar & Grill
I wholeheartedly advise visiting The Hill if you're ever searching for a great restaurant to eat at while visiting Wichita, Kansas.
The Hill Bar & Grill is a terrific location for drinking beer, watching sports, and enjoying gastropub food. It serves inventive pub meals and a variety of craft beers in a relaxed setting with flat-screen TVs and a patio. It's a great place, and the staff and other patrons are all really kind.
Dempsey's Burger Pub
In a cozy pub environment with a terrace, Dempsey's Burger Pub serves gourmet burgers cooked with Kobe beef, fish, chicken, or vegetables.
According to locals, it serves some of the best burgers in Wichita. The truffle fries are fantastic, and they offer some of the most unusual alternatives on their specials with all the delectable homemade dipping possibilities. Additionally, they serve a fantastic salad with burger patties.
All in all, it's a fantastic location for grabbing a meal, enjoying a wonderful beverage at the bar, watching some sports, and enjoying delicious food!
Mort's Martini and Cigar Bar
Mort's Martini and Cigar Bar offers over 160 fantastic martinis for more than 25 years. There is also a complete bar with the finest selection of alcoholic beverages, sure to delight your palate.
There will undoubtedly be something to quench your thirst since they have a wide selection of beers. Live regional music is another feature of Mort's. The place has different live music every night and a magnificent heated and air-conditioned terrace, which allows you to enjoy the fresh air and that fantastic cigar all year long.
You'll receive outstanding service regardless of whether it's your first visit or you're a returning customer. So stop by and take advantage of everything Mort's has to offer.
O'Malley's Irish Pub
With 150 varieties of beer, 24 of which on tap, Barefoot wines, and a great range of Irish Whiskey, O'Malleys Irish Pub is sure to win your heart. The Pub has two distinct sides. The main side has a bar, pool tables, a dart board, a punching bag, and a jukebox, along with a daily happy hour from 3:00 to 7:00. Whiskey is half cheap during happy hour, and any beer, any size, is $1 off.
There are also several big-screen televisions scattered throughout the space for sports fans. The "karaoke room," located on the pub's other side, offers karaoke every Wednesday through Sunday from 9:30 p.m. to 2:00 a.m. They welcome parties and provide food at a discounted rate for groups larger than 10.
PourHouse
The taproom for Walnut River Brewing in Wichita is called PourHouse. It's a restaurant with a focus on beer, 12 taps, a patio, and a small event area. The cuisine is excellent and goes well with the beer in addition to being fresh from the main brewery. This is the place to go if you want to enjoy Midwest beer
The Anchor
The Anchor is a friendly bar that serves American cuisine, artisan beer, and cocktails. It has exposed brick walls that add a dose of charm to the place. The Anchor is well-known for its handcrafted drinks, homey gastropub fare, and especially wide range of 59 craft beers on tap.
The place is committed to providing tasty food and drinks of the highest caliber in a casual, welcoming setting. You may also shop at its neighboring butcher shop for fresh, premium meats that are sourced locally, artisan cheese, local fruit, dry products, and gourmet gifts.
Pumphouse
Pumphouse is a pub and grill located in a former gas station in Wichita, Kansas. Specials on their menu include gourmet pizzas, Cuban sandwiches, fried baskets, and an abundance of chilled beer. Start off with the famous Hand-Battered Onion Rings on the sizable dog-friendly patio with Fido, then indulge in a Patty Melt on rye bread with Thousand Island dressing, Swiss and American cheese, and sautéed onions. Create your own pizza pie by adding ingredients like roasted garlic, grilled chicken, and smoked gouda cheese.
---
Other Things to Do in Wichita: