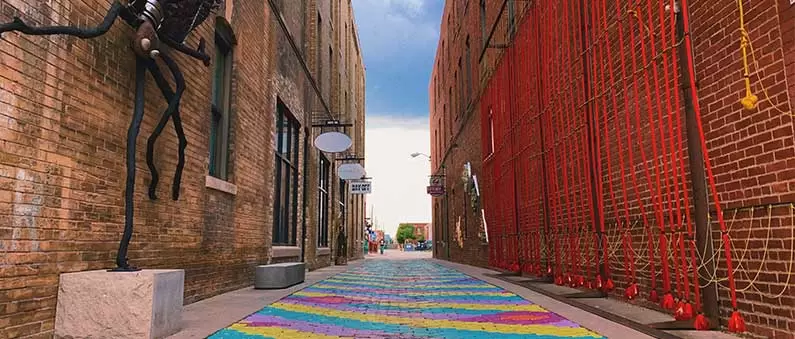 Things to Do in Wichita, KS
Explore Intriguing Landmarks and Museums
Published: 2022-08-16 12:17:12
There are numerous intriguing landmarks and museums in Wichita to suit every interest. Each neighborhood in the city is bursting with things to do for the whole family, including shopping, dining, and cultural events.

Since we are providing roofing services in Wichita, KS for quite some time, we have an insight into what are the must-see places and attractions in this city. Check out our list!
Sedgwick County Zoo
Nearly 400 varied species of animals totaling 3,000 individuals live at the Sedgwick County Zoo. The animals are arranged according to continents, and there are educational programs for people of all ages.
For an empathetic learning experience, exhibits are created to fully immerse visitors in the world of the animals. This method maximizes the chances for the animals to engage in their normal behaviors. The greatest benefit of this zoo is the space between exhibitions and the assistance provided by the employees.
Exploration Place
Exploration Place includes exhibits, movies, live performances, and interactive science and discovery events. It's popular for both children and adults.
It offers a wide range of opportunities for families to get outside, discover something new, and spend quality time together. You can take interactive classes and classes with a theme. For both children and people of all ages, the setting is designed to promote the inquisitive mind.
A play area is designated just for children 5 and younger. Several bathrooms, as well as areas for strollers. Positioned on the river so you can see the Keeper of the Plains and the water. Especially advised if you have young children.
Wichita Art Museum
One of the River's Museums and the location of an exceptional collection of American art.
Contemporary and historical artworks are on display at the Wichita Art Museum from its 7,000-item permanent collection. In addition, there is a sizable children's room with couches, sensory seats, and tables where kids may sit and color or complete the given activities. The Chihuly sculptures are magnificent, and the structure is nicely designed. The Museum is surrounded by the new Art Garden, which features walkways and plantings that accentuate outdoor sculpture. On Saturdays, admission is always free.
Botanica, The Wichita Gardens
In addition to dozens of fountains and pools, more than 9 acres of perennials and woody plants are grown here. At the Sally Stone Sensory Garden, 25 unique gardens with a range of themes, rose plants in 100 colors, and a living herb wall are on display. The 2,800-square-foot free-flight butterfly cage, which is only open from June to September and is home to more than 5,000 butterflies in various phases of development, is a highlight. There is a tree house to climb into and a pond to hop across in the highly interactive children's garden. A lot of gorgeous flora and gardens are there, and there is plenty of shade.
Museum of World Treasures
The history comes to life at the Museum of World Treasures as you explore the lives of dinosaurs, Ancient Egyptians, former presidents, and much more. Everywhere you turn at the Museum, there are amazing stories to be found. Bring the whole family along for a learning experience that will also hopefully inspire a passion for lifetime learning.
Every time you go, you'll take a trip through time and discover something new. Big features are the kid-friendly exhibitions' interactive tables and the playground.
Old Cowtown Museum
Old Cow Town is a recreation of county life in the late 1880s with farm animals, photographs, and historical documents.
Staff members at the Museum perform regular tasks such as cooking, tending to animals, and gardening while dressed in period garb. Cowtown was the first broadcast in 1950, and its distinctive programming charts Wichita's development from a frontier outpost to a cow town to an industrial and agricultural hub.
In addition to having a fascinating history and great architecture, Cowtown also hosts fantastic events and parties. It's a Wichita-only experience.
The Keeper of the Plains
At the meeting of the Big and Little Arkansas Rivers, there is a large sculpture called The Keeper of the Plains. Visitors and locals alike like the Native American chief sculpture made of Cor-Ten steel, which rises 44 feet in the air.
A plaza that depicts the Plains Indian way of life surrounds the statue. The Keeper is also the focal point of a $20 million, eight-year river rehabilitation and beautification project that was finished in May 2007. Two cable-stay bridges that span the Little and Big Arkansas rivers provide access to the area for pedestrians. At the Keeper's base, fire drums on stones vividly illuminate the night. The area is always free and accessible to the general public.
---
Other Things to Do in Wichita: