Anthony Munchak
Anthony and Amy are the local owners of Mighty Dog Roofing MetroWest Boston. They both went to college locally (Go BC!) and have two school-age children. They are very much involved in trying get their kids off those stupid iPads and getting them outside. To encourage that, they also coach their kids' lacrosse, basketball, and softball teams. They both have deep roots in the community and a large family scattered throughout Red Sox Nation who they have convinced to wear their sharp-looking Mighty Dog 'swag' all around town. So they understand the importance of getting the job done right and at a good price. There is too much at stake in not providing the best customer experience possible! This means showing up on time, providing realistic expectations, and having constant communication and education throughout the process. The bottom line is this: Mighty Dog understands that you replace/repair your roof and gutters because you HAVE to, not because you WANT to. You do this to protect all the important things that are in your home. You look at it almost like an insurance policy - you know that it's tough to write that check sometimes, but you sleep well knowing that your family and investment are protected. Simply put, having a good roof over your head gives you piece of mind. And don't forget - It also enhances both your home's curb appeal and market value. So call us today, and let's get it done. Together!
If your roof looks rough, don't be gruff, call Mighty Dog!
- Anthony Munchak
Meet the Team
We are proud to serve
Metro West Boston!
Anthony Munchak
Sales Manager
Amy Munchak
Production Manager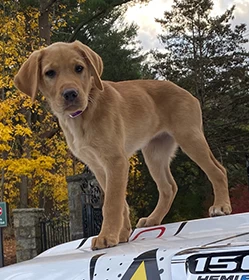 Millie specializes in sniffing out any of your roofing problems. When Millie gets the call, your problems will be solved.
Anthony Munchak
Sales Manager
Amy Munchak
Production Manager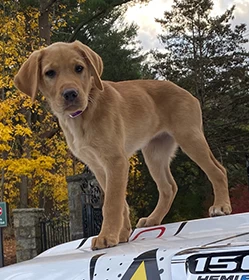 Millie specializes in sniffing out any of your roofing problems. When Millie gets the call, your problems will be solved.
MIGHTY DOG PLEDGES TO PROVIDE YOU WITH:
TOP DOG COMMUNICATION - We will be in touch with you throughout the project so you know what is going on every step of the way. We also have a 24-hour customer service support team to help answer any questions you may have.
ON-TIME SERVICE - When we say we are going to be there, we will. We value you your time and resources and appreciate you choosing us to care for your home.
CLEANLINESS - MDR has the best state of the art equipment to keep your home clean and safe during the construction process. We will bring in the Mighty House Cape to protect your landscaping and air conditioners from any damage which may occur. It is our pledge to you to leave your property with no debris or damage from anything we do.
INTEGRITY - We do what we say we are going to do. We stand behind your home's project for years to come with our Mighty Warranty Plus Watchdog Maintenance Program
MIGHTY TESTIMONIALS
They have excellent customer service. Their team did exactly what they say they will and show up on time. Will definitely use again.
I can't say thank you enough for all the help that was given to me. Very professional, courteous, and helpful. They did an amazing job and did a great job with clean up. I would highly recommend them.
Very professional from the office to the installers. Good value for great quality. I would recommend them and have already have done so. Give them a call.
Great company, Our roof came out amazing, straight cuts, everything laid nicely and the cleanup afterwards not a single nail anywhere.
Great job, professional crew, great experience. Highly recommend. Came on time, cleaned up, and roof looks great!
Mighty Dog Roofing is passionate about our community in Metro West Boston. We wake up everyday and feel so immensely blessed (lucky) to live, work and play in our community that it is important for us to give back and be actively involved. "We love being in Metro West Boston, and helping any way we can", said Anthony Munchak. "From providing roofs to veterans and supporting our local Humane Society to participating in Habitat for Humanity efforts, Mighty Dog of Metro West Boston wants to make a difference".
Our Team on Your Roof
Whether you have a repair or a full replacement, our roofing crews have been hand selected for their integrity, cleanliness and craftsmanship. We are OSHA certified and hold regular safety training meetings for our crew foreman. Each of our formen and roofing crews take pride in excellence of craftsmanship in each project they completed. Mighty Dog takes pride in education on products and installation each of our crews bring to you home. Our crews take the Mighty Dog Pledge of being on-time, cleanliness, top dog communication and integrity. Being insured and licensed, you can feel safe and protected in your home that it is being taken care of by the right people!
We are in your
neighborhood