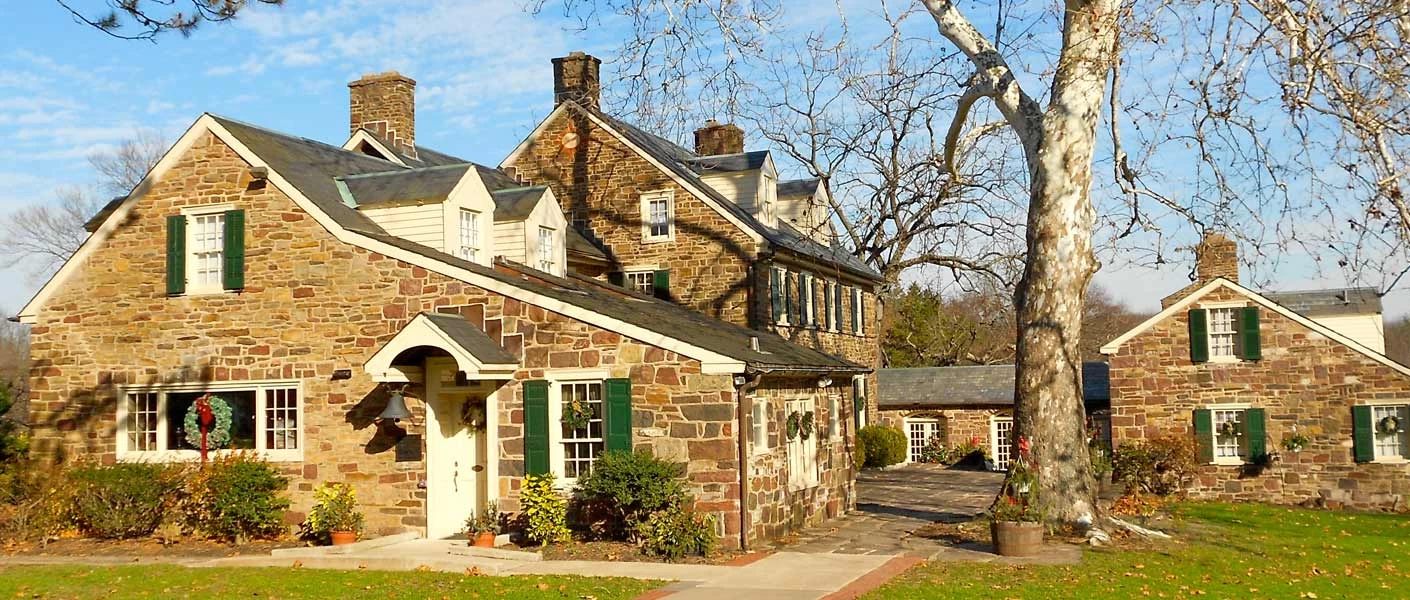 15 Great Things to Do in Bucks County
Bucks County is one of the most historic and interesting counties in the great state of Pennsylvania
Published: 2022-07-11 20:57:58
As a local Bucks County roofing company Mighty Dog knows that this is one of the most historic and interesting counties in the great state of Pennsylvania. Whether your interests lie in history, the arts, or the outdoors, you are guaranteed to find something to enjoy in this culture-rich area.
We've put together a list of Mighty Dog's favorite local attractions so you can use it as a guide when deciding how to spend your day in Bucks County.
If you're traveling alone or with a large group, or even with a family and young children, this guide will have something that piques your interest and makes you want to visit Bucks county.
Michener Art Museum
The Michener Art Museum exhibits art from artists throughout the Bucks County region and also advertises a "world-class collection of Pennsylvania Impressionism." They host many events throughout the year such as artist talks and walk-throughs, gallery discussions, and lectures. They also offer educational classes to children and the general public.
Located in Doylestown, the museum is open Thursday through Sunday except for major holidays. Admission is $15 for adults, $5 for children under 8, and free for children under 6.
The museum offers virtual gallery tours, events information, and group tour reservations all on their website.
Fonthill Castle
For fans of history, architecture, culture, and anyone who's ever wanted to step into a castle, Fonthill Castle in Doylestown offers guided one-hour tours.
This beautiful piece of history was built in 1912 for the famous tile designer and artifact collector Henry Mercer. Mercer designed the castle for himself to live in, and the building is notable for being an early example of the use of poured concrete.
Fonthill Castle is open Tuesday through Sunday from 10 AM to 5 PM, with the last tour beginning around 4 PM. Admission is $15 for adults, $8 for 17 and under, and free for 5 and under.
The Mercer Museum
Mercer Museum is home to a comprehensive collection of over 50,000 pre-industrial tools which shed light on what work and life was like in pre-industrial America.
Henry Mercer also designed this stunning 6-story refined concrete structure which is near the Fonthill Castle he lived in.
As a renowned artifact collector, Mercer needed a large and suitably auspicious home to match his impressive collection of artifacts, and so conceived the idea for what would become a premier cultural attraction and marvel of modern architecture.
The museum, like Fonthill Castle, is open Tuesday through Sunday from 10 AM to 5 PM, and also charges the same amount for admission.
The National Shrine of Our Lady of Czestochowa
This is a Roman Catholic shrine located near Doylestown Pennsylvania. There are numerous statues and Catholic icons throughout the site, including a statue recreation of the historic Shrine of Our Lady Czestochowa in Poland.
The site was founded by the Polish Catholic Father Michael Zembrzuski in 1955, intended as an American sister site to the famous Polish icon. For this reason, it is an important cultural touchstone for the Polish Catholic community in Pennsylvania and around the country.
The site is located about 10 minutes northwest of Doylestown. They are open daily from 8 AM to 5 PM.
Covered Bridge Park
Covered Bridge Park is a beautiful outdoor destination nestled next to Pine Run Creek in New Britain Borough. The perfect spot for a family day, the park includes a playground, picnic pavilion, and a pond.
The park is operated by the New Britain Civic Association, a 501c3 charity dedicated to preserving the park for nearby residents and visitors.
On those hot summer days, consider renting a pavilion here to enjoy the sun without succumbing to the heat. They cost $100 for the day for non-members, and information on how to reserve them can be found at the link above.
Everybody's Playground | Luken's Park
Everybody's Playground is a public park, playground, and outdoor recreation area in Horsham owned and operated by the Horsham Dept. of Library & Recreation Services.
Conceived in 2000, Everybody's Playground is a playground meant to be accessible and fun for children of all ages and any physical or mental abilities. This noble goal was realized in 2003 when the park first opened.
Accessible and free to the public, the park also includes 3 softball fields, a basketball court with adjustable rims, and several walking trails.
Wings of Freedom Aviation Museum
This is an aviation museum which owns and displays 19 historic and important aircraft specimens developed in the early days of aviation history and throughout the 20th century. Their collection includes older models, modern warplanes, and several helicopters.
The Freedom Aviation Museum is located in Horsham, PA and admission is $8 for adults, $4 for 17 and under, and free for under 6. They are open Wednesday through Sunday from 10:30 to 3, and until 4 PM on the weekends.
Guided tours are available for booking on their website, and cost nothing extra for groups under 10.
Sesame Place
Sesame Place is a Sesame Street theme and water park located in Langhorne.
This park has many attractions and is fun for the whole family. Enjoy the warm summer days cooling off in the water park, which is open all summer long from 10 AM to 6 PM. Or take advantage of some of their kid-friendly rides like roller coasters, swings, and soft play areas.
Sesame Place is notable for being a certified autism center.
Tickets are normally $100 per person with children under 2 getting in free but beginning in late June they often have sales and discounts on admissions.
The Bucks County Civil War Museum
The history of Pennsylvania cannot be understood without considering the massive ramifications of the civil war, and the Bucks County Civil War Museum is dedicated to preserving that history.
The museum hosts over 1500 unique, important, and in some cases one-of-a-kind artifacts from the civil war period. The museum places a special emphasis on the events and contributions of Bucks County in particular.
Admission to this historical treasure trove is free, though the Museum is only open on Saturdays from 10:30 to 2PM. They also provide free access to their library during these hours as well.
Shady Brook Farm
Shady Brook Farm is a farmer's market and fruit and vegetable farm which is open to the public.
Visitors to Shady Brook Farm may enjoy riding on a tractor + trailer through the farm during a pick-your-own tour, where you can tour the grounds and pick your own fruits and vegetables to take home.
Shady Brook also hosts Stone's Throw Pub, a bar and restaurant open daily with shifting hours — check their website for more information. In addition to food and spirits, Stone's Throw has a wide collection of local craft beers and distillation.
Peddler's Village
Peddler's Village is a shopping, dining, lodging, and entertainment district located in Bucks County. The goal of Peddler's Village is to be a year-round destination for culture, dining, and entertainment.
There is something for everyone in one of their 65 shops, restaurants, and attractions which include an early 20th century carousel, a climbing area, and an arcade.
Check the Peddler's Village website for a full listing of events, stores, information on wedding reservations, festivals, family trips, and a chance to access special offers and promotions for their many establishments.
Bucks County Playhouse
For fans of the arts and drama, Bucks County Playhouse is one of the region's most historic and important playhouses.
Originally opened in the 1930s on the site of a former grist mill, the theater flourished as the starting point for many accomplished Broadway stars, as well as a place where plays with Broadway aspirations could be tried out.
In addition to plays, the Playhouse is also home to apprentice acting programs and a restaurant and bar, the Playhouse Deck.
Tickets to Saturday night productions begin at $75.
Kids Castle
The Kid's Castle is a free park open for play for children of all physical and mental abilities in Doylestown, PA.
As a charitable gift to the community of Doylestown, this park is funded by the donations of generous volunteers and is always expanding. Their most recent closure ended with two entirely new areas specifically designed for children of all needs.
Open daily from sunrise to sunset, the park can be found at 425 Wells Road, nestled between two banks of the winding Neshaminy Creek.
Speed Raceway and Axe Throwing
For those adventurers looking for some high-octane adventure, check out Speed Raceway and Axe Throwing in Horsham.
This awesome indoor facility houses an indoor go-kart racing track as well as an axe throwing area, arcades, a brewery, and rock climbing. They are open for corporate, birthday, bachelor parties, and group event booking.
Go-kart is priced at $22 per race, which gets you a 14-lap race for adults or 12 for juniors. There is a membership fee required to race, which is $9 annually but includes the rental of helmets and other equipment, and a free race during the month of your birthday.
Pearl S. Buck House + National Historic Landmark
The Pearl S. Buck National Historic Landmark is a beautiful stone farmhouse that was once the home of famed fiction writer Pearl S. Buck.
The house is an authentic and intact representation of what life in the early-to-mid 20th century was like for Pearl and her family, and includes some priceless artifacts and heirlooms such as the typewriter the author used for what may have been her magnum opus, The Good Earth, as well as everyday household items.
Mighty Dog Roofing has you covered with entertainment recommendations in your local area. Stay tuned to our blog for more.
Other Things Of Interest In and Around Bucks County