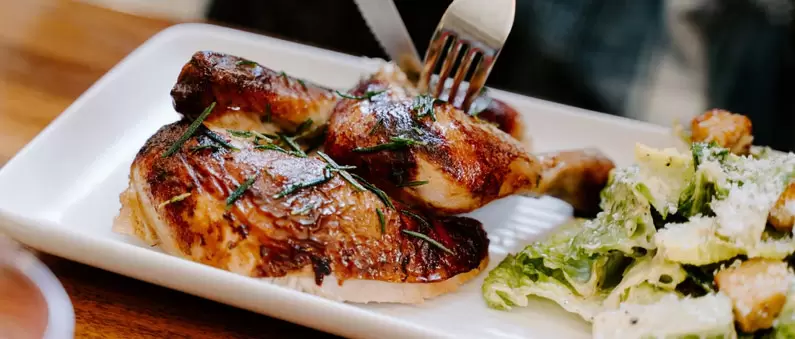 15 Best Restaurants in North Atlanta
From the traditional down-home Southern, to vegan, to international favorites, you'll find it here
Published: 2022-07-28 23:16:11
The restaurants in North Atlanta, GA are no exception and are sure to make the "Peach State" proud. From the traditional down-home Southern, to vegan, to international favorites, you'll find something that fits your taste and mood.
So, here's a list of the 15 best choices in North Atlanta that you can use as a guide when planning your next special lunch, dinner, brunch, or happy hour away from home.
South City Kitchen Buckhead
South City Kitchen Buckhead is a great starter for the list, as it embodies Southern cooking and local ingredients with some sophisticated twists, and Executive Chef Luis Escorcia's West Coast roots add the final classic touch.
Choices include, but are not limited to, beef, chicken, fish, seafood, lamb, collards, grits, and their signature fried green tomatoes and dynamic desserts.
Located at 3350 Peachtree Rd NE, South City Kitchen Buckhead's warm and inviting ambiance is something you won't want to miss.
Desta Ethiopian Kitchen
Desta means "joy," and the care that goes into every aspect of the Desta experience is proof that the entire staff is working to make your meal, drinks, and service give you that welcoming feeling.
The traditional Ethiopian menu is extensive, including breakfast served anytime, lunch, and dinner, as well as a full bar with Ethiopian specialties, and some desserts you might not expect. Desta is also extremely vegan friendly.
Desta is located just south of I-85 at Clairmont Rd, in the Williamsburg Village.
JINYA Ramen Bar
JINYA in Sandy Springs is not your usual ramen bar. Of course, their slow-cooked, made in-house broths and noodles are the stars of the show, but the rest of the contemporary Japanese menu, including vegetarian and kid's sections, is amazing. They also offer a large selection of craft beers.
Check out JINYA's website for all the details and to get directions.
La Parrilla Mexican Restaurant
La Parrilla has a classic Mexican/Tex-Mex fusion menu that includes all the favorites – appetizers, soup and salads, combination platters, fajitas, chiles rellenos, and Mexi-pizza.
The lunch menu is served Mondays to Fridays starting at 11 AM. Their closing time is 10 PM from Sundays to Wednesdays, and 10:30 PM from Thursdays to Saturdays.
So, for a fun south-of-the-border lunch or dinner with family and friends, be sure to make it to La Parrilla.
Las Delicias de la Abuela
Located in Doraville at 5600 Buford Hwy NE, Las Delicias De La Abuela is traditional Colombian food made using "Grandma's" (Abuela) secret recipes. With steak, beans, empanadas, rice, sausage, chicharron, salad, sweet plantain, and corn cakes as the features, they are sure not to disappoint.
Fresh strawberry and crepes, as well as other delicious desserts to satisfy your sweet tooth, are also on the menu.
Get a taste of Colombia today at Las Delicias de la Abuela.
Seasons 52
Seasons 52 is all about fresh, ethically sourced, oak-fire grilled foods, and plenty of great wine or craft cocktails in the stylish wine bar.
Flatbreads, soups and salads, and wood-grilled meats and seafoods are the stars here. And don't forget to scan their "Mini Indulgences" menu for a unique sweet treat.
You can find Seasons 52 at 90 Perimeter Center West, Dunwoody, GA. Check out their website, or give them a call for reservations starting at 11 AM seven days a week.
Ray's at Killer Creek
Ray's at Killer Creek is a fine dining experience you will never forget. You may not make it past a drink and the unbelievable appetizer menu – but be sure to leave room for the chops, Wagyu beef meatballs, seafood, fish, and steaks.
And, with all that said, don't forget about Sunday brunch, and the great outdoor seating.
For information on reservations, private events, live music, or any other questions you may have, visit Ray's at Killer Creek.
Village Tavern
The Village Tavern, located at 11555 Rainwater Dr, Alpharetta, GA, boasts an award-winning wine list, lunch and dinner menu, Sunday brunch, craft cocktails, and a kid's menu. The cuisine is "American on steroids," with so many choices from burgers to calamari, salads to steaks, and tavern specialties, everyone is sure to find something to satisfy their tastes.
The atmosphere is warm and inviting in the style of an old English pub, welcoming to all with affordable prices to match.
The Mad Italian
"Home to the best cheesesteak south of Philly," has been their motto for over 40 years. They take pride in making everything from meatballs to cheesecake brownies in-house, as well as dressings, soups, and sauces.
They also offer a huge selection of "munchies," baked pastas, 30 tap beers, and wine by the glass.
If you want to check out their take-out menu or for more information, visit their website.
The Iberian Pig
The Iberian Pig is a tapas bar that, when looking at the menu, will have you checking yourself to make sure you're not in Spain. This place is as close as you'll get to traditional Spanish tapas without traveling across the Atlantic.
The real draw is their happy hour with food and drink specials for any taste. Happy hour begins at 5 PM from Mondays to Thursdays, and at 4 PM on Fridays.
Pampas Steakhouse
Pampas Steakhouse is an award-winning Argentinian-inspired restaurant that is in a league all its own. Using woodfire methods to prepare their signature "The Brick" filet, a bone-in filet, tomahawk, Delmonico, and other cuts. There is also a wine list second to none.
Pampas Steakhouse says "special occasion" like no other entry on our list. Go to their website and get all the details for your special night out or unique event.
Buttermilk Kitchen
Established in 2012 by chef-owner Suzanne Vizethann, Buttermilk Kitchen is a breakfast and brunch destination that uses locally sourced, sustainable ingredients and spirits.
The menu is Southern American breakfast/brunch at its best, including all your favorites – biscuits, cornbread muffins, meats, eggs, pancakes, waffles, fried green tomatoes, grits, gravy, sandwiches, and more.
The "little house" gives you the feeling of being invited to someone's home for a quiet, cozy meal with the family, and the creative touch and local staples up the game on your old favorites.
Rumi's Kitchen
Rumi's Kitchen holds true to authentic Persian cuisine, with an emphasis on kabobs, beef, lamb, vegetables, rice, fish, seafood, and fowl. Sides include grilled or pickled vegetables, fava beans, yogurt, and chutney.
Rumi's ambiance follows the teachings of its namesake, the famous Persian poet, who taught peace, love, and happiness. The staff at Rumi's invites everyone to come and enjoy an atmosphere of peace and Persian warmheartedness.
Rumi's Kitchen in Sandy Springs is located at 6112 Roswell Rd, just south of Mount Vernon Hwy NE.
Roasters Rotisserie
Roasters Rotisserie is a casual, friendly atmosphere, where it's all about the chicken and ribs – but don't think that's where it ends. They have a full menu including wings, salads, fish, meatloaf, sandwiches, great appetizers, and much more. They also offer a drink menu with lemonade, soda, beer, and wine.
You can also check out their catering, gift cards, and special events on their website.
You can find Roasters Rotisserie at 6225-B Roswell Rd, Sandy Springs.
Mighty Dog Roofing recommends these fine establishments in the North Atlanta, GA area.
---
Other Things To do in the North Atlanta Area: