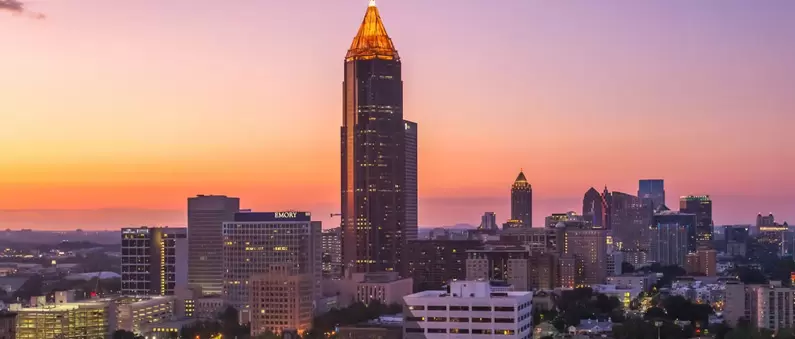 The Best North Atlanta Suburbs to Live In
If you're looking for city access without the traffic jams and noise, the suburbs of North Atlanta offer everything you need
Published: 2022-08-01 23:08:20
After years of working as roofing contractors, we know there's so much to love about the city, from the southern hospitality to the music scene. But if you're looking for city access without the traffic jams and noise, the suburbs of North Atlanta offer everything you need. Whether you're looking for a tranquil oasis or a vibrant downtown, these suburbs combine the space and community of a small town within an easy commute of the city.
Check out our list of the 11 best suburbs in North Atlanta to help you find the perfect home for you and your family.
Decatur
Tree-lined streets, breathtaking parks, and plenty to do are all on offer in Decatur. This suburb regularly ranks among the best places to live in all of Georgia due to its top-tier schools, family atmosphere, and lively nightlife. Decatur boasts the traditional atmosphere of a small town, energy of a college town, and range of amenities you could expect from a major metropolitan area. Residents love that the city can also be quiet and friendly, with a lively mix of people of all ages.
Decatur is close to both highway 285 and highway 20, making it a quick 15-minute drive into Atlanta.
Milton
From sporting events to cuisine, there's so much to love about Milton. It's a town that takes pride in community, which is centered around the many high-quality sporting facilities. Milton High School is known for winning state championships in a wide range of sports, and equestrians can enjoy the many horse-riding and multi-use trails in the area.
Milton delivers country town vibes within a 40-minute drive of the city. The abundance of local businesses mean that you can find unique fusion restaurants and boutiques in Milton that don't exist anywhere else.
Dunwoody
For an urban feel in North Atlanta, look no further than Dunwoody. Sitting just north of the city, it's a relatively small suburb with easy access to everything you need. Dunwoody boasts a tight-knit community where families can enjoy weekly social gatherings like "Food Truck Thursdays" and annual events such as the "Dunwoody Art Festival". Whether it's paying a visit to the nature center or cheering for the Dunwoody Wildcats on a Friday night, there are lots of activities for families to do together. Dunwoody also has plenty of great schools and parks for kids, a testament to it being a family-friendly city.
Berkeley Lake
Fishing, boating, swimming, and picnicking abound at Berkeley Lake, a tranquil community centered around its pristine 88-acre namesake. It's a small, bucolic suburb featuring a dense canopy and abundance of flowering shrubs, giving residents the sense of living in a park.
Berkeley Lake has a very active homeowners association dedicated to protecting the lake and promoting a fun atmosphere for residents. They run the members-only beach and picnic areas, and organize everything from movie nights to fishing tournaments for their members, helping to create a sense of privacy and exclusivity for Berkeley Lake residents.
Buford
Buford schools are ranked among the top in the state, making this dense suburban town an attractive home for young families. And this suburb is growing fast. Crawling with activity and development, residents predict that it will be the next great city.
Buford is home to the Mall of Georgia, one of the largest shopping malls in the country, which boasts a comprehensive roster of over 225 retail stores, from Apple to Yankee Candle. With plenty of unique restaurants and generous sporting amenities, Buford offers everything you need without having to get on the highway.
Johns Creek
For a sparse suburban feel with plenty of community and culture, Johns Creek is the place to be. Home of the Johns Creek Symphony Orchestra, the suburb of Johns Creek takes great pride in its arts and festivals. Residents come together several times a year for community celebrations, including juried art show "Arts on the Creek", food festival "The Taste of Johns Creek", and "Founders Week" in December.
Johns Creek also contains one public and five private golf courses, including the renowned Atlanta Athletic Club which has hosted several championship competitions, making it a great area for golf-lovers!
Alpharetta
Alpharetta is known for its vibrant and positive atmosphere. Residents are down to earth and fun-loving, and bustling downtown Alpharetta is a clear reflection of that spirit. With more than 30 chef-driven and locally owned restaurants, over 25 unique shops, and live entertainment almost every weekend, Alpharetta is the ideal home for people who love to go out.
The city recently prioritized the installation of pedestrian-friendly sidewalks and walking paths to connect Alpharetta's many playgrounds and parks, making it a walkable and family-friendly place for the family. Alpharetta is also considered very safe, and its high-quality schools make it a fantastic place to raise kids.
Sandy Springs
There's always lots going on in Sandy Springs. From the back-to-school bash to morning birdwatching, this urban/suburban mix of a city has something for everyone. Residents describe it as just the right amount of busy, with plenty to do without getting overwhelmed by the nightlife. The crown jewel of the suburb is undoubtedly Morgan Falls overlook, where visitors can enjoy a children's playground, peaceful swings by the river, fire pits, and the sunset reflected across the water.
Sandy Springs is divided equally between homeowners and renters, making it one of the most accessible suburbs in the North Atlanta area.
Druid Hills
Druid Hills is a suburb rich in history. Known as one of Atlanta's first suburbs, it is an example of the innovation, comprehensive planning, and development from the late 19th and early 20th century, earning its place on the National Register of Historic Places. The suburb was built around gracefully winding streets and ample parkland. Residents still enjoy the central corridor, Ponce de Leon Avenue, which acts as a linear version of the traditional village green and features several distinct landscaping styles. The historic houses here tend to be spacious, and plenty of walking trails make it a particularly dog-friendly city.
Roswell
With a welcoming atmosphere and stunning historical architecture, Roswell combines modern spirit with traditional southern soul. Central to everything and sitting on a beautiful nine-mile stretch of the Chattahoochee River, this dense suburban town is surrounded by incredible scenery and wildlife.
Roswell offers something for everyone at every age. Whether you're an outdoor enthusiast, art aficionado, foodie, history buff, or family man, there's so much to see and do here that you'll never get bored. Residents consider it quiet, safe, and a great place to raise children. The majority of houses are single-family homes with generous yards and historic trees.
Chamblee
Diversity and an international flair are the defining features of Chamblee, an urban city that began as a small rail town. Now 7 square miles in size, downtown Chamblee is a vibrant mix of modern development and vintage architecture, offering a wide range of housing options to suit families of any size. In fact, 62% of Chamblee residents rent their home, making it the most renter-friendly suburb on our list.
You can find a wide array of excellent international cuisine throughout Chamblee. It is also home to DeKalb Peachtree Airport (PDK), Georgia's second-busiest airport, making it a convenient location for frequent travelers.
Mighty Dog Roofing is Your Local North Atlanta Roofing Expert
Whichever suburb you call home, Mighty Dog Roofing is your local roofing expert. We have over 20 years of experience providing high-quality and comprehensive roofing services to homes and businesses throughout North Atlanta, and are proud to give back to our community by investing in local schools, Boy and Girl Scouts, veteran support programs, and Habitat for Humanity.
No matter the size of your roof repair or replacement, it's Mighty Dog Roofing to the rescue. Our roofing professionals not only provide top-of-the-line roofing services but also neighborly customer care.
Sign up for your free roofing inspection today!
---
Other Things To do in the North Atlanta Area: