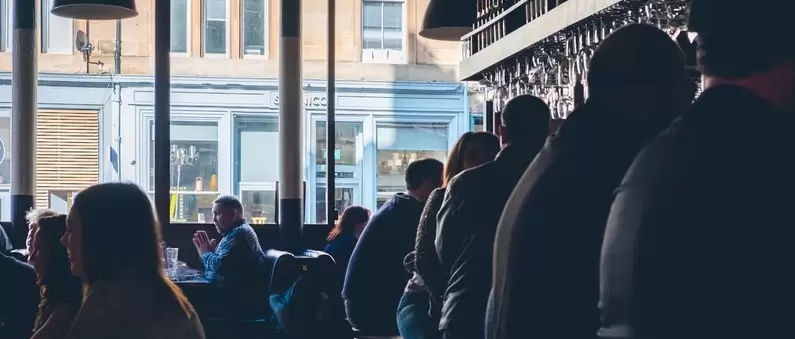 9 Popular Restaurants in Alpharetta, Georgia
Eating out with friends, family or even alone is a great way to relax in Alpharetta
Published: 2022-08-10 14:28:08
Alpharetta, Georgia is home to some great restaurants. To this end, we have put together a guide of restaurants that fellow Alpharetta roofing contractors like to head to after a hard day's work.
Eating out with friends, family or even alone is a great way to relax after a long day. Good food goes a long way in helping to relieve that last bit of tension and helps in decompressing plus.
This guide contains different restaurants that are sure to suit your palate. Feel free to use it and say "hello" if you end up seeing us there.
South Main Kitchen
Shabby-chic eatery highlighting contemporary Southern cuisine tweaked to reflect comfort classics. A kitchen-inspired venue working with local producers setup to be displayed in industrial and lofty style backdrop. The menu changes seasonally keeping fresh seasonal and available produce incorporated in the menu. They will hook you with great food and attentive service and will also correct any problem you might have.
Salt Factory Pub
Charming local cafe offering refined New American fare & a robust draft list in a rustic-chic space. Salt Factory Pub is an upscale gastropub that offers modern and approachable cuisine with an unbeatable beer list. The creative menu features a variety of classic comfort foods with international influences. The dishes are comprised of local and organic ingredients designed to complement the notable beer line-up of more than 50 different draft and bottled brews. Modeled after the pubs of the English countryside, the exposed brick walls, dark hardwood floors, cozy booths, and dim lighting create an inviting and casual atmosphere for guests.
Secreto Southern Kitchen
Smart, rustic-chic spot for classic Southern eats in a contemporary atmosphere. Located off Windward Parkway in Alpharetta, Secreto Kitchen & Bar offers a farm-to-table Southern American inspired menu from Chef Boyd A. Rose that celebrates the absolute best of the region, from locally-farmed ingredients. In an amazing atmosphere the menu is complimented by hand-crafted cocktails and a wonderful selection of beers and wines.
Pappadeaux Seafood Kitchen
The menu offers a wide variety of delicious and mouthwatering starters and main courses that will appeal to everyone. A convivial chain dishing up hearty portions of New Orleans-style seafood, steaks, salads & more served in a dark wood eatery with a full bar.
Citizen Soul
Inspired by pubs and taverns in Northern California, Oregon, and Washington. Citizen Soul is California cuisine with Southern Heart and Soul. Fine fare for the working man.. and woman with simple, fresh ingredients. Citizen Soul is an upscale, casual, neighborhood eatery; serving modern American pub fare while specializing in artisanal cocktails, fine wine and craft beer. The beverage program will include eclectic cocktails, 20 craft beers on tap and fine wine primarily sourced from domestic producers. Citizen Soul is approachable, fun and a place where business professionals can frequent to enjoy classic snacks and entrees prepared in a unique, modern style.
Flatlands Bourbon and Bayou
Bringing a taste of the Louisiana Bayou with fresh ingredients, large portions, and authentic flavors of New Orleans to Historic Downtown Alpharetta. It is well decorated and has plenty of outdoor and indoor seating. It's located just off of North Main Street in Alpharetta in an old craftsman style house surrounded by trees with a coy pond, and seating either inside, on the porch or under umbrellas in a flagstone courtyard with a gazebo. The music entertainment is a jazz pianist with a Louisiana flair on an electronic keyboard.
Firebirds Wood Fired Grill
Firebirds Wood Fired Grill is located in Alpharetta across from the Avalon at the Atwater off Old Milton Parkway. They are an American Restaurant and Steakhouse known for their scratch kitchen, bold flavors and inviting atmosphere. Enjoy authentic wood-fired steak & seafood entrées, bold flavors, specialty cocktails & select wines in a polished-casual atmosphere offering top-notch service & upscale dining at a modest price.
Kona Grill - Alpharetta
Sleek chain with a broad New American menu including low-calorie options, plus sushi & cocktails. Kona Grill at Avalon in the heart of Alpharetta, steps away from Regal Cinemas and the plaza. Come in and enjoy your local paradise before catching a movie. Fresh, wild caught fish is flown in daily to craft award-winning sushi, while modern American entrees are prepared from scratch. Happy hour on the beautiful, shaded patio overlooking the plaza fountain is a must. And don't leave until you've tried one of the handcrafted cocktails, ice-cold draft beer, or a glass of wine selected from the extensive beverage menu.
Oak Steakhouse
Classy restaurant featuring locally sourced beef & American cuisine with views of the open kitchen. Oak Steakhouse Atlanta presents a fresh look at the traditional steakhouse offering contemporary dishes alongside steakhouse classics in a modern and refined environment. Oak Steakhouse Atlanta's menu celebrates the area's regional ingredients from surrounding purveyors, farmers and fishermen, and features traditional Prime Certified Angus® Beef steak cuts along with original small plates, salads, and entrees.
---
Other Things You Can Do in Alpharetta: