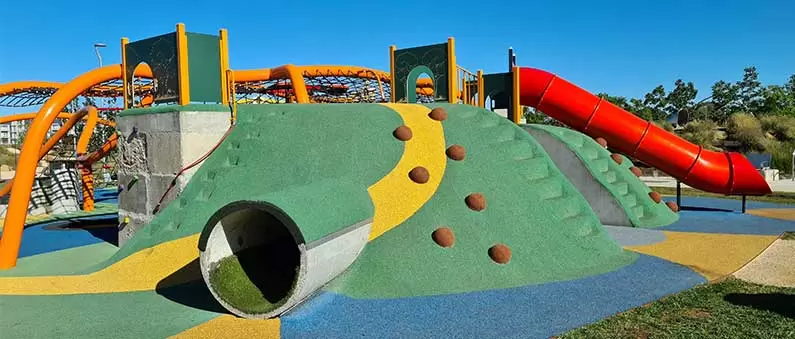 Top 10 Kid Friendly Activities in Alpharetta Georgia
Activity Ideas For the Whole Family
Published: 2022-08-10 14:10:17
Whether you live in Alpharetta or are traveling with family, there are plenty of kid-friendly activities ranging from sporting activities like castle playgrounds, skate parks or museum visits. These kid-friendly attractions are favorites of our Mighty Dog Roofing families. We love to play with our kids after a hard day of roofing in Alpharetta. If you see us out there playing, make sure to say hi!
Fowler Park
With something for everyone here in North Fulton County, the 85-acre Fowler Park features walking trails, baseball, softball, football, soccer, lacrosse, basketball courts, tennis courts, skate park, and a dog park. A favorite for kids of all ages is the swings and playground area. here in North Fulton County.
Wills Creek
Alpharetta has an exceptional park system committed to strolling trails, playgrounds, sports fields, arboretums, and neighborhood parks. At the extensive Wills Park, in addition to outstanding sports and leisure centers, you'll find one of the finest equestrian facilities in the Southeast. here's something for everyone here, tennis, basketball, baseball, disk golf, workout devices, dog parks, a coffeehouse in the rec hall, foosball, horseback riding ... it goes on and on. Make sure to take your kids to the wooden castle playground.
Alpharetta City Parks & Rec
Alpharetta Recreation, Parks and Cultural Services offers a wide variety of programs and activities for the family throughout the year. The City of Alpharetta Parks and Recreation is a nationally recognized agency providing safe, beautiful park amenities and fun, exciting leisure programs for adults and kids of all ages.
Ameris Bank Amphitheatre
The Ameris Bank Amphitheatre is a contemporary amphitheater, located in the northern Atlanta suburb of Alpharetta, Georgia, United States. The amphitheater mainly hosts shows by popular music artists, comedians and themed symphony concerts by the Atlanta Symphony Orchestra, the latter opened the venue with a performance on May 10, 2008. The venue opened as Verizon Wireless Amphitheatre at Encore Park in 2008. In January 2017, it became known as Verizon Amphitheatre. In December 2018, the venue's naming rights were purchased by Ameris Bank.
Computer Museum of America
The Computer Museum of America was established in Roswell, Georgia and opened in July 2019 to coincide with the fiftieth anniversary of the Moon landing. It is the largest technology museum on the East Coast with the opening of Phase I and when completed will be among the largest in the world. The museum was founded by Lonnie Mimms, who originally operated an Apple pop up museum, and includes original technologies including the Cray-1, one-of-a-kind developments, and more, including the contents of the former Bugbook Historical Computer Museum, yet only a fraction of his 300,000 item collection are on display.
Dino Safari Atlanta: A Walk-Thru Adventure
Get up close and personal with ancient creatures in a thrilling experience. Stand next to 25+ full-scale, scientifically-accurate animatronic dinosaurs with smooth, quiet, and realistic movements. Learn how dinosaurs evolved over time, where they lived, and the discoveries paleontologists have made about their habits. Dino Safari features fossils, a Sauropod Slide (only in Atlanta!), Dig Pit, interactive games, cutting-edge research, and advanced animatronic dinosaurs.
Original Selfie Museum | Alpharetta
The most Instagram-able place in the nation. Original Selfie Museum is the first creative space uniquely designed to take your Photos and Videos to an entirely new level of Awesomeness. Looking for fun things to do?
Union Hill Park
Union Hill Park is a 13-acre park located off Windward Parkway on Union Hill Road. The park's amenities include an outdoor pop-up skate park, as well as a covered roller hockey rink, access to the Big Creek Greenway, and a concession, stand available for rental.
Walk of Memories
Gather the family for a visit to the Walk of Memories, located at American Legion Post 201, to honor those who have bravely served our country. The only one of its kind in Georgia, this memorial pays tribute to U.S. veterans, family and friends through a walkway of nearly 8,000 bricks inscribed with the names of Georgians who have served our country. Monuments along the walkway spotlight several conflicts, including WWII, Korean and Vietnam Wars. A WWII M60 tank, a Vietnam-era UH-1 Huey helicopter and a 40mm Mark 1 twin gun mount removed from the USS Polk County are all on display, adding to this moving experience.
Wills Park Equestrian Center
From horse shows and rodeos to concerts and symphonies; the Equestrian Center is the heart of Wills Park hosting a variety of events throughout the year. Come out on a weekend as many Saturdays and Sundays the Equestrian center has various competitions going on and it's free to watch. It's not just about the competition, there is beauty, peacefulness, and enjoyment in watching the horse and rider bond together in and outside the ring. And on a clear summer morning, nothing can be better to watch!
---
Other Things You Can Do in Alpharetta: