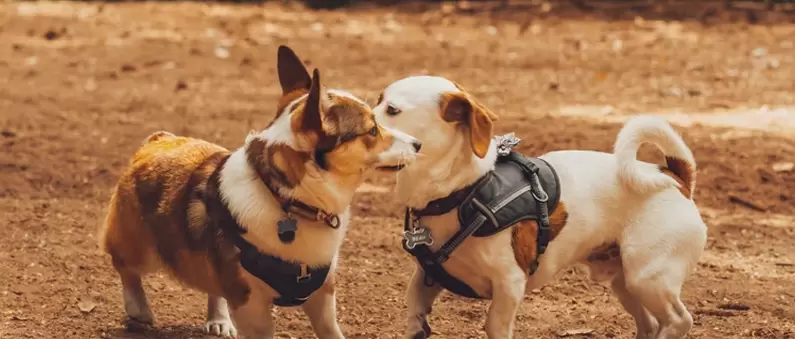 Top 10 Dog Friendly Activities in Alpharetta, Georgia
If you are looking for a place to bring your dogs and wouldn't mind getting in some exercise too, look no further
Published: 2022-08-10 14:50:51
Let's face it, humans love animals especially so for man's best friend, the dog. If you are looking for a place to bring your dogs and wouldn't mind getting in some exercise too, look no further.
We have compiled a list of 10 places our Mighty Dog families bring their beloved dogs. While we as Alpharetta, Georgia roofers know how great it is to be inside under a good roof protecting us from the elements, we also know the importance of being outside. With that in mind, some of the places included will help you to get back in touch with nature. Who knows, you might even see a rare sight that makes you appreciate it that much more. And if your dog just so happens to burn off any of that excess energy they have accumulated, well then that's just a bonus.
Newtown Dream Dog Park
Newtown Dream Dog Park, one of the top dog parks in the country, is located inside Newtown Park toward the front entrance. It is a fenced one-acre area featuring artificial turf, sprinklers for dogs to play in, obstacles to play on, plus water fountains for people and pets. It offers separate areas for large and small dogs, along with benches, shelters, and shade trees. Dog waste bags are provided, and all dog owners are required to clean up after their dogs.
Big Creek Greenway
The concrete trail is approximately 9 miles and meanders along Big Creek parallel to North Point Parkway, from Windward Parkway at Marconi Drive on the north end to Mansell Road on the south end. A soft mulch trail encircles a large wetland between Haynes Bridge Road and Mansell Road. Wildlife such as blue heron, deer, ducks and Canada geese can be observed in this preserved water setting.
Webb Bridge Park
This scenic hike at Jones Bridge Park explores the Chattahoochee River's scenic banks in the city of Johns Creek, visiting the remnants of a turn-of-the-century bridge and a beautiful, riverside forest. A moderate hike (or great trail run) on this under-five-mile loop scores views of the river's whitewater shoals and its lush, wildflower and wildlife-filled forest.
Waggy World Paw Park
Waggy World Paw Park is managed by the City of Alpharetta Recreation and Parks Department. With the support of the City's elected and appointed officials, and the dedication of local volunteers, the Department set aside a beautiful 1.5-acre area behind the Alpharetta Community Center at Wills Park to provide this popular amenity for the citizens and pups of Alpharetta.
Rock Mill Park
Rock Mill Park is a 20-acre park located on Kimball Bridge Road at the access point for Alpharetta's Big Creek Greenway. Park amenities include a green roof pavilion, an outdoor classroom, a Play Me Again piano art installation, Little Free Library and restroom facilities. A small group pavilion is available on a first-come, first-serve basis for family gatherings and celebrations. After an afternoon with nature, Rock Mill Park is just a short drive from North Point Mall, Avalon, and Downtown Alpharetta for a shopping and dining excursion.
Mabry Park
Mabry Park is a 26.5-acre park located at 4466 Wesley Chapel Road near the intersection of Wesley Chapel and Sandy Plains Road. The park features a farm-themed playground, picnic pavilions, and five trails encircling the park's open meadows, woods, and lake.
Lackey Road Greenspace
The Lackey Road Greenspace is a 1.5-mile wooded trail through a 106-acre property the City purchased in 2018 as part of the Greenspace Bond. This picturesque property - formerly the Wolff property - set off a rural gravel road features winding, rolling trails in southwest Milton. Starting at a gravel parking lot that holds about 15 cars, visitors walk alongside (and, in some cases, over) bubbling creeks, watch cows munching in an adjoining pasture, traverse through dense forest, and enjoy views of a large pond.
Birmingham Park
Birmingham Park is a great place to escape into nature. The park features seven multi-use, natural surface trails that will take you deep into your own backyard. Birmingham Park is utilized by outdoor enthusiasts, including equestrians and hikers.
Joint Venture Park
This park is located next to Daves Creek Elementary and includes a pavilion, restrooms as well as fields for football, lacrosse, baseball, and softball. There is a small kid's playground, and it is dog friendly.
Chattahoochee River National Recreation Area
Chattahoochee River National Recreation Area is a series of parklands along a 48-mile stretch of the Chattahoochee River. Three of the CRNRA park sites are in Sandy Springs, giving residents and visitors countless opportunities to get outdoors. Float down the river, fly fish, hike the trails, or pack a picnic and enjoy some fresh air and sunshine. It's a natural oasis only minutes from downtown Atlanta.
---
Other Things You Can Do in Alpharetta: