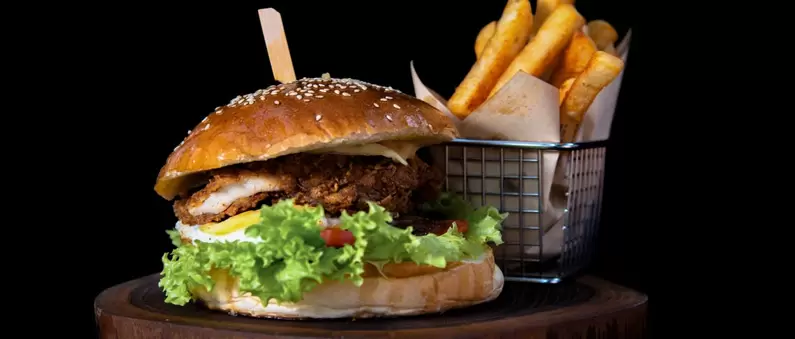 The 12 Best Burgers in Atlanta
These top 12 burgers in Atlanta are guaranteed to get your mouth watering
Published: 2022-08-05 14:42:36
After a long day of inspections, repairs and installation, nothing goes down better for the Atlanta roofers at Mighty Dog than a quality burger. After years in the Atlanta area, it's safe to say the team at Mighty Dog Roofing has tried a burger or two… and we have some opinions on where to find the very best bites! So, strap in, because these top 12 burgers in Atlanta are guaranteed to get your mouth watering.
The Vortex Bar & Grill
Known as the Godfather of Atlanta burger joints, The Vortex Bar & Grill has been serving up burgers, beer, and spirits since 1992. Made from 100% Premium Ground Sirloin, their half-pound patties are cooked to your preferred temperature and topped with lettuce, tomato, red onion, and dill pickle slices. Enjoy their classic original cheeseburger, or tickle your tastebuds with something unique from the signature menu, which includes the BBQ Bacon Mac 'N' Cheese burger, the Fat Elvis, and the Zombie Apocalypse. You can substitute the patty on any of their burgers for a chicken breast (grilled or fried), veggie patty, or impossible patty.
H&F Burger
When the restaurant first started making them, you could only order Linton Hopkins' famous burger at 10 p.m. at Holeman and Finch Public House, and if you weren't one of the first 24 customers to place an order – tough luck. This famous burger debuted in 1904 at the St. Louis World's Fair, but thankfully today they serve them up all day, every day at their location in Ponce City Market. This griddled double cheeseburger contains a butter-toasted patty served on a freshly baked bun, with red onion, ketchup made from scratch, and house-made pickles. Just like the team at Mighty Dog Roofing, H&F Burger prides itself on being mighty, good, welcoming, and delicious. Everything is made fresh with the highest quality ingredients.
Farm Burger, Grant Park
Humanely raised, grass-fed cattle free of antibiotics and growth hormones are the key to the Farm Burger. They work with local farmers, ranchers, and land stewards near each location to source the freshest seasonal produce. Their goal is to function more like an ecosystem than a corporation, so care goes into everything from their compostable containers to the beef itself. With plenty of vegetarian, vegan, and gluten-free options on the menu, Farm Burger proves that the best food is sourced locally.
Farm Burger, Midtown Atlanta
Like their Grant Park sibling, the Midtown Atlanta location of Farm Burger offers 100% grass-fed and grass-finished beef burgers. They strive to use every part of the carcass, including putting the bone marrow to work as a topping and rendering fat to create tallow butter in which all their burgers are cooked. They work with local farms including Decimal Place, White Oak Pastures, Love is Love, and Crystal Organics to serve up delicious fresh food daily.
Grindhouse Killer Burgers
Grindhouse Killer Burgers made a splash when they first launched in 2009. With their campy B-movies and Kung Fu flicks projecting on the subway tile walls, this unique burger joint was part of the efforts to revitalize Atlanta's historic indoor public market. They quickly began receiving awards for their fresh ground burgers, and now offer an expansive menu that puts you in the driver's seat: customize your burger from start to finish with your choice of protein, cheese, and toppings including onion rings and applewood bacon.
Slutty Vegan ATL
Food awareness is the mission of Slutty Vegan founder Pinky Cole, who first started selling her burgers on Instagram before launching a food truck and ultimately the first brick-and-mortar restaurant in 2019 to a crowd of 1,200 people. The daughter of Jamaican immigrants and raised by a single mother, Pinky is raw, authentic, and real. She wants to start a dialogue about healthy, vegan options in the community, and her brand is rapidly gaining momentum. The menu includes a huge selection of plant-based burgers with cheeky names like the Fussy Hussy and Ménage à Trois, and your meal isn't complete without a side of Skinny Dipper fried pickles or Slutty Fries.
Wayback Burgers
For tons of options and rotating specials, Wayback Burgers has you covered. Their craft-your-own burgers are guaranteed crowd pleasers, whether you opt for the single, double, or impossible patty. Customize your burger exactly how you like it, with all the classic cheese and topping options including tomato, jalapeños, mushrooms, grilled onions, and their signature Wayback Gold Sauce. Their sides include delectable chili cheese fries and hand-dipped milkshakes in such inventive flavors as Oreo Mud Pie and Sour Patch Kids!
Grub Burger Bar
Grub Burger Bar prides itself on being part of the community. Here, a portion of every purchase goes to supporting community organizations and putting people first. But that's not the only reason to visit – their menu includes a range of truly inventive burgers. From the plant-based Maverick to the Voodoo Mushroom, there are vegetarian, vegan, and allergy-sensitive options to excite everyone, and their website features a handy interactive chart to help you choose the right burger no matter what dietary restrictions you have.
Stockyard Burgers and Bones
For a phenomenal sit-down burger experience, look no further than Stockyard. Home of high-quality burgers, bones, and bourbon, Stockyard serves up a unique variety of Angus Beef burgers, juicy ribs, succulent pork chops, and over 40 different whiskeys and bourbons. The friendly staff and casual Western atmosphere are par none. Crowd favorites include Jane's Not So Plain burger with smoked paprika aioli or the Angry Clucker fried chicken sandwich drenched in Nashville-style spicy BBQ sauce.
When it Comes to the Best Burgers, Trust Your Local Roofers
We've selflessly dedicated our lunch breaks to try all the best burgers in Atlanta to bring you this comprehensive list, but our work doesn't stop there. When we're not chowing down on a sumptuous double bacon cheeseburger cooked medium rare, we're working hard to give our clients a beautiful, safe, and comfortable place to live.
We're a locally owned and operated residential and commercial roofing contractor with over twenty years of experience in the Central Atlanta area. Our roofing team offers comprehensive roof repair and replacement services, including gutters, siding, and windows. We pledge top dog communication, on-time service, cleanliness, and integrity every time, so you have peace of mind.
---
Other Things To Do Around Atlanta