NEW ROOF
20 or more years of sun, wind, rain, snow, and even hail are enough to wear down any roof, no matter where you live. And sometimes, a simple repair won't do, with a brand-new roof or replacement being the better option, both for your safety and budget. Whether we recommend the repairing of a small leak or replacing the entire roof on your house, we will review the options available to you as if we were the homeowners involved. It is this honesty and integrity during our detailed inspections that our homeowner customers love and come to expect from Mighty Dog Roofing. We take pride in not only our quality materials and skills, but also in our customer service focused Mighty Dog Team Members for their high quality attention to detail, compassion, and down - to-Earth neighborly advice when your safety is on the line. Rest easy knowing that Mighty Dog Roofing is coming to the rescue.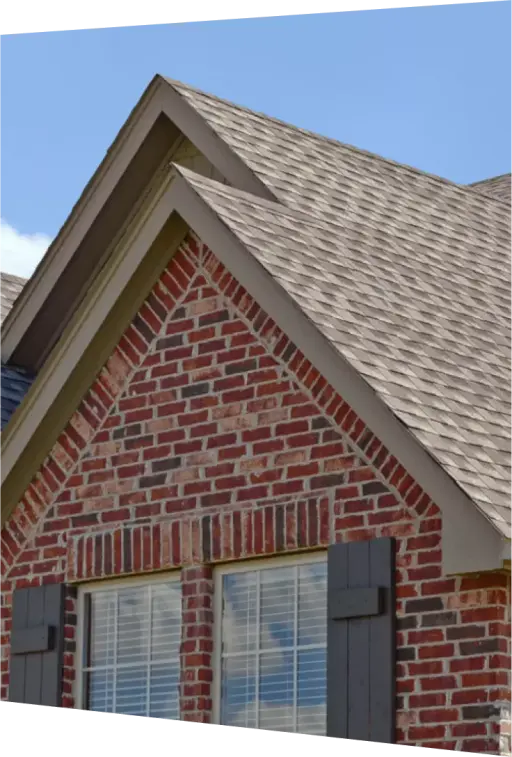 25-POINT INSPECTION
A trained and experienced Mighty Dog Specialist will give your home a thorough 25-point inspection to "sniff out" any exterior issues that may be occurring across your entire home exterior, including your roof, gutters, siding and windows. What does that mean? We'll provide you with a complete report of the age, condition, or weather damage that could compromise your roofing and exterior system. We will prepare a customizable recommendation on any repairs or replacements your exterior may need and discuss each finding with you, personally.
This Mighty 25 Inspection is only available through Mighty Dog, and is one of the things that sets us apart in the exterior industry. Our comprehensive 25-point inspection is absolutely free and involves no obligation to purchase anything. We are providing you the information you need to maintain your property for years to come.
ROOF SHINGLES INSPECTION
With our thorough inspection, we look for loose or missing shingles, loss of granules, or any hail or wind damage that will compromise your roofing system. We also look for any blistering due to moisture buildup or bad ventilation.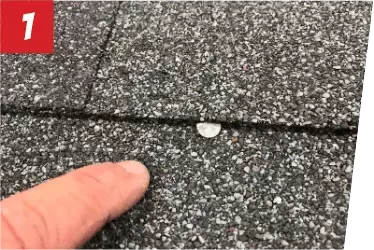 Nail Head Inspection
MDR will inspect your roof for any "nail pops" which are caused by weather-related expansion and contraction of the decking on the roof. Many times we find either improper nailing or not enough nails per shingle have been managed and maintained.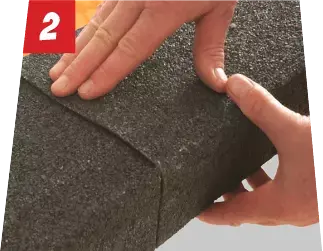 Roof Edging
Remember the edges of the roof receive the most moisture, so having the proper drip edge installed is important so water doesn't get under the shingles and cause damage. Roof edge flashing can help stabilize your roof during strong rain and wind events.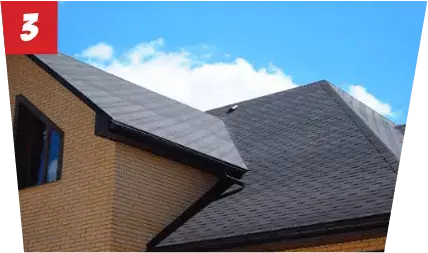 Inspection of Valleys
Heavy rains and winter snowmelt can cause rapid water, which, if not properly flashed can penetrate underneath the shingles. MDR trained eyes inspect all valleys (where all of your roof planes meet) for proper flashing materials to avoid damage.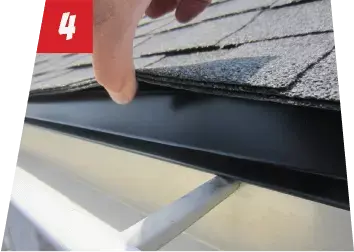 Drip edges are installed at the edge of the roof beneath the roofing and hangs over the sides of the roof. MDR ensures the drip edge was installed correctly by inspecting both the eaves and rakes.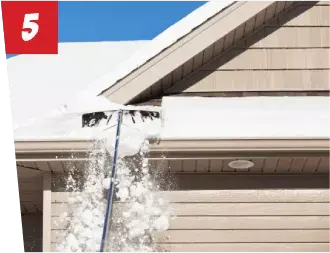 Eaves & Rakes Inspection
Eaves and rakes are the areas of a roof which hang beyond the roofing line and exterior wall. They are designed to keep rain, snow, and debris away from the walls of the house. We check the starter strip and watch for correct installation.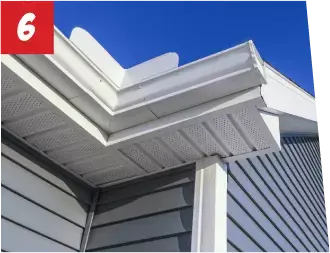 Soffits and Fascia Inspection
Soffits and fascia work together to cover and protect rafters and help to moderate temperature extremes and control moisture in the attic spaces. MDR inspects both the soffits and fascia for proper installation and any damage.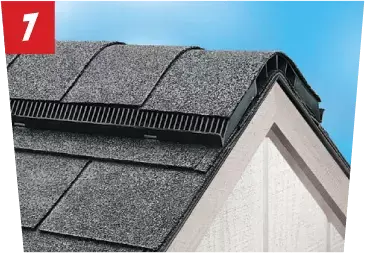 Hip and Ridge Inspection
MDR looks at the condition of the hip and ridge on your roof and watches for any rotting issues from the weather or algae.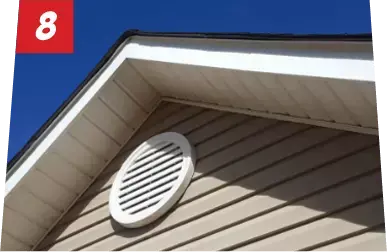 Roof Ventilation and Exhaust System Inspection
If your roof is over 10 years old, it is most likely improperly ventilated. Why is this important to check? Your roof vents help to keep your attic cooler in those hot summer months to prevent condensation build-up in the colder winter months. Each roof needs the proper ventilation system depending on its size. We also check all HVAC exhaust vents for proper installation.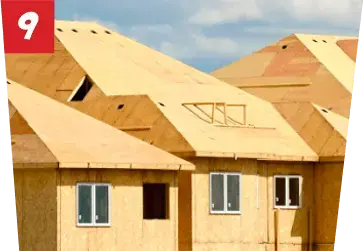 Roof Sheathing or Decking
If possible, MDR visually inspects your decking first for any interior leaks as they could be a symptom of rotting. There cannot be a full decking inspection until the shingles have been removed. Sometimes it is possible to check the attic to see if the proper sheathing is installed per local building codes.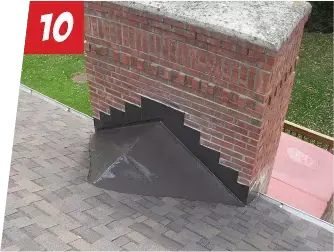 Inspection of Step and Counter Flashing
MDR inspects your step flashing for improperly installed or rusted materials. This can be a major cause of leaks, but hard to diagnose without a proper inspection for securely fastened flashing on the roof and around the chimney.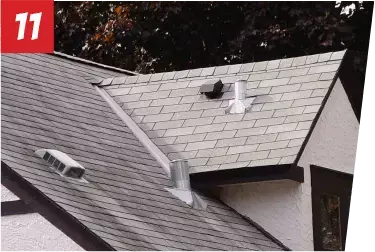 Furnace Caps and Pipes Inspection
Our experienced inspectors will inspect for any rust and leaks for your exhaust stack and flues. We will look at the Pipejack seals for any cracking which can occur with age. We will also check for any damage to the rain cap and storm collar.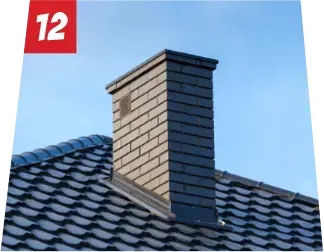 Chimney Inspection
Finding a source of leaks is what MDR is experienced at, and a common area of concern is the chimney. We will inspect the area around the chimney for proper sealing and flashing.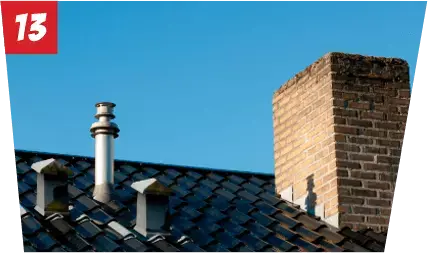 Plumbing stack Inspection
MDR will inspect the seals on all of your plumbing pipe boots used around the exhaust vents. Many times we will find dry rot around these areas which would cause water to escape into your home.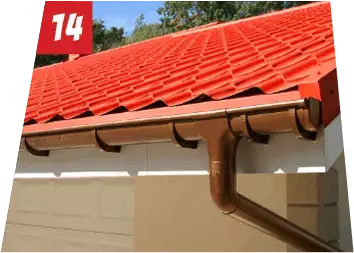 Gutters Inspection
Gutters are critical to the safety and health of your home as they carry the rain and snow water away from the home. We will look for any damage and also the functionality of your gutter system.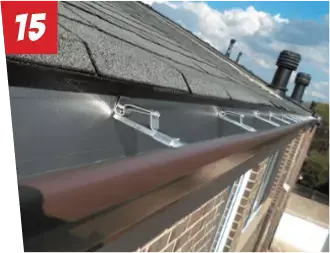 Gutter Aprons
Gutter systems that fail to catch rainwater can result in rotting soffits, moldy siding, and even a damaged structure. To make sure rainwater flows seamlessly from the roof to the inside of the gutter, gutter aprons are installed. We look at the installation and condition of the gutter apron to avoid damage to your gutter system.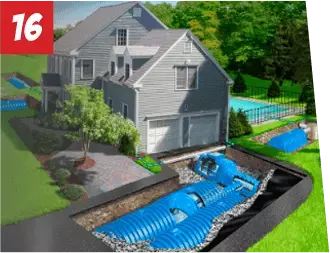 Foundation Drainage Inspection
Our Mighty Dog inspectors will look at the perimeter around your foundation for any potential issues surrounding the drainage system of your gutters.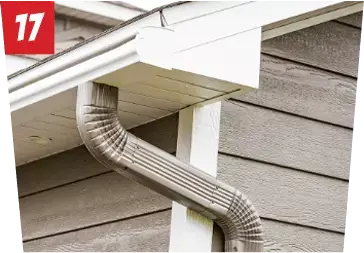 Downspouts Inspection
The downspouts are used to divert water away from your foundation to control drainage. MDR will look for any damage and correct installation for the best life of your property.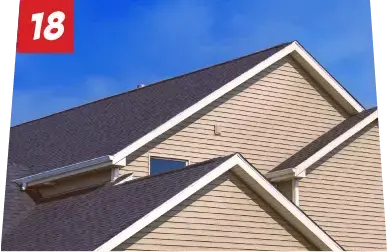 Inspection of Siding
On our inspection of your property, we are looking for any defects. These could include weather damage, cracking, dents, splitting, curling, or cupping which could lead to a shorter lifespan of your siding if not maintained.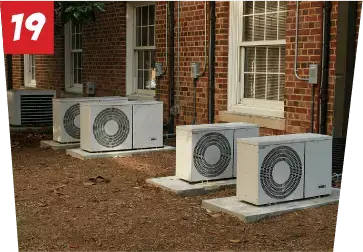 A/C Unit exterior
Inspecting the condition of the exterior would show us any weather events which could have possibly damaged the unit.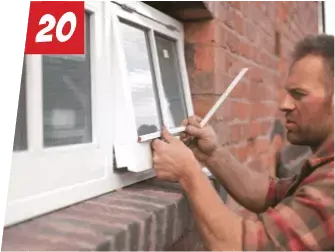 Window Inspection
Our MDR inspectors examine the exterior of your house including looking for deteriorated caulking, weather damage, clouding, or damaged windows and wraps. Not only is this important for energy efficiency, but it can also be a safety issue as well.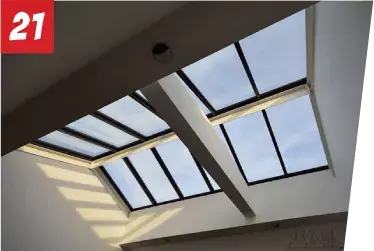 Inspection of Skylights
As part of our inspection, if you have any skylights we will look to assure proper sealing as leaky skylights left unattended can lead to costly damage to your roof structure and interior.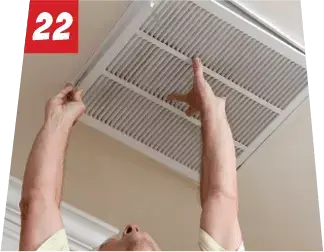 Ventilation Inspection
Our thorough inspection will look for vent locations and where they are placed on your home. We know the city's codes and regulations and will measure temperature changes as well to diagnose any issues.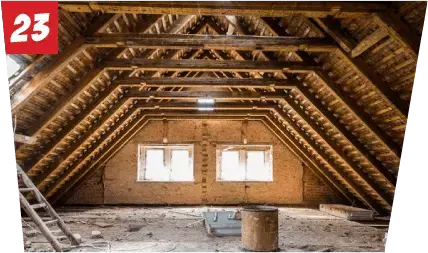 Attic Inspection
Your attic can be a good litmus test for underlying issues such as high energy bills, mold, poor air quality, and any moisture. MDR will take a serious look at what lies under your roof before you see damage inside such as any condensation or mold and any structural damage which can occur over time. We will also discuss any issues with ice damming if applicable.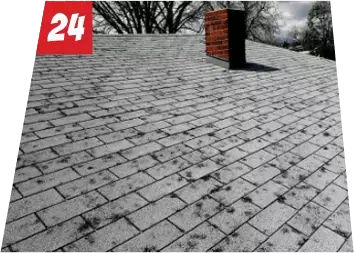 Storm Damage Hail Inspection
With extreme weather conditions, it is imperative your roof is inspected for any storm damage. Our trained and expert inspectors will provide a detailed and accurate report for any identified hail damage. From clay and slate roofing to metal and asphalt shingles, only a trained eye can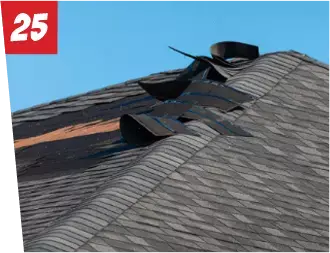 Storm Damage Wind Inspection
Gutter systems that fail to catch rainwater can result in rotting soffits, moldy siding, and even a damaged structure. To make sure rainwater flows seamlessly from the roof to the inside of the gutter, gutter aprons are installed. We look at the installation and condition of the gutter apron to avoid damage to your gutter system.
WHAT IS THE MIGHTY HOUSE CAPE?
The Mighty Dog House Cape is a tarping system used by Mighty Dog Roofing to help keep the jobsite clean of debris and protect your landscaping and home. It is our commitment to you to keep your project site clean and safe for your family, our crews and team. Excellence in customer service is what we promise and keeping those nails out of your lawnmowers tires is hard to accomplish sometimes with a metal magnet, and that is why we are committed to covering it with our Mighty House Cape. Your neighbors will appreciate the clean site as well as move through your project.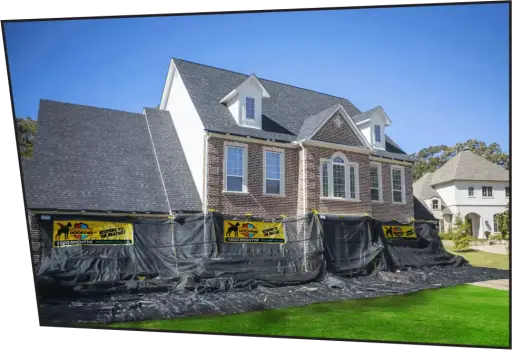 Happy Customers
R. Ajmera
They have excellent customer service. Their team did exactly what they say they will and show up on time. Will definitely use again.
B Wood
I had my roof and gutters replaced. The crew was friendly and kept me updated throughout the install. They also did a great job with the install as well as the clean up.
J. Pagura
Very professional from the office to the installers. Good value for great quality. I would recommend them and have already have done so. Give them a call.
C. Smith
Due to my experiences with other contractors' responsiveness in recent years, I was very impressed with the quick response for a quote for roof replacement on a rental home. The price was fair and the work was completed within a week of accepting the estimate. The site was cleaned up and everyone is satisfied!
I will be requesting additional work in the near future.
N. Palliccio
Great company, Our roof came out amazing, straight cuts, everything laid nicely and the cleanup afterwards not a single nail anywhere.
J. Camp
I was very impressed with the honest evaluation of the condition of my roof. Everyone I talked with was very courteous and professional. All appointments were kept on time and the work was completed as scheduled. I am extremely pleased with the completed job and would not hesitate to recommend this company to anyone!
M. Gillespie
Great job, professional crew, great experience. Highly recommend. Came on time, cleaned up, and roof looks great!
V. Davis
I can't say thank you enough for all the help that was given to me. Very professional, courteous, and helpful. They did an amazing job and did a great job with clean up. I would highly recommend them.
MIGHTY SUPER POWERS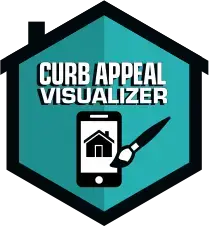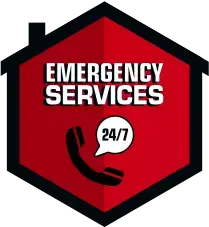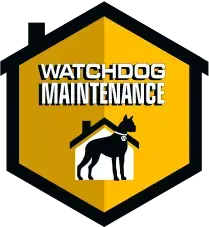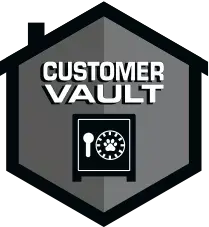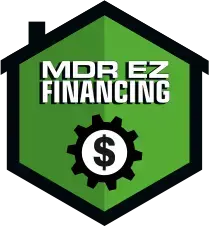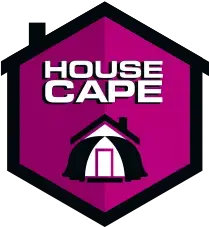 FAQ
How do I know if I need a new roof?
There are many things we look at, but the main one is the age of the roof. If your home's roof is 20 years or older, it will probably need to be replaced. If you have been in a recent weather event, it is imperative you get your roof inspected for any damage. An annual inspection will ensure you will get the most life out of your roof.
Repair or Replace my roof?
Our 25-point inspection will clearly identify all the issues, big and small, that you may have to consider to determine whether you need a simple repair or maintenance issue, or for a complete replacement of your roof. The NRCA (National Roofing Contractors Association) recommends a homeowner conducts a roof inspection twice a year on their roof.
Before I get a new roof, what is the best underlayment for me to use to avoid any future leaks?
We use an ice and water shield over the entire roof. This ice and water shield is made of polyethylene and rubberized asphalt. Ice and water shields prevent water that could slip under the shingles and can prevent water from damaging your interior ceilings and walls. MDR also uses metal flashings on the valleys of your roof as well.
My roof has black stains, what does it mean?
Stains on roofs have a variety of causes. Often the unsightly streaks are algae growing on or even under your shingles. Prevention is important and our SuperHero trained exterior inspectors will be able to give you a diagnosis and offer solutions to avoid further damage. To stop the algae, we can mount zinc or copper strips near your roof's ridge. Every time it rains, the water can wash over those strips releasing the ions from the metal and this will inhibit algae from continuing to grow. If you have this problem and it is time for a new roof, we can recommend algae-resistant shingles with warranties.
I have shingles on one side of my house which are hanging over the gutters, is it normal?
It sounds like the installation may have been incorrect. Shingles should only extend past the drip edge of the roof by about ½ to ¾ inch. We can diagnose this during inspection and repair this for you.
I need to re-roof but the roof has two or more layers of shingles on it already. Do I have to have them taken off?
Yes you need to take all layers of shingles off before installing a new roofing system. We need to see what is under those layers to ensure a safe foundation for your new roof and you don't need any additional weight. Removing them will also assure it looks better and cleaner, and will last longer. Many warranties will not cover more than one layer.
How long will it take to install a new roof?
Mighty Dog Says: Depending on the size of your roof and the repairs we need to make under the roof, typically most roofs can be completed within 1-2 days.
My roof is leaking, does this mean I need it replaced? Yikes!
Not necessarily; sometimes our crews can simply repair where it is leaking. The only way to know for sure is to have a complete Mighty 25 point inspection. Don't wait though! Additional damage and trouble from things like mold can add up quickly.
How often should I have my roof inspected?
The NRCA (National Roofing Contractors Association) recommends checking your roof twice a year. Our Mighty Watchdog Maintenance Program gives you peace of mind with an annual 25 point inspection.
How will you protect my landscaping, my kids, and my animals?
Our Mighty Catchall system is (our proprietary solution for protecting your property and family. It's a (plastic liner we affix to the entire work area radius?) installed prior to any work on your property to catch any debris and nails from the tear off. Then our sales team will go over your property with a magnetic tool to pick up any lingering nails. This will assure your lawn will look the same before, during and after our work.
Communication is important, how do I know what is going on with my project?
Part of our core values is exceptional communication. You will have a team who will be constantly communicating with you throughout your project. You will receive notifications every step of the way!
What safety precautions do you have in place?
The installation of roofs is probably one of the most dangerous jobs in the construction industry and we take it very seriously. This is supervised by our trained team throughout the project. If you have questions or concerns at any time please contact your sales team for a quick response.
Do I need to pull my own permits?
As soon as an agreement is signed, we start the process of applying for permits within your community. We will also keep those in your customer vault.
Will you provide me with warranties?
There are 2 different types of warranties our sales associate will share with you. One is our MDR 5-Year Workmanship Plus Warranty and the other will be your manufacturer's warranty.
What if the weather forecast isn't ideal on the day the work is scheduled? What is your process?
We take safety very seriously for our customers and our crews installing your roof. We look at weather reports throughout the day to ensure the correct conditions are present to support the safety of our crew and the success of your project. If the winds are too high, or there is rain in the forecast, we will call to discuss the safety issues with you and possibly adjust the schedule.
Who is putting on my roof and will it be supervised for quality?
We hire installation crews who are trained, insured, and licensed to complete your project.
Do you have the proper licensing and certification needed ? Insurance and Workmans comp?
You have the right to a reputable, trustworthy and licensed company who will be here for your home's needs, not just today but well past tomorrow. Our MDR sales team will show you proof of licensing and substantial insurance coverage to protect you and your family, our employees, company, equipment, and vehicles at your initial meeting.
How are the materials delivered?
We will be contacting you with the delivery information prior to any materials drop-off. Each of our distributors gives us a window of time they will deliver and will have the proper instructions as to where you would like the materials placed.
How are you tearing the roof off? Will there be a dumpster to catch debris?
Besides the Mighty Catchall to protect your property, we will also have a dumpster there to properly dispose of all the debris taken from your roof. At your initial meeting, we will talk about your wishes for placement of the dumpster.
Who will I be able to contact the day of my project?
We will provide you with the contact information for a team of professionals who will be able to help you. Your sales team is only a call or text away. You will be communicated with prior to our arrival, but you should look forward to seeing your sales representative prior to any work being done, and throughout the day to supervise the project.
Do I need to prepare anything before they install my roof?
We provide you with a Top 10 list of things to prepare before your roof installation. You can also find them on our website.
What are snow guards? Do I need them?
Snow guards are installed near the eaves to effectively hold ice and snow in place until it melts. Our MDR inspection consultation will give you the options you will need for your particular property.
I have green moss growing on my roof should I worry?
Moss holds moisture against shingles, shortening their effective lifespan. It also catches debris—twigs, leaves, dirt—which makes the moisture problem worse. If you see shingles with surface cracks, small blisters, curled-up edges, or areas where the surface granules have worn off, you probably need new roofing. An easy way to get to get rid of the moss and prevent it from returning, install zinc or copper strips near the roof ridge, above the areas where moss tends to grow. Rain washing over the strips will leach out metal ions and send them down the roof, preventing new moss from taking hold. Ask your Mighty Dog representative to show you how we can help install this for you. Also, trim any overhanging tree branches as much as you can. Moss thrives in the shade trees provide and the debris they drop.
Do I need to worry about icicles on my roof in the winter?
They are pretty to look at sometimes, but let's leave it for the Christmas tree. Icicles actually represent a problem known as ice dams, which form when snow melts and refreezes before it can leave your roof and gutters. The ice dam can then force water under the shingles causing leaks. Our MDR inspector will speak with you about this at your Inspection and give you options to avoid this problem.
FIND YOUR LOCAL ROOFER