What Should Be On A Roofing Estimate?
When it comes to being a homeowner, few projects seem as daunting as fixing up or replacing your roof. If a recent inspection has shown that the daily wear and tear has gotten the better of your roof, you should consider an immediate fix or replacement to avoid leaks or even a collapse. These things require a hefty financial investment, but the results will bring you years of enjoyment out of your house.
Considerations On The Cost Of Roofing
The following article will serve you as a guide on the many considerations of the cost of a roof installation. Hopefully, you will find all the answers you need on the matter of getting a roofing estimate, what it entails, how it breaks down, and what you have to know to get the best prices and labor available in the market. Let's begin!

What Is A Roofing Square?
The "roofing square" is a term you might have heard used immediately after you started searching for roofing estimates. The quick explanation is that a roofing square is the amount of roofing material you need to cover 100 square feet of roof. It's shorthand for a roof's size, and one roofing square equals one hundred square feet more or less. Now, when discussing the roofing square, many contractors also consider many other factors related to it, such as the price of materials, waste disposal, extra supplies needed (like heat or cold protection), and most importantly, the cost of labor and overhead.
It's not the same across the board, but a good rule of thumb to remember is that 60% of the total price of a roof installation goes towards labor and overhead.

What Is The Actual Size of Your Roof?
As you can imagine, the size of your home and roof will directly affect the price of your roofing job. Despite many roofs having weird shapes and varying inclinations, the rule of thumb is that a roof will be 1.5 times the square footage of your home. Following this rule, a 1,000 square foot home will have a 1,500 square foot roof. Still, this little formula is just so you get an initial idea of the amount of material you will need to purchase. Your roof should be measured by a professional for the exact dimensions before you make any decisions.

Where Are You Located?
On account of your geographic location, it should go without saying that labor is costlier in some parts of the country than it is in others. Add that to the humidity and other local weather conditions, and you will see why prices fluctuate between different cities and states.
Market Fluctuations For Shingles
The roofing materials market, like many other markets, is prone to fluctuation throughout the year, which causes the prices of things like shingles and timber to rise or fall. This means that, all other things being equal, a roofing estimate made in February can look pretty different from one made in November. Always consider the fluctuating prices of roofing materials when asking for an estimate, especially if you plan on using higher-end materials such as metal roofing or wooden shake shingles.

The Quality Of Roofing Materials
You obviously would never want to use cheap shingles of dubious quality when budgeting for a new roof installation, but you will see that even the higher-end stuff has different prices for a reason. Take wooden shake roofs as an example, since they are considered expensive because of how beautiful they are, and while not pushovers, they do require more attention than other materials and will degrade at a faster rate. On the other hand, high-quality synthetic wood roofing can look just as beautiful while also being resistant to fire and humidity, and has an even higher price than wood because of that.
In short, looking out for the quality of materials being used on your roof is not only about how "good" they are, but about choosing which material will cover your specific needs and preferences as a homeowner.

Changing Your Roof For a Heavier One
Replacing your old roof for a new one using the same type of material as before usually means you have nothing to worry about. However, using a lighter product than what you had before and vice-versa means that you have to double check your framing.
These issues are usually related to a lighter-to-heavier replacement, but either way you should make sure that you schedule the following procedures:
Framing inspection
Truss repairs and reinforcement
All things considered, replacing a roof using different materials will cost you anywhere from $7,000 to $12,000 or even more, including the tear-off.

Re-Roofing Garages And Other Additional Buildings
When replacing a garage roof, you have to consider adding better insulation and ventilation in case your garage needs it, since it will increase the lifespan of that whole space. However, if you're only looking at a simple roof installation, the total cost of a garage roof is $1,000 to $2,000.
Like we have mentioned several times in this article, size is one of the biggest factors to consider in a roofing estimate, but the following are some of the most common when considering the number of cars:
One-car: 250-350 square feet
Two-car: 350-450 square feet
Three-car: 700-1,000 square feet
Following that logic, any external construction in your property should have its roof replaced according to its particular usage, however tempting it might be to have it match with your primary building.
Use Our Roofing Calculator
We know what you're thinking. It's hard to keep track of all these numbers and measurements and price variables that just keep piling up as you learn more about your roof, even with a calculator in hand! A regular calculator, that is…
Try out our roofing calculator to get accurate estimates instantly!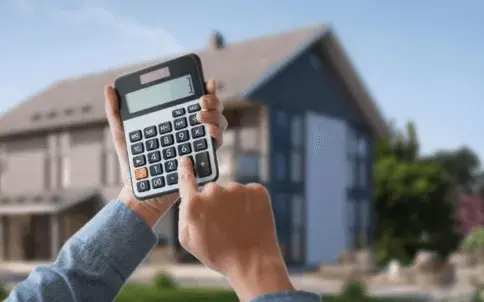 The Cost Of
Roofing Labor
On a regular roofing project, the cost of labor and overhead make up about 60% of the total cost. Like we mentioned above, the overall cost of the project is affected by factors such as materials, your type of roof and slope, location, building permits, and more. However, it's safe to say that it averages out to $2.50 per square foot.
This means that, for example, if the total cost of your roofing project is $12,500, then approximately $7,500 of that will go to cover the cost of labor and overhead.
By size
House (& Roof**)
by Square Foot
Re-Roofing Cost*
1,000 (1,054)
$4,000 - $5,500
1,100 (1,160)
$4,200 - $6,000
1,200 (1,265)
$4,500 - $6,500
1,500 (1,581)
$5,500 - $8,000
1,600 (1,687)
$6,000 - $8,500
1,700 (1,792)
$6,500 - $9,000
1,800 (1,897)
$6,700 - $9,500
1,900 (2,003)
$7,000 - $10,000
2,000 (2,108)
$7,400 - $10,500
2,500 (2,635)
$9,000 - $13,000
3,000 (3,162)
$11,200 - $16,000
*The rates are based on the total to install architectural shingles ($350-$500 per square) for a pitch of 4/12 on a single-story home.
** Keep in mind that your roof size will not match the area of your house. You must consider factors like overhangs and pitch. You will learn more about calculating these measurements further on in this guide.
Source: Home Advisor
By LOCATION
| City or State | Average Cost Range |
| --- | --- |
| Florida | $8,000 - $16,500 |
| Houston, Texas | $5,750 - $10,600 |
| Maryland | $4,500 - $9,500 |
| Michigan | $6,550 - $11,900 |
| Colorado | $6,300 - $12,300 |
| New Jersey | $5,800 - $10,000 |
| Seattle | $7,000 - $13,800 |
| Los Angeles | $6,400 - $15,400 |
| Phoenix | $5,600 - $10,000 |
Source: Home Advisor
Tear-off cost
Most contractors will include the cost of tearing off your old roof in your estimate, but if you're only looking for the isolated cost of tearing it off, consider paying $100 to $150 for every square of the roof removed.
Materials Cost
Roofing shingles can be made of a surprising amount of different materials, each with its own costs, lifespan, aesthetics, strengths and maintenance needs. This, logically, means that the type of material you choose for your shingles will directly affect the final price on your roofing estimate.
Price Of Shingles
A shingle is the unit of material that covers the roof. There are many advantages to using shingles, so much that they have been in use for hundreds of years. A big part of their enduring popularity is that they can be repaired in pieces without the need to replace an entire roof. The following is a list of the most commonly used roofing shingles, a brief description of them, and the average cost of installing them.

Asphalt Shingle
One of the most common types of roofing material, this lightweight and easy to install material is usually very low cost. If you are going to go DIY on your roof, asphalt shingles are the most DIY-friendly material available.
Overall, an asphalt roof installation will cost around $5,000 to $11,000.

Wooden Shake
Although beautiful, wood shake roofs can be a handful due to how high maintenance they are. Also, unless you're using synthetic materials, this all-natural shake will deteriorate faster than other types of roof, and it goes without saying that they're naturally more prone to fires, mold, and insects.
Whether you're using real wood or rubber/plastic shakes with the appearance of wood, the total cost of your project will probably be around $10,000 and up to $20,000. The higher-end synthetics, however, can easily go above that price considering their resistance to fire and lower-level of maintenance required.

Metal Roof
As you probably already know, metal roofs are the umbrella term under which a wide range of metal-based roofing materials falls under. This type of roof offers a multitude of very attractive options with a lot of benefits to boot, such as resistance to climate conditions, beautiful looks, being very low-maintenance, and more. Because of this, some metal roofs tend to be on the pricier side, with copper roofs reaching above the $25,000 range.
Other Materials Used In Roofing Shingles
1,800 sq. ft
Home
Low Cost
High Cost
Architectural
$6,543
$12,672
Clay Tiles
$15,402
$23,103
Concrete Tile
$8,384
$12,576
Copper Roofs
$27,771
$41,656
Rubber Roofs
$11,000
$15,432
Slate Roofing
$14,153
$21,230
Solar Shingle
$60,000
$75,832
Tile Roofing
$20,544
$50,672
Source: Home Advisor
Other Costs
Building Permits
Just as geographic location affects the price that will appear in your roofing estimate, it is also a question of jurisdiction. Roofs require permits, and the cost of those permits is affected by the area where you live. Some areas have flat rates, others will determine the final cost dependending on the surface area of your roof, and other similar factors.
Waste Removal
For the amount of waste that tearing off a roof produces, the average price of waste removal is $250 per truckload, but this can go as high as $800 if you're not careful. Different types of waste will fetch different prices depending on your location and the company you choose.
With prices that high, you definitely want a contractor that will take care of its own waste, right?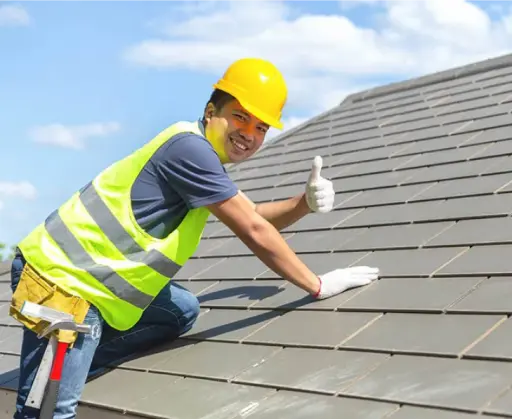 Project Timeline & Expectations
This basically refers to the amount of time that the project will take to be completed by the contractor. Here are the basic stages you can expect from any roofing installation project.
Initial estimate
Home preparation
Removal and disposal of old shingles
Inspection of plywood
Shingle preparation
Shingle application
Cleanup
Final Inspection
Ideally, the roofing process will take your contractor around 2-3 weeks, with most of the heavy lifting being done in the last 2-5 days. Again, this is an ideal timeline, but things out of your and their control can happen, making the project take longer.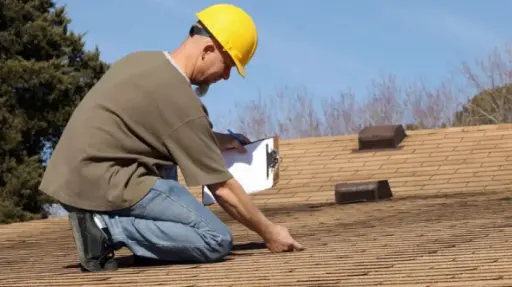 What About Your Roofing Warranty?
While the majority of roof warranties are directly related to the manufacturer of your shingles, some contractors will offer warranties for their labor, offering free inspections and repairs within a certain period of time after the installation of your roof. You can expect a 25 to 30 year warranty from most manufacturers, although some higher-quality brands will offer up to 50 years and or even a "lifetime warranty".
Even better, some contractors are partnered with certain manufacturers so their warranties are extremely beneficial to you as a homeowner.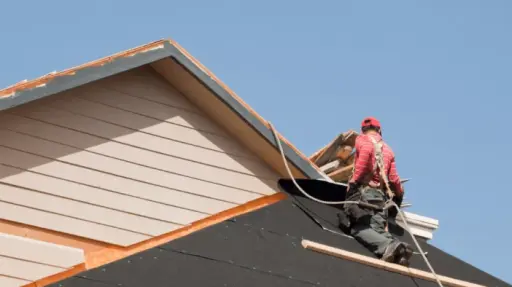 Price of Replacing Roof vs. Repairing Roof
Even though the prices vary by region, the cost of a roof replacement is between $5,000 and $11,000, although the average homeowner will spend about $8,247 overall. In contrast, the average cost of roof repairs is $550, but other factors must be considered when determining whether to repair or replace.
A leak does not necessarily mean that you have to call for a replacement right away. That is usually defined by the contractor based on the extent of the damage, the materials used on your roof, and other factors. Asphalt roofs, for example, average somewhere between $300 and $1,000, while slate roofs go as high as $2,000.
Should You Go DIY or Hire A Roofing Contractor?
If you only look at the numbers, it might make sense to bet on DIY repairs instead of hiring a professional roofing contractor. On average, a DIY roof replacement costs $2,500 to $5,000 (if you know what you're doing), while a professional roofing hire might cost anywhere between $5,000 and $10,000. However, once you factor in every "surprise" that a roofing project can throw at you, you will realize that a contractor is well worth the price.
The Contractor Experience
By hiring a licensed professional you make sure that all the materials needed will be there at the same time, that all safety precautions will be taken to protect both the workers and your house. Most importantly, a roofing contractor will have the experience and knowledge to detect and tackle any unexpected issues with the project without the budget ballooning out of control.
DIY Roofing: Is It A Good Idea?
While the overall cost of DIY vs a contractor might steer you towards the former, here are only a few of the issues you will probably encounter.
Realizing the wooden frame of the roof is damaged/rotten.
Materials arriving late, or the wrong products being delivered.
Finding out too late that you're installing the wrong type of material for your frame or climate.
All of the many, many risks you will take due to lack of experience or manpower. Even if you know what you're doing!
If you're still planning to go the DIY way, add the following costs to the ones mentioned above:
Supplies
Protective Gear
Waste Removal
Labor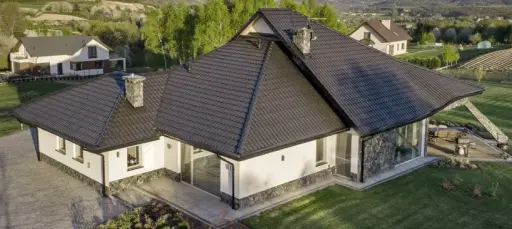 CONCLUSION
A roof replacement is without a doubt one of the most expensive repairs for a homeowner. Since your roof technically never stops "working" for you, it's important to use only the highest quality materials and labor available to you when replacing or upgrading it. In this article, we have outlined the many ways a roofing estimate can be calculated, how the different decisions you make will affect that estimate, and the many factors you have to consider when making those decisions. It all comes down to the materials and methods involved, but it's a long way down before choosing those materials and methods, so we hope this article has steered you in the right direction!
FAQ
How much does a new roof installation cost?
While there are many factors that influence the price of a brand-new roof installation, the national average cost goes between $10,000 and $20,000 or more depending on materials. Remember that labor and overhead makes up for around 60% of the cost.
Do I have to know the pitch of my roof?
Knowing the pitch of your roof will make it easier to get accurate estimates from your local roofers. It can save you and them time, and you will be able to negotiate better prices faster.
Will a roofer replace the fascia and soffit during my roofing project?
If it's not necessary to replace them, the roofer will probably integrate them with your new roof. That is, if they're still in good condition and not housing pests of any kind. You can expect a fascia and soffit replacement to cost anywhere between $600 and $6,000.
Does insurance pay for new roof?
Yes, but in certain cases only. A regular homeowners insurance policy will cover the cost of a roof replacement if the damage was caused by an act of nature (such as a storm) or a sudden accidental event (like a house fire or a falling tree). However, most homeowners insurance policies will not pay for the installation or replacement of a roof when the damage has been caused naturally and gradually over time due to regular wear and tear.
How much do roofers charge per hour?
While some factors such as experience and the overall cost of building permits in your area will affect the price, the average hourly charge for a contractor will be anything between $40 to $80 per hour.
How much does it cost to tear off and replace a roof?
The cost of any roofing job varies by region, of course, but a roof replacement will cost between $5,000 to $11,000, with a national average of around $8,000. This will change depending on your selection of materials and other factors.
What time of year is best to replace a roof
While some geographical considerations should be taken into consideration, Fall is widely considered to be the best time of the year to do any type of roofing work. The most important reasons for these are:
Transition to cooler (but not too cold) temperatures
Lower humidity and less rain
How Does a Contractor Estimate The Cost of Installing a New Roof?
Like many other costs described in this article, the cost of the new roof itself will be affected by many other factors, such as:
Size of your roof
Market fluctuation of roofing materials
Timeline of the job
How lengthy your warranty will be
Your geographic location
Quality of materials used
The contractor's experience
Local permits and fees