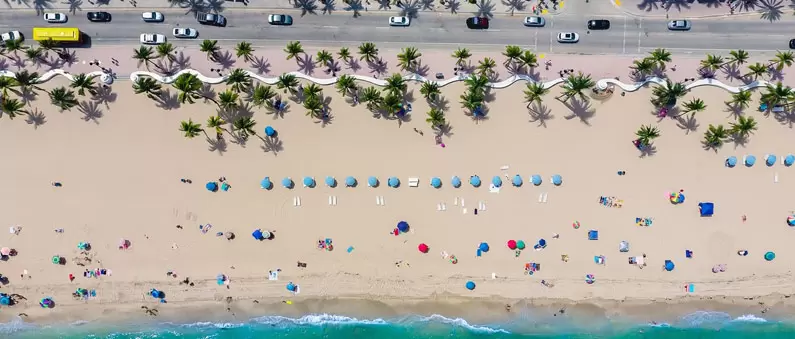 12 Things to Do Near St. Petersburg, FL
You'll find something to suit everyone on our list of the top 12 things to do in and around St. Petersburg
Published: 2022-07-27 19:05:55
When they're not working doing roofing in St. Petersburg, FL the Mighty Dog crew knows how to find some family-friendly fun. You'll find something to suit everyone on our list of the top 12 things to do in and around St. Petersburg, Florida!
Clearwater Marine Aquarium
Meet Hemingway the dolphin, Speckles the spotted moral eel, and tons of other aquatic friends when you visit Clearwater Marine Aquarium. Dedicated to the rescue, rehabilitation, and release of sick and injured marine animals, the aquarium just celebrated 50 years. The brand new Dolphintopia exhibit welcomes visitors to explore the special connection between humans and dolphins, and the Swimming with Whales Virtual Reality Experience (free with your admission before 4 p.m.) invites you to get up close with the giants of the sea!
Weedon Island Preserve
If you prefer to experience marine life out in the wild, then head to the western short of Tampa Bay to visit Weedon Island Preserve. There, 3,190 acres of the pristine coastal ecosystem are just waiting to be explored. Whether you're interested in birds, plants, mammals, photography, history, or archeology, there are points of interest ready to be discovered. Choose to hike or paddle along the nature trails, or take a guided tour to learn more about the 2000-year history of indigenous peoples who called the island home.
Florida Botanical Gardens
More than 150 types of animals call the 100-acres parkland at Florida Botanical Gardens home. Look out for bald eagles, tortoises, tree frogs, and more as you explore this natural oasis in the heart of Pinellas County. Discover the heady aromas of the herb garden, celebrate the music, movement, and color of the jazz garden, or the traverse wetlands walkway to the wildlife overlook. Download their free TaleBlazer app for a fun and educational guide while visiting the gardens.
Tampa Bay Grand Prix
Put the pedal to the metal at Tampa Bay Grand Prix indoor go-cart track, known as the place to race. Experience speeds of up to 50 mph in their Italian-manufactured electric vehicles. The tracks are designed to suit racers of all levels, and they offer junior carts for kids between 48" and 56" so everyone can join in the fun. After each race, you'll see your lap time on the projection screen, and every driver receives a print-out to track their personal score.
Sky Zone Trampoline Park
Defy gravity at Sky Zone Trampoline Park! Test your agility and speed on the ninja warrior course, dunk like the pros with Skyslam, or knock dad off the battle beam. You can safely try out even the most daring stunts with foam pits to break your landing in both the foam zone and drop zone. The Clearwater location is complete with a zip line, mega launch slide, skyladder, warped wall, and bouldering. Plus, Fridays and Saturdays are glow nights!
Treasure Island Fun Center
Pinball fans won't want to leave Treasure Island Fun Center. This tropical-themed arcade is a birthday party favorite and features all the old-school classics plus plenty of modern video games. Test your skills at Skee-Ball, air hockey, and carnival games. Challenge the high scores on Ms. Pacman, Cross-the-Street, and Deal-or-No-Deal. Plus, there's plenty to race, from video game cars and motorcycles to remote-controlled trucks! You can choose to pay as you play or purchase a play package with two hours of unlimited games.
Boyd Hill Nature Preserve
Hike, camp, and relax at Boyd Hill Nature Preserve in the heart of St. Petersburg. Home to the beautiful Lake Maggiore Environmental Education Center, where the clever exhibits highlight the natural wonders of the area and leave you feeling more connected to the ecosystem around you. Explore the trails and boardwalks to catch a glimpse of the more than 50 butterfly species, 165 bird species, and 60 amphibian and reptile species that call the preserve home.
Sunken Gardens
Don't miss one of St. Petersburg's historic gems. Over one hundred years old, the Sunken Gardens are St. Petersburg's oldest living museum and a true oasis in the heart of the bustling city. The gardens were originally created in 1911 by local plumber George Turner, Sr when he purchased the six-acre property and used clay tiles to transform it from an ancient lake into a rich garden bed. Today you can lose yourself amongst a lush collection of over 50,000 tropical plants, cascading waterfalls, and a flock of flamingos!
Heritage Village
Experience history coming to life in Heritage Village. This living museum spans 21 acres and features restored homes and buildings to transport you back to the earliest days of Pinellas County. Watch demonstrations in the smokehouse, sugar cane mill, boiling shed, blacksmith and woodworking areas to discover how agriculture, community, and tourism shaped the county. A native plant trail winds through a forest of pine flatwoods that provided food and shelter to early inhabitants and pioneer settlers.
Tampa Bay Automobile Museum
Rev heads rejoice: Tampa Bay Automobile Museum is dedicated to the innovative engineering of the 1920s and 30s. The collection brings together pioneering vintage cars from around the world to tell the story of how our modern cars came to be. See the first front-wheel drive and rear engine cars, as well as an exact scale working replica of the world's first self-propelled vehicle, the French 1770 Fardier de Cugnot. Many of the vehicles in the museum are limited production models that cannot be seen anywhere else.
Museum of Fine Arts
With exhibits spanning 5,000 years of civilization, the Museum of Fine Arts in St. Petersburg is the largest comprehensive art collection in Florida. Their art comes from across the globe and boasts over 18,000 objects including works by Georgia O'Keeffe, Auguste Rodin, Jacob Lawrence, and more. Explore the stunning sculpture garden, marvel at the Steuben glass gallery, and soak up one of Florida's most respected collections of photographs. Regularly rotating exhibits always offer something new and intriguing to keep visitors coming back, which is why the Museum of Fine Arts is considered one of the hidden gems of St. Petersburg.
St. Petersburg Saturday Morning Market
It's worth getting up early on Saturday morning to experience this gorgeous open-air market. The largest market in the southeast U.S. comes alive each week with delicious locally grown fresh produce, artisan-made treats and crafts, ready-to-eat food from over 15 different countries, and live local bands! Regulars describe it as a daytime party full of creative people and friendly dogs, where you can shop, eat, mingle, and dance. Explore more than 125 vendors, including the food demonstration cart where local chefs teach you how to whip up healthy recipes using the fresh produce around you!
Conclusion
Whether you're in the mood for art, history, nature, or thrills, there's so much to do and see in St. Petersburg! Your local roofers for over 20 years, the team at Mighty Dog Roofing knows the area's hidden gems almost as well as we know quality roofing services. We excel at roof repair and replacement so you can worry less about your home, and have more local fun!
For all your roofing needs, contact your local roofers at Mighty Dog Roofing!
More Interesting Activities In St. Petersburg