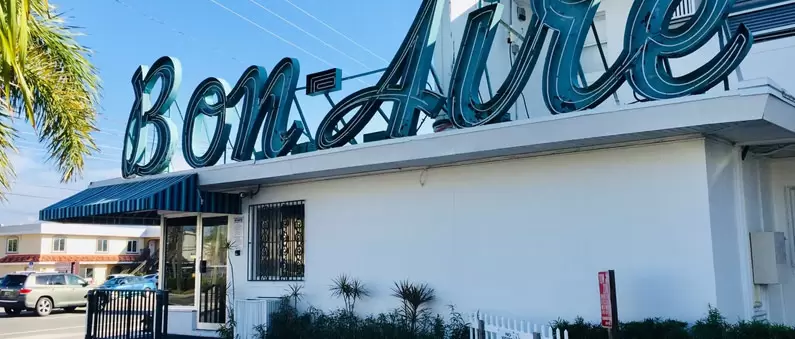 Best Neighborhoods to Live in St Petersburg, FL
We've broken down each one's best attributes and provided some relevant economic information to inform your choices
Published: 2022-07-27 19:39:18
As St. Petersburg roofers we know the Pinellas Peninsula plays host to some of Florida's best neighborhoods.
Each of the neighborhoods on this list has different positives that make them great places to live. We've broken down each one's best attributes and provided some relevant economic information to inform your choices.
Whether you're in the market for an upscale beach house or are just looking for an affordable rental somewhere near downtown, the St. Petersburg roofers at Mighty Dog have compiled this blog to help you narrow down your options.
Holiday Park
Holiday Park is nestled in between Tyrone Blvd North and 30th Ave North in St. Pete, in the section known historically as the Tyrone area.
This is a family-friendly, upscale neighborhood with a low crime rate. Holiday Park is a dense suburban location where more than 80 percent of residents own their homes.
One of the main draws of Holiday Park is its proximity to public beaches, with the coastline just 10-15 minutes to the south and west.
Allendale Terrace
On the East Side of the Pinellas peninsula lies the upscale Allendale Terrace neighborhood.
Residents of Allendale Terrace enjoy close access to downtown as well as the beach, each being about 10 minutes' drive from the neighborhood.
This is another dense suburban area. The entire neighborhood is characterized by houses and rows of trees. 80 percent of Allendale Terrace's 765 residents own their homes. With a very low crime rate and good schools, Allendale Terrace is a great option for families.
Central Oak Park
As the name implies, Central Oak Park enjoys a central location just five minutes in between downtown and the beach.
Central Oak Park is an area with lots of character, with brick streets from the 1920s marking the path for travelers and splitting the many ranches and bungalows. 66 percent of residents here own their homes. The median rent is $1152.
The central location and pedestrian-friendly streets make this an ideal neighborhood for those who prefer not to travel by car.
Jungle Terrace
This is our first beachfront neighborhood on the list! Jungle Terrace is a densely populated area with very high property values, the median home being over $460,000. Given its location directly on the beach, this is a popular neighborhood for those with the money to afford it.
The neighborhood is populated with many coffee shops and restaurants but is mostly defined by its location and price point.
Despite the high property values, residents of Jungle Terrace average about $70,000, thanks to relatively high rental rates of 29 percent.
Pinellas Point
Pinellas Point occupies the southernmost tip of the peninsula, offering beachfront properties as well as a great view of the Sunshine Skyway Bridge.
The area is split nearly in half on owners vs. renters, making it the most economically diverse neighborhood on the list so far. The 47 percent of residents who rent in Pinellas Point pay about $1182.
Pinellas Point is a good option for those, particularly renters, looking for solid schools and a well-rounded community.
Fossil Park
Fossil Park is another economically diverse neighborhood nestled towards the eastern tip of the peninsula. Fifty-one percent of the residents here rent and enjoy a median monthly price of $1029, slightly below the national average.
This landlocked neighborhood is a short drive from the beach but relatively farther from downtown St. Petersburg.
Residents of Fossil Park enjoy access to their neighborhood park, as well as the North Community Library on the west side.
EDGE District
EDGE District is a privately owned district which aims to develop the neighborhood into a great place to live and shop.
Over the last five years, the district has seen 89 new businesses opened and almost $240 million of investments.
For those looking for an up-and-coming district, or those with high income looking for a well-populated and walkable neighborhood will love EDGE district. This is also a great neighborhood for those who value nightlife, as the district is populated with several bars and restaurants in easy walking distance.
Gateway
Gateway is a relatively large district that is connected to several major seaports and roads. This location has made it a hub for industry and a true working-class neighborhood that still includes plenty of restaurants and parks.
Property values here are currently around $156,000. Gateway's residents are primarily renters, though the median rent of $1109 here is above the nationwide average.
Overall, Gateway is a well-rounded neighborhood suitable for renters, or prospective owners looking for relatively low prices on real estate.
Historic Kenwood
This is another central neighborhood. Historic Kenwood is within walking distance of downtown and less than 5 minutes from the closest beach. This makes it a great place for those looking for a lively nightlife as it plays host to many bars and nightclubs.
The most important district in Kenwood is the Grand Canal, a community dedicated to serving the art, entertainment, and history that defines the area.
Kenwood is a highly diverse community and is well liked by the LGBTQ+ community.
Riviera Bay
This beachfront neighborhood is located on the eastern edge of the Pinellas Peninsula. It is home to relatively affordable waterfront housing, with median rent here about $50 below the national average. However, this neighborhood is largely made up of homeowners, with 81 percent of the population owning their house.
Riviera Bay is defined by its waterfront access, great nightlife, and quick access to downtown as well as 4th street, which can take residents north towards Tampa or south into downtown St. Petersburg.
Shore Acres
This is a unique neighborhood located on the eastern edge of the peninsula. The streets wind throughout the waterway, which makes for plenty of room for upscale beachfront housing that the area is known for.
This is a high-class area with median home values north of $430,000. The neighborhood is almost entirely homeowners, with just 12 percent of residents renting.
Overall, Shore Acres is one of the most beautiful neighborhoods in St. Petersburg for those who can afford it.
Crescent Lake
This sparsely populated neighborhood takes its names from the lake at its center. Surrounding the lake is a gorgeous 54-acre park, which is home to plenty of wildlife, dog parks, and walking trails to keep residents connected to the outdoors in the year-round Florida sun.
The neighborhood is conveniently located about 15 minutes north of downtown St. Petersburg, and just a few minutes west of the nearest beach. Crescent Lake is notable for its affordable median rental price, just $847.
Coquina Key
Coquina Key is one of the best neighborhoods to live in St. Petersburg. This upscale and classy area is situated right on the water, on the southwest end of the peninsula.
Coquina is very close to downtown St. Petersburg as well as I-275, which can shuttle residents south towards Rubiona or up north towards Tampa.
Ultimately, Coquina key is a luxury destination. For those wanting a high-class, safe neighborhood with plenty of great entertainment, Coquina Key is close to the top of the list.
Downtown St. Petersburg
Of course, downtown is also one of the great places to live on the Pinellas Peninsula. A collection of industry, business, and residential districts defines the area.
In terms of entertainment, Downtown St. Petersburg is home to many bars, restaurants, and nightclubs, as well as the Tampa Bay Rays who play their home games here at Tropicana Field.
Downtown St. Petersburg is a diverse and economically powerful neighborhood with above-average rent prices and a well-rounded list of housing and entertainment options.
More Interesting Activities In St. Petersburg