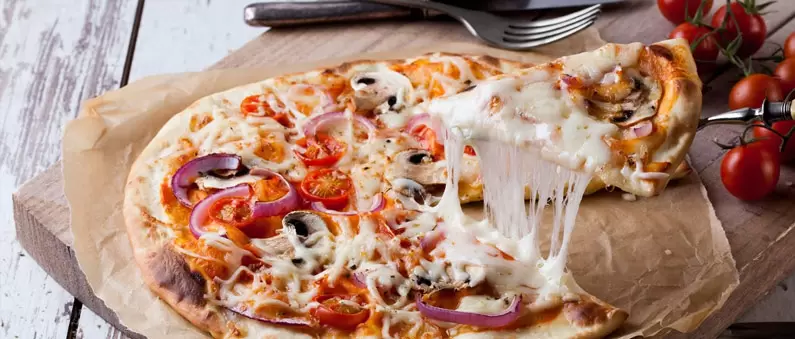 Top 15 Places to Eat in St. Petersburg, FL
There are plenty of mouthwatering choices when it comes to food in St. Petersburg
Published: 2022-07-27 20:42:13
St. Petersburg and the greater Pinellas Peninsula are home to so many great restaurants.
Mighty Dog St. Petersburg roofing company wants to make it easy for travelers and locals to sort through the many offerings and find the city's best restaurants.
Seafood lovers will of course be in paradise in this coastal location. However, lovers of Mexican, Italian, and American-style cuisines will have plenty of mouthwatering choices when it comes to food in St. Petersburg.
With your happiness and satiety in mind, Mighty Dog has compiled this list of 15 great places to eat in St. Peterburg, Florida.
Quaker Steak & Lube
This car-and motorcycle-themed steakhouse is located in Clearwater. This is an affordable and festive option, especially for those who love motorcycles.
Quaker Steak & Lube serves some great American classic foods like burgers, wings, and of course steaks. Quaker Steak & Lube's building is decorated with iconic classic American motorcycle and muscle car imagery, evoking the days gone by for those looking for a trip down memory lane.
Quaker Steak & Lube periodically hosts events like kid's night, bike night, and happy hour.
Seminole Subs
Sandwiches, subs, and gyros are all served at the American sandwich spot Seminole Subs. They specialize in subs and gyros but boast a large menu that includes salads, burgers, and wings as well.
There are four locations in the area. The one closest to St. Petersburg is located in Pinellas Park.
This is an affordable and fast option for those looking for a great place to grab lunch with a friend or pick up something for dinner on the way home.
Cajun Café on the Bayou
For lovers of soul food, Cajun Café offers authentic Louisiana-style cuisine on 66th Street North in Pinellas Park. This is a local favorite with a middle price point, perfect for a lunch with friends or a night out.
Cajun Café on the Bayou has been serving the Pinellas Peninsula for 26 years and boasts a menu that includes southern classics like cornbread, catfish, fried chicken, Creole gumbo, and jambalaya.
Noble Crust
Noble Crust is a restaurant for those looking for an interesting and unique cuisine. Located in St. Petersburg, Noble Crust bills itself as a cross between fine Italian cooking and traditional southern ingredients.
This restaurant also offers a collection of fine wines, craft beers, and mixed drinks at their bar. Indoor and outdoor seating is also available.
Noble Crust's website includes a list of events like family night and brunch dates.
Skyway Jack's Restaurant
This is an affordable and humble American-style breakfast and lunch diner located just off of I-275 and 34th street in St. Petersburg.
Their menu consists of classic American breakfast options like bacon, eggs, sausage, toast, and pancakes.
Skyway Jacks is open from 6:00 AM to 2:30 PM, 7 days a week. Their hours and central location make it an ideal place for locals to grab some coffee and eggs on their way to work or grab lunch with some coworkers on a weekday.
Fresco's Waterfront Bistro
Fresco's Waterfront Bistro specializes in seafood dishes. Their gorgeous waterfront location provides a spectacular view of the municipal marina, with many yachts and boats visible on the St. Petersburg Pier.
Enjoy a menu consisting of fresh seafood like lobster, calamari, and various types of wild-caught fish. Customers can enjoy their food in Fresco's elegant dining room or on the cozy and inviting patio overlooking the pier. Breakfast, lunch, and dinner options make Fresco's a great option for any occasion.
Nickel City Sushi
Sushi is always better on the coast, so don't miss out on Nickel City Sushi in Pinellas Park if you're a fan.
This centrally located Asian restaurant has a diverse menu with affordable prices.
In addition to sushi, Nickel City serves other large-group classics like hotpot, pizza, and wings. They are also open until 2:00 AM on Fridays and Saturdays, making this a classic spot to stop and grab a quick meal after a night on the town.
Carmelita's
Mexican cuisine is among the world's favorites for a reason, and Carmelitas has done it as well as any restaurant on the Pinellas Peninsula for 35 years.
Find classic Mexican items like smothered burritos, tacos, and quesadillas at their Park Street location in St. Petersburg. Their menu is affordable and well-rounded, meaning any patron should find something to their liking here.
Carmelita's is a restaurant with great prices and excellent traditional Mexican cuisine and is a must-stop for any lovers of Mexican food.
Red Mesa Cantina
Another Mexican offering, Red Mesa Cantina is located on 3rd Street South in St. Petersburg. Though they are Mexican at heart, this restaurant also aims to blend traditional Mexican food with other Caribbean traditions to create a unique flavor and appeal.
Red Mesa Cantina boasts an award-winning food menu and the "most extensive selection of tequilas and mezcals in the south."
Red Mesa also offers to-go ordering on their website.
BJ's Restaurant & Brewhouse
This is another American-style diner and brewhouse, serving American classics such as pizza, soup, salad, seafood, steak, and burgers.
They also boast an impressive collection of in-house beers, including canned beers to go.
BJ's central location and its large selection of shareable appetizers make it a perfect gathering spot for parties to enjoy a meal before hitting one of the many bars and clubs near downtown St. Petersburg.
Olive Garden
The beloved Italian chain restaurant has an installation on 34th Street North in Pinellas Park.
Olive Garden is known for its classic Italian offerings like spaghetti, chicken alfredo, carbonara, and of course their famous breadsticks. Weekdays are when you can get a great deal of soup, salad, and breadsticks for $8.99.
Olive Garden's national status promises a consistent experience at a family-friendly price point and is a great option for a low-stress lunch or night out with traditional Italian flavors.
Cheddar's Scratch Kitchen
Cheddar's prides itself on creating all of its food from scratch. They serve a great mix of classics like chicken tenders and grilled salmon mixed with house cocktails and creative blends of local cuisines.
Cheddar's is located near Sawgrass Lake Park, making it a great place to eat before or after a day at the park.
For the adults looking to unwind, Cheddar's has a famous cocktail known as the Painkiller with a limit of two per person. This irreverent style of cuisine and cocktails makes Cheddar's one of the most atmospheric and entertaining options on the list.
Mr. & Mrs. Crab
Mr. & Mrs. Crab is a seafood restaurant that has been serving the Pinellas Park area since 2016 when the founders were inspired by a visit to New Orleans.
They returned with an idea to open a traditional, Louisiana-style seafood restaurant near St. Petersburg, and Mr. & Mrs. Crab was born.
This establishment offers a wide variety of fresh seafood with traditional southern-style sides at a relatively high price point.
Frenchy's Rockaway Grill
Frenchy's is a local seafood restaurant serving fish, shrimp, lobster, crab, and refreshing beverages. With several locations throughout Florida, Frenchy's is a chain that promises consistency and a high-quality product to its customers.
Frenchy's affordable price point and great atmosphere and location make this a fantastic nighttime destination until they close at midnight.
Each Frenchy's restaurant is unique. This location, being on the beach, serves many alcoholic beverages including many to-go, making it a popular spot to stop at along the beach.
Carrabba's Italian Grill
Finishing off with another classic Italian chain, we have Carrabba's Italian Grill. Carrabba's is well-known and maintains a national presence as well, which again is going to lead to a generally more consistent product and customer experience.
Enjoy classic Italian offerings such as meatballs, ravioli, and summer specials such as bay scallop scampi or prosciutto-wrapped pork tenderloin.
More Interesting Activities In St. Petersburg