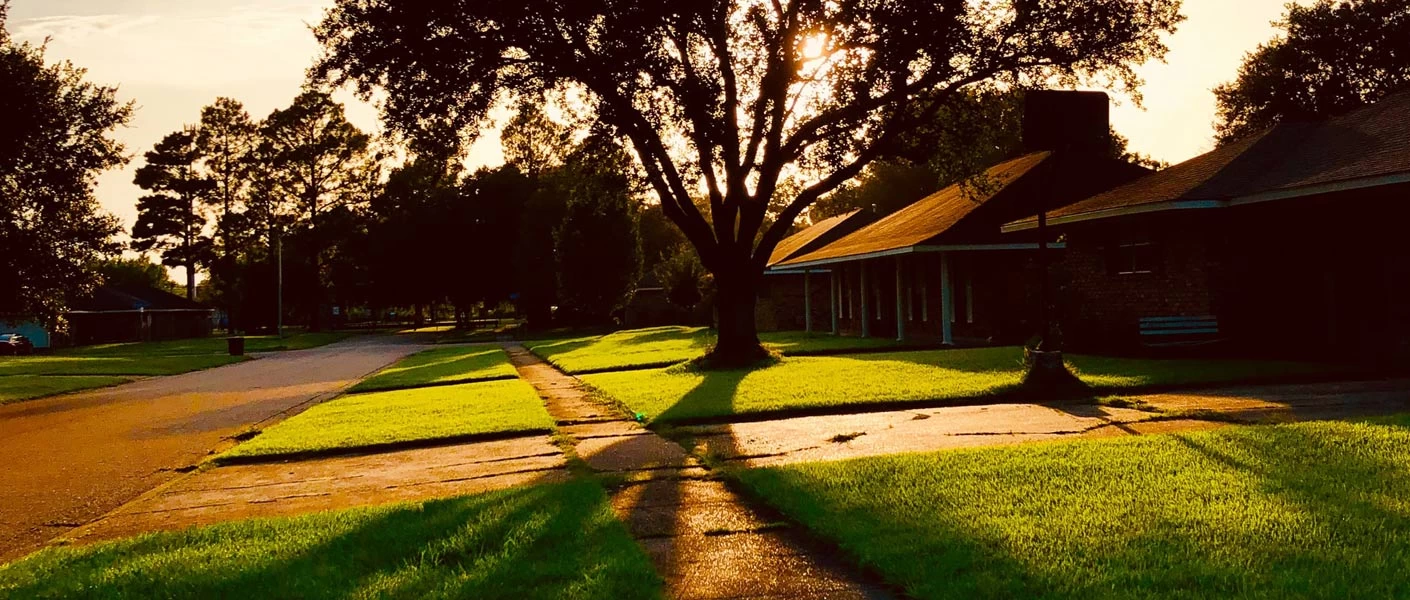 The Best Places to Live in the Baton Rouge
Interested in the best neighborhoods and towns around Baton Rouge? We've got the list!
Published: 2022-07-11 19:36:14
As long-time roofers in Baton Rouge, Mighty Dog has done work in almost every neighborhood in the metro area. There are so many great neighborhoods in the Baton Rouge – it can be hard to know where to start. We've rounded up the ten most livable areas so you can find the perfect fit for your family.
Westminster
If you're looking for a spacious yard and friendly neighbors, Westminster is the place to be. A favorite amongst Louisiana retirees, Westminster is renown for its peace and quiet, and regularly ranks among the best places to live in the state. A high percentage of locals are college-educated seniors living alone, which might explain why residents report such a strong sense of community and an attentive neighborhood watch.
Though the majority (71%) of Westminster residents own their homes, the urban/suburban mix provides a variety of housing options. The neighborhood boasts convenient local amenities including a community pool, tennis courts, shopping center, and a handful of restaurants, so everything you need is close to home.
Inniswold
If walking your dog along safe, tree-lined streets is your idea of a perfect afternoon, consider living in Inniswold. With a dense, suburban feel (the population is approximately 6,600), this highly walkable neighborhood is a prime location for young working professionals. A significant portion (14%) of Inniswold locals work in government jobs, and it's a top pick for both executives and active retirees alike.
Inniswold is consistently ranked among the most livable neighborhoods in Louisiana because of its excellent local amenities, low rates of crime, and stable real estate values. Italian speakers will feel particularly welcome, as 7.8% of Inniswold residents primarily speak in Italian at home!
Shenandoah
Locals describe Shenandoah as the best of country living close to town. It's a quaint, sparse community with plenty of greenery and parkland. The heart of the neighborhood is their lush community park and creek, where fishing is a popular activity. Throughout the area, ample jogging and biking trails appeal to the many active and outdoor-loving families who live there.
Younger and older parents alike agree that it's an excellent place to raise your children. Locals frequently find themselves on a first-name basis with the many family-owned stores and salons in the area, giving it the friendly feel of a close-knit community.
Village St. George
If a quiet, rural feel is what you're after, Village St. George can deliver. The tranquil, largely liberal neighborhood is home to a wide range of families and has amenities that cater to both kids and adults. It's one of the top two most diverse areas in the Baton Rouge Metro Area!
The opportunities for outdoor recreation are a highlight of Village St. George. Highland Road Community Park offers a picturesque place for locals to gather and enjoy their free time playing baseball, disc golf, tennis, and rugby. You can also rent a pavilion or gaze at the stars at the Highland Road Park Observatory.
Old Jefferson
Despite its name, Old Jefferson is looking to the future. Nestled along the Mississippi River, historic oak trees stand side by side with exciting new developments. Many of the houses hark from the 1960s and 70s when Old Jefferson first began to grow, offering residents a wide array of architectural choices ranging from rustic ranchers to brand new condominiums and newly restored mansions. Whatever your style, there's a home in Old Jefferson to suit you.
A mere 20 minutes from downtown New Orleans, Old Jefferson also offers several convenient thoroughfares and a quick drive to the New Orleans International Airport to suit frequent travelers.
Highlands/Perkins
Elegant homes and lush green acreages are the crown jewels of the Highlands / Perkins neighborhood. Tucked into a bend in the Mississippi River, Highlands / Perkins is one of the largest communities in the Baton Rouge Metro Area and has the diversity of architecture to match. From country cottages to urban townhomes, there's a house to suit any preference, and plenty of vacant lots if you prefer to build your own.
Also known as the Perkins Rowe, Highlands/Perkins is the gateway to the area's natural and recreational delights, including plentiful woodland, tranquil bayous, and numerous golf courses.
Oak Hills Place
Oak Hills Place is a beautiful subdivision and one of the most affluent suburbs in the Baton Rouge Metro Area. The active homeowner's association is dedicated to preserving the unique character and integrity of the neighborhood, which is centered around several high-quality public, private, and charter schools. From summer socials to holiday decoration competitions, the community spirit in Oak Hills Place can't be missed.
Several amenities, including retail at the Mall of Louisiana and Perkins Rowe, are very close by. Nearby Highland Road Community Park also offers access to a wide range of recreational activities from tennis courts to a fitness center.
Brusly
Locally owned businesses and good, affordable food make Brusly stand out from its neighboring suburbs. Locals are proud of their community, and for good reason. One of the many serene pastimes residents enjoy is sitting on their front porches each evening, soaking up the family-friendly atmosphere as kids ride past on bikes from the local bike share.
If you're looking for a social neighborhood with a small-town feel, Brunsly is eager to welcome you. From Cooking for Cancer to the Genealogical Society, many Brunsly locals are actively involved in the neighborhood and passionate about sharing their knowledge of local heritage.
Gardere
Renters in the Baton Rouge Metro Area will find lots on offer in Gardere. This diverse neighborhood boasts a mix of medium-sized houses and high-rise apartments to suit families of any size and on any budget.
Young people are at the heart of many of Gardere's amenities and services, from the local baseball and football fields where recreational teams gather, to the many opportunities for community connections on offer. The Gardere Initiative Community Coalition is a local hub where parents can socialize at Mondays with Moms, and residents of any age can take advantage of the enrichment classes, tutoring, financial and legal advice, and nutrition programs.
Prairieville
For a taste of rural charm, look no further than Prairieville. The neighborhood, spanning a rolling 22 square miles, is dotted with charming historic cottages and modern country-club-like houses. If you're looking to escape the city without giving up a lot of modern conveniences, Prairieville strikes the perfect balance.
Though this quiet town has been rapidly expanding over the years, it has retained its tranquil, spacious feel. You won't be living right on top of your neighbors here, but they'll certainly wave a friendly hello when you pass them at one of the convenient local malls. The area is known for its low crime rate and thriving school system, making it one of the best places to live in the Baton Rouge Metro Area.
The Perfect Roof for the Perfect Home
No Baton Rouge home is complete without a quality roof. That's why Mighty Dog Roofing is invested in your neighborhood.
We're here to provide long-term protection to your home and give back to the community through mentoring, education, and veteran support. So, whether you're looking to repair storm damage or upgrade your skylight in the Baton Rouge Metro Area, Mighty Dog Roofing is here for you.
Contact our 24-hour customer support to find out how we can make your roof mightier.
Other Things To Do Around Baton Rouge, LA: