Our Mighty Dog Roofing mission is to be an industry leader, finding innovative ways to exceed client expectations and provide a customized experience with every job.
At Mighty Dog Roofing, we pledge superior service matched with the highest level of integrity and ethics.
Endorsed by the nation's top manufacturers and distributors, we offer our customers innovative and top-of-the-line products and services, backed by warranties and our lifetime Watchdog Maintenance Program. Each project we finish is paw stamped with our seal of commitment.
Mighty Dog Pledges to Provide You With:
INTEGRITY

- We keep our word. We back your home's project with our Mighty Watchdog Warranty and Watchdog Maintenance Program.

ON-TIME SERVICE

- We arrive on time. Our team values your time, and we appreciate you entrusting your home with us so you can count on us to be there when we say we will.

CLEANLINESS

- Our state-of-the-art equipment will keep your home clean and safe during the construction process. We'll protect your landscaping and air conditioners from any damage which may occur with the Mighty House Cape. It is our pledge to leave your property safe from debris and damage.

TOP DOG COMMUNICATION

- Our team will be in frequent communication with you throughout your home project, keeping you apprised every step of the way. If you run into any questions, our 24-hour customer support team will be readily available around the clock.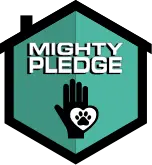 Our Community Pledge
Mighty Dog Roofing pledges to provide long-term care and protection to homes within our local neighborhoods and to invest in our community youth and non-profits by educating them on specific trade skills. We enjoy mentoring at local schools and within the Boy and Girl Scouts program, as well as supporting veteran-specific programs and Habitat for Humanity.
Our Story
With a passion for helping people succeed and the opportunity to change the perception of the roofing industry, combined with 25+ years of home and construction industry experience — three of the nation's top entrepreneurs formed Mighty Dog Roofing. Our drivers have and always will be excellence in customer service, top-of-the-line technology matched with innovative products and services, and leading manufacturers and warranties.
Our Mighty Dog Roofing Founders are all proud Mighty Dog Owners who are committed to being THE force of integrity for the roofing industry.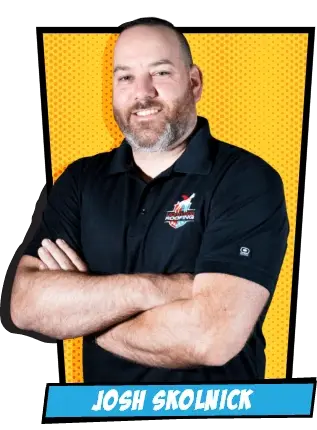 Co-Founder Josh Skolnick, has a history of scaling companies and creating a culture that nurtures learning and excellence. He has proven through servant leadership and the right environment you can build a trusting and highly driven team. With a history in franchising and as a previous owner of a redbox+ and a Monster Tree franchise, Josh comes with an abundance of success stories to share. He's experienced levels of success and failure over the years which has helped Mighty Dog Roofing become a national presence in the roofing industry. Josh and his wife, Barbara, reside in Pennsylvania with their three children and dog, Onyx.
FAVORITE QUOTE
"Set your goals high, and don't stop till you get there." - Bo Jackson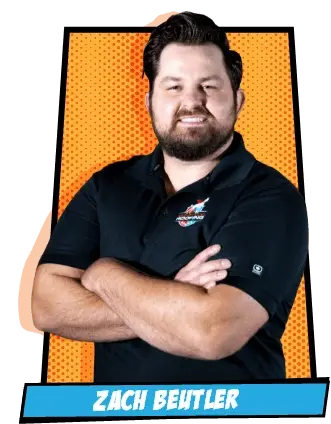 Meet our other Mighty Co-Founder, Zach Beutler, aka "The Bull". Zach's experience in franchise development alongside years of owning multiple businesses makes him a force behind developing advantageous partnerships with Mighty Dog Roofing. You can bet we teamed up with the nation's largest manufacturers and distributors and provide our customers with top-of-the-line, innovative products, and services. Zach has a passion for excellence and providing the best of the best customer care.
Zach and his wife, Kaylie, share two beautiful children and two dogs, Winston, and Jedi. In addition to raising children and puppies on their family ranch in the village of Pender, Nebraska, the Beutler family also raises cattle.
FAVORITE QUOTE
"Good decisions come from experience and experience comes from bad decisions." Mark Twain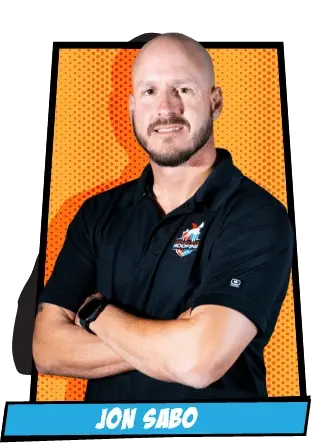 Jon Sabo, our Mighty Founder, and established roofing business owner brings a wealth of exterior knowledge to the leadership team. Jon's experience in the construction industry, as a licensed real estate agent, and with buying and flipping houses gives him in-depth knowledge of the importance of market value and how necessary it is to maintain the exterior of your home. Jon created the Mighty Watchdog Maintenance Program to assure homeowners their roofs will be maintained for the long term.

Jon lives in Woodstock, Georgia with his wife Darcy, two kids, and two dogs. He travels between Greenville and Raleigh, NC, and Charlotte, SC, to care for his roofing businesses.

Jon is a United States Marine veteran who served in Desert Storm. We thank him for his service to our country and thank his family for the sacrifices they made while he was away.
FAVORITE QUOTE
"When you reach the end of your rope, tie a knot in it and hang on." - Franklin D. Roosevelt
Whether you are looking for a new roof or exploring Franchise opportunities, we are excited you found our Mighty Dog Roofing family!
FIND YOUR LOCAL ROOFER