Brantley Smith
Brantley Smith owns and operates Mighty Dog Roofing of West Tampa. A Tampa resident for more than two decades, Brantley loves the city and its culture, diversity, and most of all the people. There's a genuine sense of community in the areas he serves with Mighty Dog Roofing, a that makes all the difference.
Before Mighty Dog Roofing, he also worked in the home service space, but in a much different way. He served 12 years as the Chief Marketing Officer and Chief Digital Officer for a national home services marketing and advertising agency. There, he developed multiple AdTech platforms in the home services space.
One surprising fact about Brantley – he's the drummer in a local Tampa alternative rock band called FREQ. You can find them performing all around the Tampa area.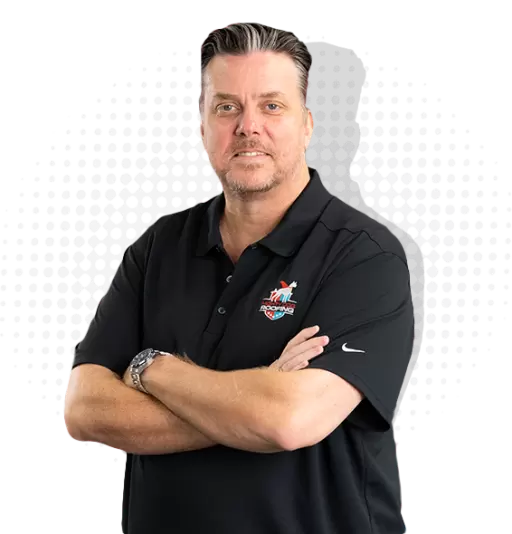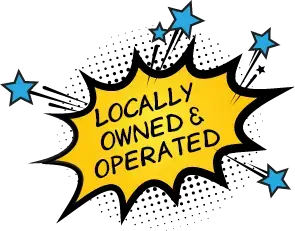 Meet the Team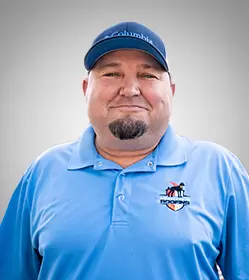 Jimmy Roberts
Production Manager
"My name is Johnny Roberts, Production Manager of Mighty Dog Roofing of West Tampa. I have 30 years of experience in the construction industry, 5 or more of those years include home services. While you're busy building your life, I am here to help build your perfect home. Outside of work, I enjoy the outdoors and take an annual deep sea fishing trip every year! Whether it is golfing, fishing, boating, or hunting you can find me enjoying the outdoors. Here at Mighty Dog Roofing we look forward to making your home building experience as easy and seamless as possible."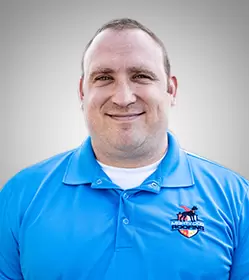 James Pope
Roofing Consultant
"Hi, I am James Pope and I am a Roofing Consultant at Mighty Dog Roofing of West Tampa. My favorite part of my workday is meeting with our homeowners. I genuinely enjoy working with other consumers through the process of re-roofing, and I love seeing the happy faces on our customers when their homes are completed with the care and quality that Mighty Dog provides. Coming from roofing distribution, I have seen a lot of good and a lot of bad within the industry. I joined the Mighty Dog team because of our shared view of ethical business practices, and because of their commitment to the customer experience. I have a strong desire for Mighty Dog Roofing to be the best at what we do! Outside of work, I like to spend time with my family. I have a wife and three kids, and they are my world. I also enjoy anything sport-related. I played football, baseball and basketball growing up...football through college."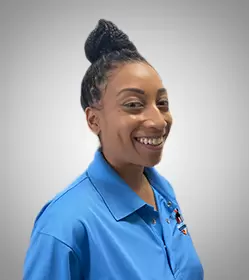 Cheyenne Jaglal
Social Media Guru
"Cheyenne Jaglal is the Social Media Guru of Mighty Dog West Tampa. With over 11 years of experience as a professional photographer and videographer, Cheyenne loves finding unique ways to tell a company's story and Mighty Dog's story is surely one worth telling! Before Mighty Dog Roofing, Cheyenne has grown a variety of social media networks for major news outlets and entertainment brands. She has a passion for impacting the lives of consumers by getting them acquainted with really great brands. Fun fact about Cheyenne – she grew up in Toronto, Canada but ever since moving to Florida she has no plans of returning! She loves the warm weather and amazing people in Tampa, FL. She looks forward to highlighting the wonderful experiences of Mighty Dog customers and the quality work their team is doing."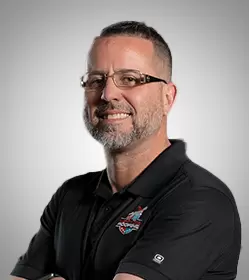 Matthew Housefield
Roofing Consultant
"First I'm a native Floridian and have lived in Tampa, Florida my whole life. I built businesses here and started my family here. I played baseball at Lutz Little League and went to Gaither High School before getting a college degree at the University of South Florida. I have worked in various industries from the title insurance business to owning my own Property and Casualty agency for 7 years I have been proudly serving the Tampa and surrounding communities for the better part of my life. Proud to have taken a spot with Mighty Dog Roofing, our shared values and mission equals excellence in everything we do."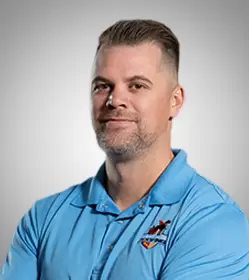 Nick Hess
Licensed Roofing Contractor
"I am Nick Hess, Licensed Roofing Contractor for Mighty Dog Roofing of West Tampa. I have been working in the Florida roofing market for over 5 years and earned my Florida Roofing Contractor's License in 2022. My favorite part of home services is taking a complex project and making it simple for the customer. Outside of work I enjoy golf and running. I try to run 2 half marathons per year and go golfing at least 2-3 times per month. The rest of my time is spent enjoying the activities of Tampa/St. Pete such as concerts, beaches, and state parks. I am extremely excited about the direction that Mighty Dog Roofing of West Tampa is going as we are bringing an extremely valuable service to my favorite city. I look forward to meeting more customers every week, and hopefully that will be you soon! "
Meet the mighty dogs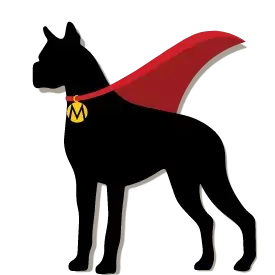 MIGHTY DOG PLEDGES TO PROVIDE YOU WITH:
TOP DOG COMMUNICATION - We will be in touch with you throughout the project so you know what is going on every step of the way. We also have a 24-hour customer service support team to help answer any questions you may have.
ON-TIME SERVICE - When we say we are going to be there, we will. We value you your time and resources and appreciate you choosing us to care for your home.
CLEANLINESS - MDR has the best state of the art equipment to keep your home clean and safe during the construction process. We will bring in the Mighty House Cape to protect your landscaping and air conditioners from any damage which may occur. It is our pledge to you to leave your property with no debris or damage from anything we do.
INTEGRITY - We do what we say we are going to do. We stand behind your home's project for years to come with our Mighty Warranty Plus Watchdog Maintenance Program
MIGHTY TESTIMONIALS
I can't say thank you enough for all the help that was given to me. Very professional, courteous, and helpful. They did an amazing job and did a great job with clean up. I would highly recommend them.
I had my roof and gutters replaced. The crew was friendly and kept me updated throughout the install. They also did a great job with the install as well as the clean up.
Very professional from the office to the installers. Good value for great quality. I would recommend them and have already have done so. Give them a call.
Great company, Our roof came out amazing, straight cuts, everything laid nicely and the cleanup afterwards not a single nail anywhere.
Great job, professional crew, great experience. Highly recommend. Came on time, cleaned up, and roof looks great!
Mighty Dog Roofing is passionate about our community in Tampa Florida. We wake up everyday and feel so immensely blessed (lucky) to live, work and play in our community that it is important for us to give back and be actively involved. "We love being in Tampa Florida, and helping any way we can", said Brantley Smith. "From providing roofs to veterans and supporting our local Humane Society to participating in Habitat for Humanity efforts, Mighty Dog of Tampa Florida wants to make a difference".



Our Team on Your Roof
Whether you have a repair or a full replacement, our roofing crews have been hand selected for their integrity, cleanliness and craftsmanship. We are OSHA certified and hold regular safety training meetings for our crew foreman. Each of our formen and roofing crews take pride in excellence of craftsmanship in each project they completed. Mighty Dog takes pride in education on products and installation each of our crews bring to you home. Our crews take the Mighty Dog Pledge of being on-time, cleanliness, top dog communication and integrity. Being insured and licensed, you can feel safe and protected in your home that it is being taken care of by the right people!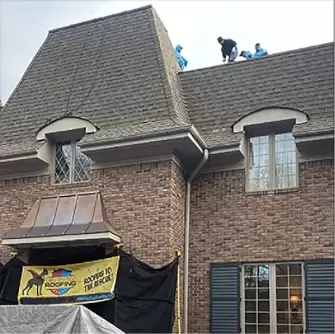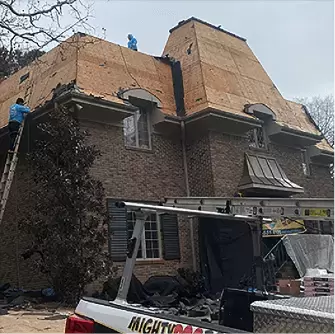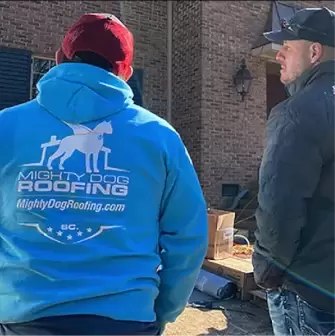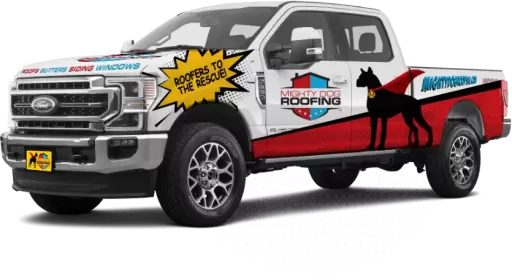 We are in your
neighborhood